We all grew up enjoying and being cautious of the April fools pranks. Going to school on 1st April with a special reminder not to take anything surprising or unusual, seriously on this special day and annoying our best friends with harmless childish pranks, April fools is an event celebrated in tiny to major scale globally.
Children love to prank their friends with basic old school pranks or sometimes the April fools pranks get too far. Either way whats the reason that everyone on 1st of April gets little excited or jittery to tease their people with something silly and how come pranking seems normal on this day every year.
Shop With Bed, Bath And Beyond Gift Card Discount: 20 Pleasing Ways To Save
The History of April Fools Pranks
This goes without saying that April Fools Jokes dont have any limit. Children can prank their parents or vice versa, teachers prank their students or sometimes student collectively put a joke on their teacher, coworkers get hold of every chance to have a little laugh and safe to say everyone gets a little excited to tease anyone who is little out of the space and not so vigilant about the April fools pranks.
The April foos day holiday is one of the most celebrated fun events that do not hold any religious value but great historical value. Not to mention the international TV channels as well as famous brands dont take a step back when it comes to pranking people their viewers and customers on April fools Day.

Do you remember the time Amazon took marketing as well as pranking their customers to a whole new level? Back in 2018 when they released a 30 seconds short video to emphasize how amazon can deliver anything to your doorstep, they present a delivery of not only a book but the authors as well.
 The prank video shows ordering an author and getting your doorbell rung after a little while! While the concept was aimed to focus on the A to Z swift delivery of amazon the prank was a great one and many people took it seriously while many were smart enough to understand a living person traveling miles to see you? Doesnt seem easily done. These harmful pranks by many-many big companies have inked the history but the prank when Elon musk announced tesla has gone bankrupt so the company lost its hares by 5%? Yeah not a very good one. When it comes to April fools pranks there is a fine line between what is acceptable and what is not.
How To Save Money With Coupons: 15+ Hacks To Ace Shopping On Budget
And coming to the real question ˜The Origin of April Fools Prank is funny enough somewhat lost in the history. Maybe someone took it as a joke and didnt note it down or somebody thought it would be funny to confuse the coming generations when and why this prank originated. But truth be told people have been grabbing this opportunity to have a little one since centuries.
Looking back at the events happened in the April fools the dates go back to 1600. The late 1600 prank highlights when many people were tricked with the fascinating event of ˜washing of the lions on the tower of London on 1st April 1698. While many excited people gathered at the promised place there was no such sight. Later on many local newspapers had their fair share of fun and laughs with the people who believe something like this would happen.
The Best April Fools Ideas 20 Hilarious Ways To Get Little Playful This April Fools
The Greatest April fools Prank
Although there have been undoubtedly several great pranks played on the 1st April and each year many companies harmlessly try to play something funny and memorable. But one of the most memorable and successful pranks in the history of April fools pranks is the BBC report on spaghetti TV. Admitted by CNN as one of the greatest ways to prank the audience globally BBC played a smart card that not only made it over $7 billion for a 3 minute documentary but also made millions of people laugh globally.
In 1957, the BBCs famous current affairs program covered a story where an ordinary (but magical) family is harvesting pasta when their own grown spaghetti tree in the backyard. Thanks to good conditions and the "virtual absence of the spaghetti weevil," the harvest was a big success, according to the authoritative narrator. In the 1950s, "spaghetti" was not a household word in the United Kingdom. That may explain why so many British people fell for the ruse and sought guidance from the BBC about how to develop their own.
See RED LOBSTER $5 COUPON FACEBOOK FOR THE SEAFOOD LOVERS
The Worst April fools Pranks
Where the world had its share of fun and harmless laughs there are always some people who take things too far. And April fools pranks is also one of the days when people get too selfish and dangerous just in the name of little fun. While this happens in a great ration all around the world and may harm some people seriously it is not a wise thing to do. With our idea of the ˜Worst April Fools Prank to be pulled ever here is one.
Known as the Great Blue Hill eruption prank this is not something an international TV should be doing. On 1st April 198- the Boston TV news producer Homer Ciley released a television broadcast alarming the residents about the harmful volcanic eruption from the great blue hill. He spread an emergency news where everyone was alerted how the lava had started to ooze and spew flames.  And to make it sound real he also had added some fake (but so real) warnings from the president Jimmy Carter as well as a footage that depicted Mt. ST Helens eruptions (too dark, no?), to make it seem real.
Even though this news was followed by an April fools prank card at the end of the segment but hundreds of citizens lost their calm and flooded the law enforcement telephone lines abruptly. As the news channel got a lot of criticism Homer Ciley was fired for this irresponsible act in the name of April fools prank. 

April fools Memes
Every event on the calendars brings a great chance for the memers to get on their computer and become all creative. While many people are just too much into pulling pranks there are really those internet heroes who release memes and make events like these much more fun. Most of us wait for the special memes to share with your friends.
Sometimes the memes get too dark but most of the time they are fun. And just like we dont miss out any memes whether it be super bowl memes or womens day memes, April fools memes are also a great way to have lots of fun. Now keeping up with the traditions of sharing memes for our happy crowd here is our collection of April fools memes which will definitely put some smiles on your face.
After all you need to have something to laugh at after being pranked. To numb the pain, you know! But Remember: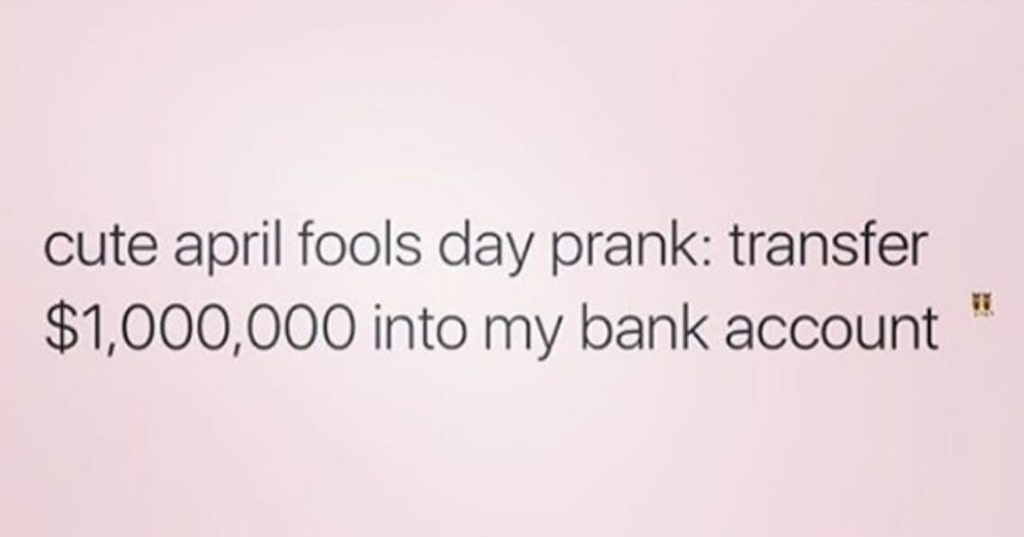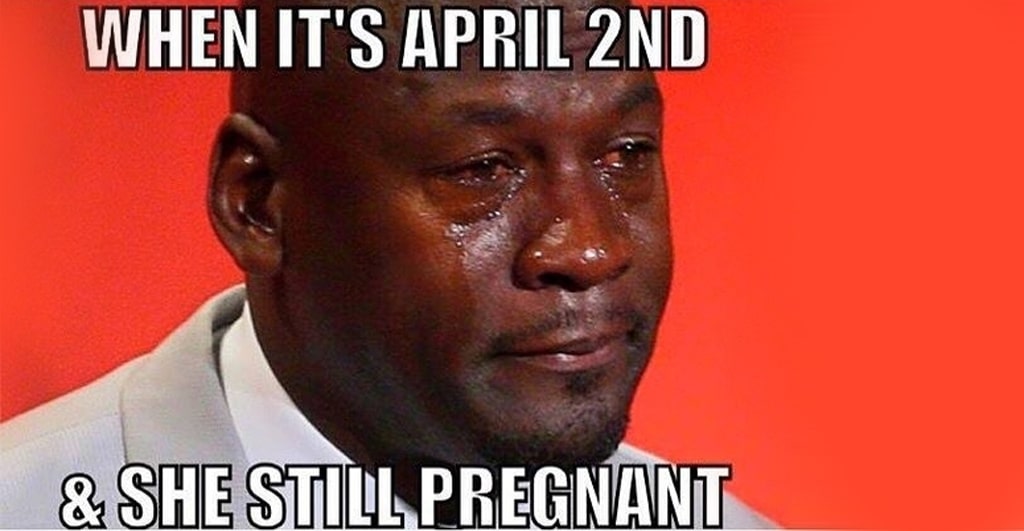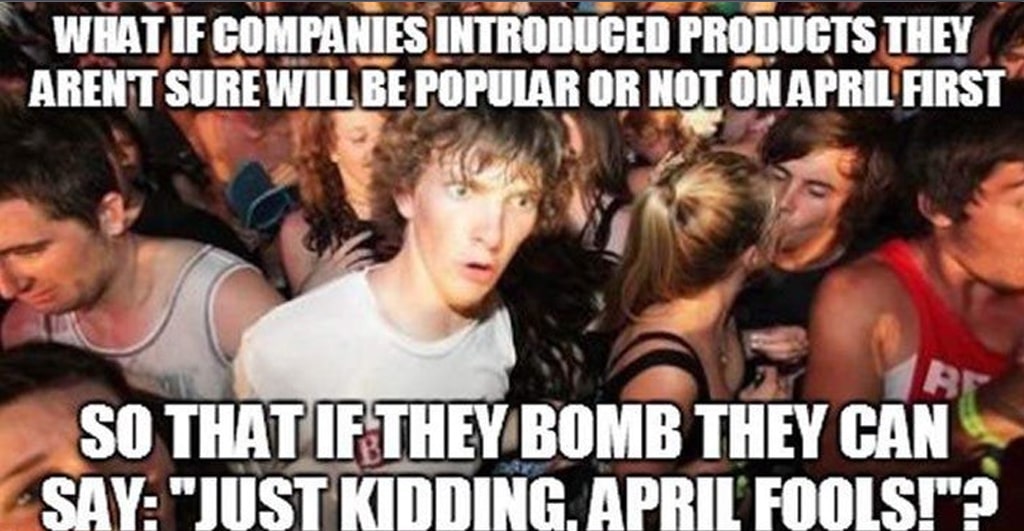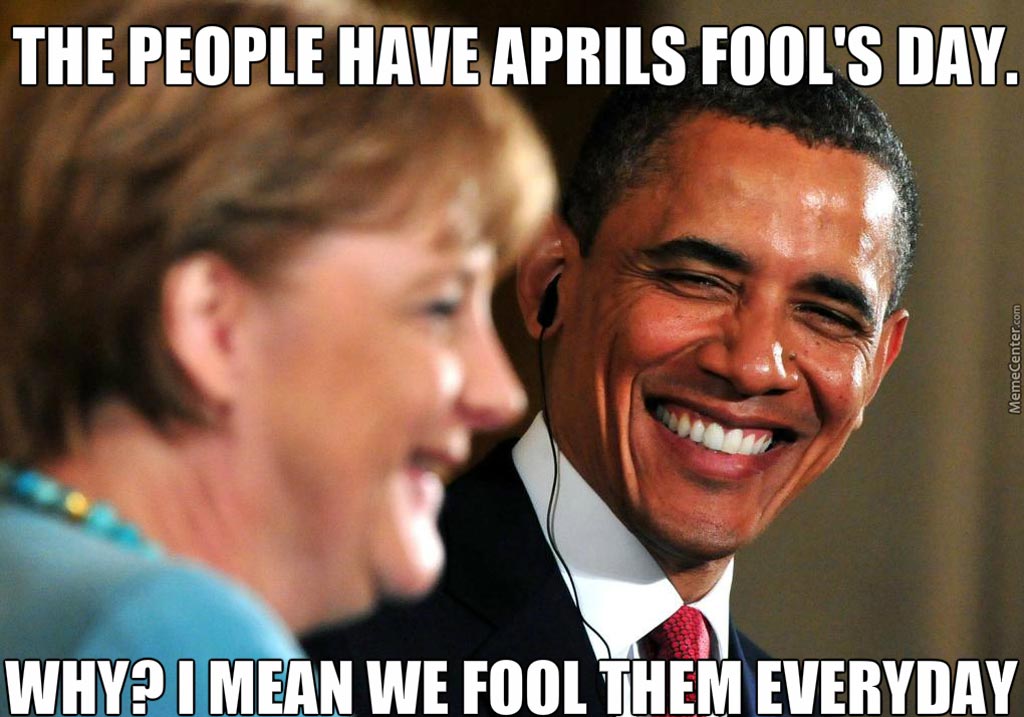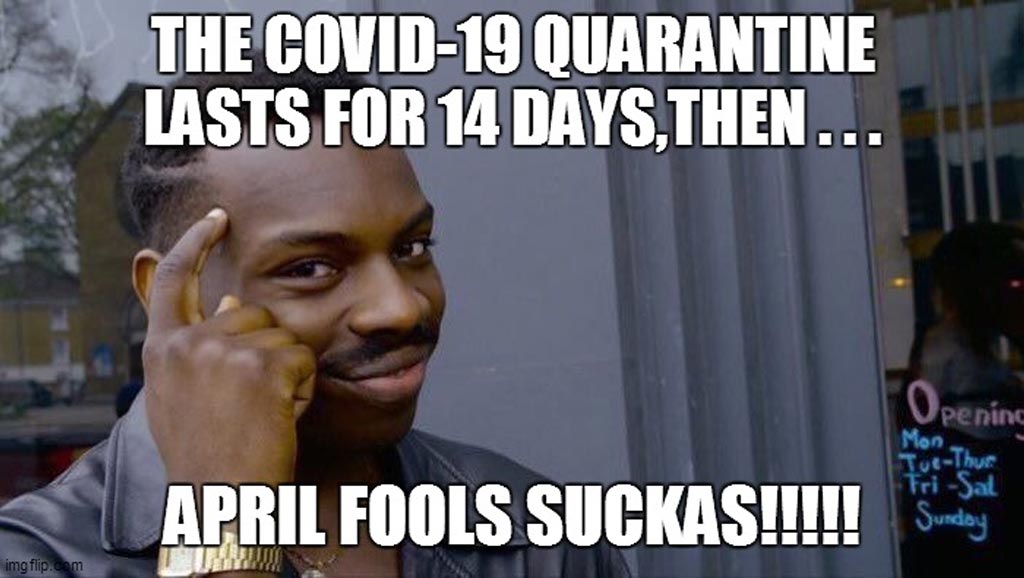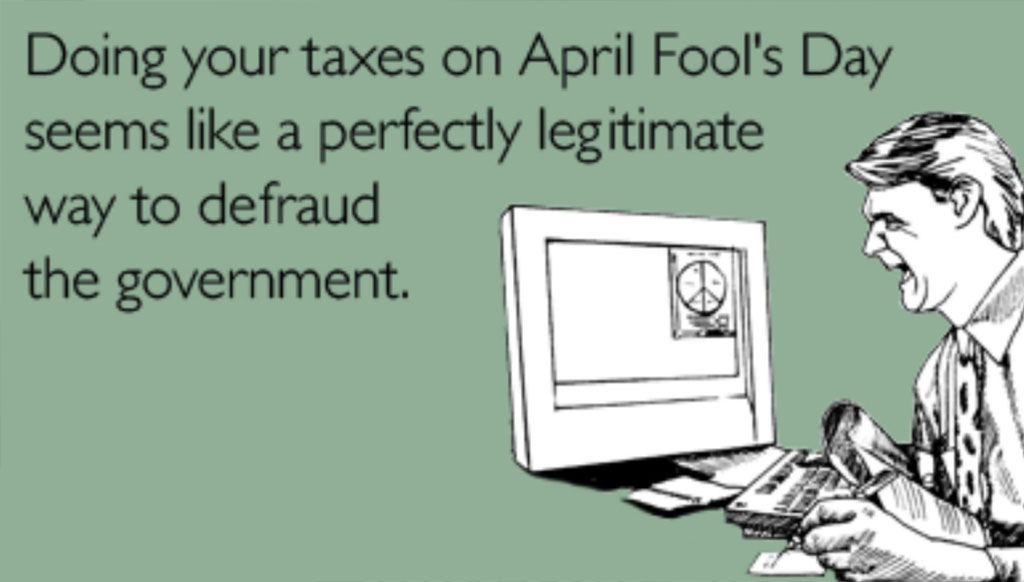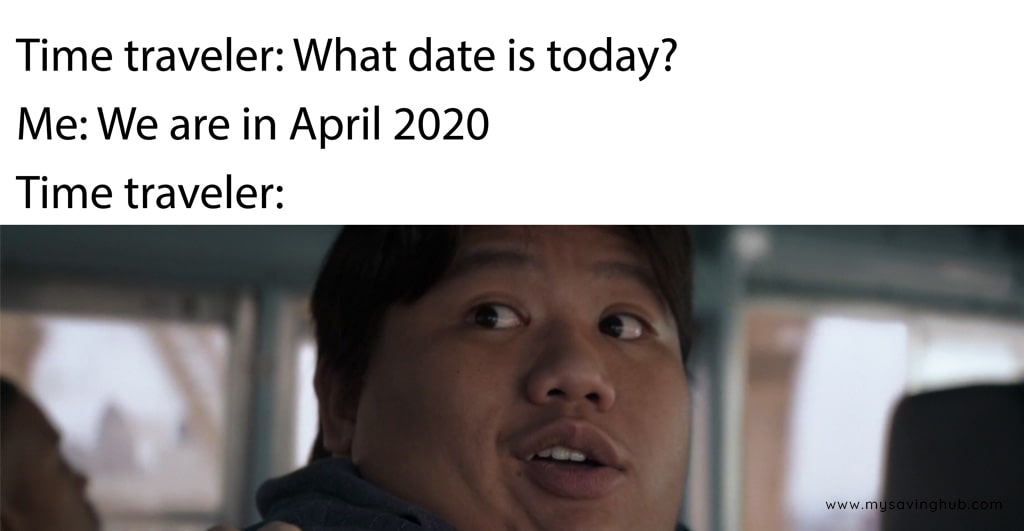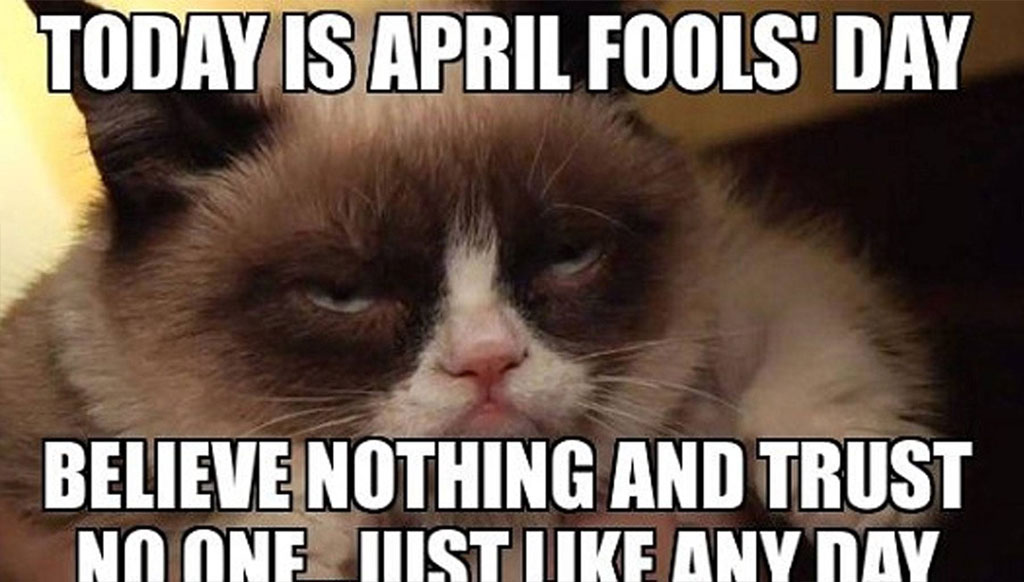 The April fools Day Sales
What else could numb the pain of a prank that really made you the object of laughters? While other people had fun you were there getting pranked. Maybe you are planning a revenge but a harmless prank should be taken lightly. How about you let go of the feeling of being pranked with the April fools day sales? Check now.
The April fools day Sales are huge and on! Maybe this time you will be laughing at your friends when you get great things at greater discounts.
Disclaimer: Its not a prank!