Top 10 Best 3D Printers Under $500 2022
By Alice Green
|
08 Sep, 2022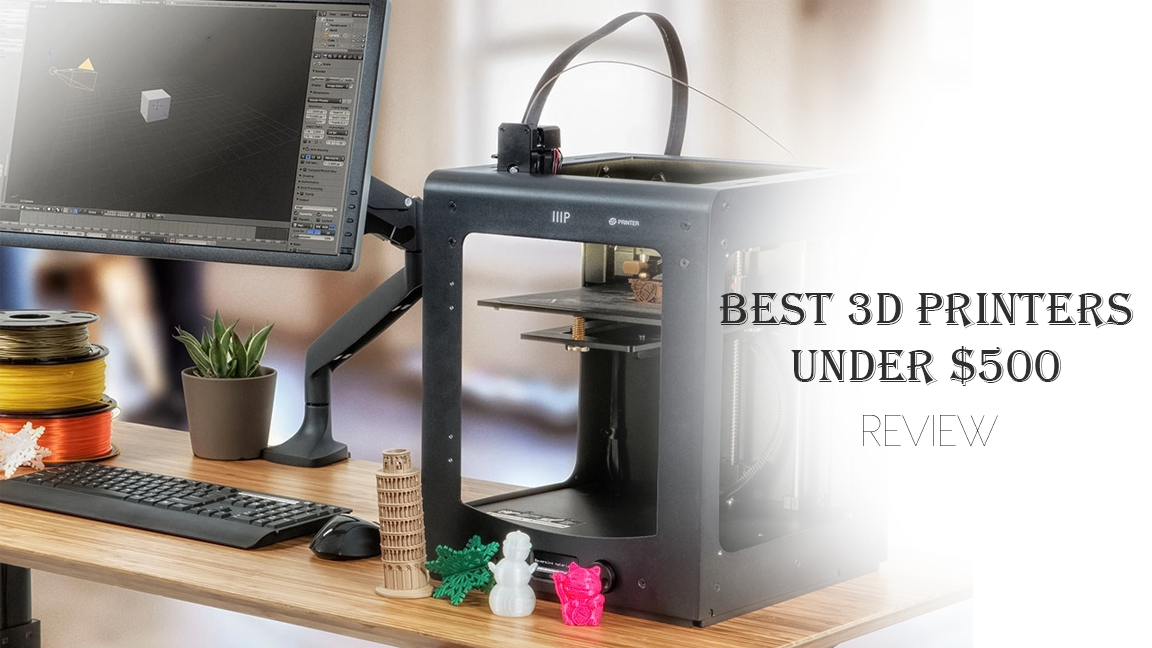 Are you someone who loves to create things? Lockdown is over but COVID has helped most of us discover our creative side and people who were previously scared of picking up a pencil are now pros at all things artistic. From Photoshop skills to painting, most people learned a new skill and are now channeling it on their Instagram pages. We are all up for people experimenting with new things every day which is why we encourage you to try a fantastic way of creating objects like shoes, penholders, and even keychains. The best part is that you wouldn't have to put in a lot of effort and with one simple click and choices, you would be ready to use these things.
If you still haven't figured it out, we are talking about 3D printers which serve as literal life savers because not only can you get the required material with it in the required time, but you also don't need to spend a lot of money doing so. Technology amazed us when it came up with a 3D printer because, despite the shock of many, it does exactly what it says- print out objects in 3D that you can easily use in your daily routine. It is a whole new era in the world of manufacturing and now many companies are employing this technique to fulfill orders. If you remember, these machines came in handy as people in the industry printed out lots of medical equipment as well as ventilators to make sure people and hospitals were well-provided for. So, it wouldn't be wrong to say 3D printers are lifesavers.
Check out : best sublimation printer
Currently, 3D printing is widely used in business and industry, such as architecture, and it is also quickly becoming a popular hobby for those who aren't professionals. Cosplay costumes and accessories, as well as miniatures like figurines and original chess pieces, are popular pursuits for 3D printing enthusiasts. Thousands of designers, both professional and amateur, print and sell their designs on eBay and Etsy. 3D printing doesn't have to be an expensive pastime. For this article, we decided to focus on printers that cost less than $500 because there are so many great options out there. Whether you're just getting started in 3D printing or you're looking to expand your collection, we've got the best budget 3D printers for you.

You can easily get the best 3D printer under $500 as this machine will serve multiple purposes in your house. It is easily available in the market and ever since its creation, lots of budget-friendly options have arrived in the market. To make your job easier, we have reviewed some of the best 3D printers under 500 so you don't have to browse the market yourself. We have prepared a full buyer's guide as our experts have personally tested out all of these products. You can rely on us to deliver you the top-quality printers so now just browse through the list and you will find what you are looking for.
Our Top Picks for the Best 3D Printers Under 500
If you are a beginner, you would probably want to start with a simple design. This means that Prusa is a very good option for you. It is not only simple to use but also easy to assemble. Some people feel that getting a printer becomes 10 times more difficult because you need to set aside an entire day for its assembly. Since 3D printers are slightly bigger than your regular kind, it might take some effort to put them together.
However, when it comes to this brand, they have made assembly very easy so you get a large build volume as well as a clear design with lots of advanced features. The best thing is that it is one of the top 3D printers under 500 so it fits your budget very nicely too. It has a high printing speed and you will love the results it produces. We suggest that if you are an Instagram artist or someone who pursues art as a hobby, you should definitely try this.
Features
Metal body

Minimizes vibration

Touch screen

Interchangeable nozzles

Three different nozzle sizes

20 mm/sec speed

Large build volume

300 x 300 x 400 mm

0.05 to 0.4 mm
Product Pros
Accurate and precise

High resolution

Sturdy metal frame

Power outage recovery

Heated printed bed

Affordable
Product Cons
Manual calibration

Compatible with PLA only
For people who prioritize reliability over everything else, this is a perfect choice. It is an advanced version of their previous model CRS 10 and is already assembled to some extent. This saves you a lot of time and you don't need to put in half as much effort. All you have to do is bring it home and begin your printing adventure. It is easier to control as well because there is a digital display included in it that assists with the advanced features.
There are 16 positions in total that can be used for pointing the bed in different directions. You get a 12 V power supply with this model which is ideal because the control board makes it easy to operate. The one thing that really impressed our experts with Creality was that it was able to hold the power on its own for long durations pretty well. This adds to the accuracy and shows how well-built the machine actually is so you don't need to worry about maintenance and repair for a long time.
Features
300 x 300 x 400 mm
0.4 mm diameter nozzle
Inbuilt steel build plate
Aluminum frame
SD card and USB port
FDM technology
Large print space
Compatible with PLA, ABS, Flexibles, and PETG
Easily connects to Raspberry PI
Bowden extruder
12 Volt power supply
Double gear extrusion mechanism
Product Pros
Easy leveling
Resume print feature
Filament detector
Easy to assemble
Three power supplies
Reliable
Long-term durability
Product Cons
Poor extruder placement
Qidi Tech is a popular Chinese company that is the early pioneer of 3D printers. They have made their name in the manufacturing industry as one of the leading tech businesses and people trust their machines because of how well they operate. The technology is based on FDM and LCD resin and they are not very highly-priced either which makes the products all the more appealing. The FDM tech is what the buyers are most interested in, especially the engineers who want to make slightly high-end products with the help of the printer.
It is extremely useful for professionals but doesn't be intimidated because even if you are a beginner, you can easily use it and produce objects that suit your liking. The printer offers a huge range so whether it is ABS, PLS, TPU, or PETG, you can employ all sorts of techniques and get the desired results. One feature that stands out in this model is the Wi-Fi connectivity because it enables you to hook the printer up to your phone or laptop and do the work with incredible ease.
Features
FDM or LCD resin tech
Flagship model
170 x 150 x 150 mm
Layer of resolution of 100 to 140 microns
0.4 mm nozzle
250 degree Celsius tolerance
Removable print bed
Aerospace-grade aluminum plate
3.5inches color touch screen
150 mm per second speed
One year warranty
Wi-Fi connectivity
Built-in 720 HD camera
Magnetic print bed
Qidi Print software
Product Pros
Noiseless printing
Clear instructions available
No heating issues
Automatic bed leveling
Magnetic print bed
Remote monitoring
Product Cons
Small print space
Hard to find replacement parts
Before making the decision, you end up asking yourself what is the best 3D printer under $500 in the market and the answer is always surprising when you actually go out in the market. Well, we are here with an extremely simple solution in the form of a compact lightweight printer that can easily fit on your desk as well. It is the easiest model to install in your workspace because it doesn't require a huge space, to begin with.
We have specifically shortlisted it for people who want to keep it simple and easy while also making use of this great technology. As far as the primary use of this machine is concerned, the target audience for Flashforge is educators and creators. If you are a teacher who loves to educate the kids with the help of visual aid, it would be important to use this kind of technology and install a printer in the classroom or at your home.
We were really impressed with the extrusion system in this one because it has a turbofan, an air guide as well as an exchange of nozzles, in case you need to try different options. It is easy to operate and has a flexible print bed so when you do take out the product after it is printed, you can do so without causing any harm.
Features
Lightweight desktop
FFF/FDM technology
150 x 150 x 150 mm
Layer resolution between 0.1 to 0.4 mm
The single nozzle of 0.4 mm
100 mm per second print speed
Compatible with ABS and PLA
Operates on FlashPrint software
Wi-Fi connectivity
Heats up to 200 degrees
Impressive extrusion system
2.8 inches touchscreen
Flexible print bed
Product Pros
Plug and play
Simple calibration
High resolution
Automatic bed leveling
Supports third-party filament
Multiple connectivity options
Product Cons
Print bed moves a lot
Confusing instructions
As we mentioned before, people love to buy sleek models of printers because they are much easier to handle. Not only that, if you are a beginner, the simple instructions really help you achieve the target easily and get done with the work in half the time. This model is a great option for professionals as well as beginners. A good thing about the printer is that it is an updated version of the previous machine launched by the company and it has been specially curated as per the needs of the customers. They reviewed the feedback and rolled out this model which covers all the necessary equipment needed in a 3D printer.
The interface is user-friendly and like most modern models, this is also a touch screen. There is an extrude option in the printer which allows you to work with the filament with ease and the fan prevents overheating. You get it half assembled too which is great because it reduced the effort you have to put in so you can get straight to business. The model also packs a filament over-detection feature which comes in handy during power outages.
Features
Large-volume
Sleek design
2.3 inches full-color screen
Power recovery
Large print space
FDM technology
One extruder
305 x 305 x 320 mm
Resolution varies between 0.1 to 0.3 mm
150 mm per second speed
0.4 to 1.75 mm nozzle diameter
Connect easily via a USB port
Partially assembled
Black diamond heated platform
Layer adhesion
Print tolerance of 0.2
Product Pros
Metal frame
Intuitive color touch screen
Easy to setup
Power recovery
Product Cons
Bit noisy
Difficult to operate
Open frame
Here is the most magnanimous machine one could ask for producing some intriguing objects. We have fallen in love with the huge capacity of the Anycubic model because it allows you to print just about anything. Among all the printers we have reviewed, this one stands out the most as the most incredible machine in town. If you are someone who owns a business printing 3D objects and wants to start large-scale production, this should be your go-to option.
The design is so amazing that you cannot help but be in awe of its construction. The features are just as incredible. It lowers the cost of printing to an impressive extent and all you have to do is select the items of your choice and print them for use. This is the kind of model that was used in producing ventilators when there was a shortage during the pandemic. You would be glad to know that there is an ultra-base coating on the machine that ensures that such a huge structure remains intact and lasts for a long time.
Features
Enormous model
FDM technology
Fast and accurate
Sleek black and yellow extruded aluminum frame
400 x 400 x 450 mm
0.05 to 0.3 mm accuracy variation
0.4 mm nozzle
20 to 100 mm per second speed
1-year warranty
Ultra-base coating
ABS, TPU, PETG, Wood, HIPS, and TPU compatible
Easy to assemble
Manual instructions
Product Pros
Neat and tidy design
Large build volume
Open frame
Compatible with a wide range of materials
Product Cons
Difficult for beginners
Requires assembling
Our primary goal here is to find the best 3D printer under $500 and this machine fits the objective perfectly. It is a DLP-tech-based printer that has a great knack for attention and the users were delighted to use it. It pays attention to even the most minute details and you would be impressed with how accurately it copies them. If you run a jewelry store or have another artistic pursuit, you should definitely consider going for Anycubic because of the detail-oriented feature.
Our experts recommend it for figurines and other small complex objects which is ideal with the precise printing it offers. You will find it to be extremely user-friendly that has a highly responsive screen. It is another product that we have included from the same company which means that they are quite professional when it comes to 3D printers and their products have been getting a lot of attention in the market. A carbon air filtration comes with the model that ensures that all kinds of dust particles and odors are removed from the surface and remain in pristine condition.
Features
FDM technology
Uses UV rays
4.5 x 2.5 x 6.4 inches
10W power
UV matrix
Compatible with Photon slicer software
USB port
12 months warranty
DLP
2.8 inches color TFT touchscreen
Auto-leveling feature
Offers stability
Enhances surface quality
2560 x 1440 resolution
Carbon air filtration
Product Pros
Exceptional print quality
Easy to set up and use
Pre-assembled
High print speed
Product Cons
No automatic bed leveling
Flimsy housing
Only USB connectivity is available
Let's talk about a cult classic that doesn't need any introduction and is already quite popular among the customers for being a reliable option. Voxel is a brand that has made its name in the market as one of the most amazing printers and the reason is simple. It is easy to use and once you purchase it all you have to do is click on the screen and begin the printing process. It is made for people who are new to the 3D printing business and even though there are lots of advanced features that eventually become easier to use with time, anyone can operate this device.
It is safe for home as well so if you run a business from your apartment, you can easily install it in your workstation and you wouldn't have to worry about overheating as well. It has a temperature-sensitive filament that enables you to work on so many different kinds of projects and miraculously, the temperature on the inside remains consistent. Isn't that incredible. The nozzles are easy to change as well and don't require any outside help. You are notified when the filament runs out so you can take care of that easily. Seriously, what more could a beginner want?
Features
Cubic shape
Prominent 2.8 inches touchscreen
Minimal setup requirements
150 x 150 x 150 mm
Uses a nozzle of 0.4 mm
10 to 100 mm per second speed
0.05 to 0.4 mm resolution
Temperature-sensitive filament
Heated print bed
Flexible and easy removal of models
Filament sensor
Built-in HD camera
PolarCloud app
8 GB internal memory
Product Pros
Reliable
Minimal setup
Supports multi-materials
Heated removable bed
Assisted bed leveling
Sometimes, the accessories that accompany a certain model become more appealing than the device itself and this is the case with this model. Even though it packs a lot of fantastic features, the electronic accessories that come with it are just as desirable. It is made of a metal frame and has a black anodized covering that adds to the aesthetic. What we love about the Monoprice is that it has an enclosed chamber which allows it to keep a constant temperature while you are working.
Plus, even if you install it at home, you can safely use it around kids and not worry about overheating. The airflow is also quite impressive and there is an extruder that makes for a very comfortable experience overall. The nozzles can be swapped easily and the inbuilt LED light is great when it comes to providing visibility inside the machine. You also get a filament detector in this model so every time it runs out of it, you are notified which is an excellent feature for people who are new to using 3D printers.
Features
High quality affordable electronic accessories
Looks professional
Black anodized metal frame
200 x 200 x 115 mm
55 mm per second speed
20 microns resolution
User-friendly software
USB port and SD slot
One year warranty
Enclosed chamber
Inbuilt LED light
Filament detector
Heated print bed
Product Pros
Flexible design
Removable print bed
Sturdy frame
Anti-jam technology
Product Cons
Bit noisy
Small build volume
We have another Monoprice model on the list but this one specifically targets small businesses and people who are new to the whole process of 3D printing. However, unlike the previous machine, this one advances in large volume so if you want objects that are not jewelry and ornaments, you can print them with this machine. It is useful for students of engineering and architecture who are constantly looking for raw materials to build something new.
Now they can have a 3D printer and have the item in front of them within minutes. This model has been used in the toy industry as well so if you have any interest in that, you can get one for yourself. With this model, you get an open-frame design which is incredible because it keeps the machine from heating up and maintains a good airflow. The LCD screen enables you to work more efficiently and the third-party filament notifies you when it runs out.
Features
Pre-assembled
Aluminum frame design
FDM technology
300 x 300 x 400 mm
70 mm per second speed
Large build volume
Open-frame
Filament detector
LCD screen
The magnetic removable print bed
Auto-calibration
Third-party filament
Compatible with PLA, PETG, ABS
Product Pros
Large build volume
User-friendly
Auto-bed leveling
Magnetic print bed
Sturdy frame
Product Cons
Low print speed
Not suitable for tricky materials
Open frame
To expose the print layer, the Mars 3 uses a monochrome 4K LED light source that activates all the pixels on its 6.6-inch display. To improve the uniformity of UV light illumination, this iteration includes a chip-on-board lens with a free-form surface. A free one-year license for the Chitubox Pro slicer is also included with the Mars 3, although the Lychee slicer can be used instead. The price and availability of this printer can change at any time, so check back periodically to see if it's cheaper or if you need to wait for it to re-stock.

Product Pros
Prints with high resolution
Only one color option
Consistent print quality across the entire printing surface
Product Cons
Chitubox Pro is an extra cost license after one year.
Small area of construction
Supports can be difficult to obtain.
A filament 3D printer, the MINGDA Magician X, ticks a number of the requirements. The heated build plate, direct-drive extruder, filament runout sensor, and automatic bed leveling all come standard on this printer. Mid-sized prints can be accommodated with a build area of 230x230x260mm. It was a snap to put everything together. When printing with PLA, I was pleased with the results. Although I haven't tried it with ABS, the printer's hot end is rated to reach 260 degrees Celsius. Some materials can't be popped above 300 degrees due to the lack of a metal hot end. In order to remove part of the prints, we would have preferred a removable construction plate. To remove the adhesive and liberate the prints, we recommend using blue tape. The MINGDA Magician X, on the other hand, is a resounding success.

Product Pros
Extruders with direct drive
Auto-leveling of the mattress
It's simple to erect.
Product Cons
There is no construction plate that may be removed.
Getting rid of prints might be a real hassle.
Ender 3 Pro is an excellent illustration of this and is the most recent addition to Creality's Ender line-up. As a result of the upgrade's improvements, the printer is safer and more stable. This includes a stronger power supply and better components. The Creality Ender 3 Pro has a build volume of 220 mm x 220 mm x 250 mm, a power recovery mode, a heated bed, and a tight filament channel, all of which you'd expect from more expensive models. This is reflected in the final prints, which are of exceptional quality for the price. The Creality Ender 3 Pro FDM printer uses standard 1.75 mm filament, making it excellent for those looking to keep printing prices low in the future. It is possible to assemble the Creality Ender 3 Pro from the box, but it will take some time. The Creality Ender 3 Pro is one of the most user-friendly kit assembly printers on the market. Because it lacks an automatic leveling capability, some setup and calibration time is required. Despite the fact that the Creality Ender 3 Pro requires a significant amount of time to set up, novices can expect excellent results for a $300 3D printer.

Product Pros
The print quality is excellent for the price.
A good way to build volume.
Upgrades that are simple enough for the average person to do themselves
Product Cons
Self-assembly
No automatic bed leveling.
When it comes to the world of 3D printing, nobody comes close to Josef Prusa. In our top 3D printers for professional guide, where we highlight the $999 Original Prusa i3 MK3S+, we go into greater detail about his story. The MINI+, which has a build volume of 180x180x180mm (approximately 7 inches), is the most "professional" of the printers featured in this book, despite its very tiny build volume. However, at $399, it's also affordable enough for enthusiasts or first-time users to get their hands on one. In the beginning stages of your 3D printing journey, this may be the printer for you.

Product Pros
High-resolution images
An indigenous slicer of prusa
Calibration of the mesh bed
Product Cons
The price is higher than some of the competition.
Minimal building space
Resin printing works when light hits the resin and hardens it into an object. To project light, many printers make use of color LCD displays (basically, low-cost phone displays). Custom monochrome monitors, which offer higher resolution and clearer light, have recently risen in popularity, resulting in faster and cleaner prints. Anycubic Mono X is one of these printers, and its display technology is comparable to the Mars 3 we just shown. To accommodate larger models, the Mono X's 8.9-inch 4K monochrome display has been increased in size. In addition, the gantry of the Mono X has been redesigned for increased print quality and printing support. When it comes to high-quality printers, Elegoo and Anycubic are neck and neck. Choosing between the Elegoo and the Anycubic is a matter of personal preference, with the Elegoo's Chitubox and Lychee slicers and the Anycubic's Photon slicer being two of the most popular options. Both firms, in my opinion, have impressive products.

Product Pros
Only one color option
Exceptional clarity
Product Cons
Proprietary Photon slicer
The exposure-to-weight ratio can be tricky to get right.
Prusa I3 3D printer kits are well-known for their ease of use, ease of assembly, and high print quality. This is one of its products, the DXPRO SC 3. There are numerous advanced features, such as the huge build volume and clean design, available on this device. The construction volume is 300 x 300 x 400 mm, and the printing speed is 20 mm/sec. The thickness of the layer ranges from 0.05 to 0.4 millimeters. The print quality is accurate to within one thousandth of a millimeter.

Product Pros
Accuracy and precision are required.
Exceptional clarity
Sturdy metal construction.
Recovering from a power outage
A heated printing bed is available.
Affordable
Product Cons
Calibration by hand
Only PLA can be used.
Intriguingly, this appears to be based on the Ultimakers. Ultimaker 3 and S5 reviewers will remark that this printer has the same bed lift mechanism and extruder carriage design as those machines. Having a closed design assists with heat dissipation, resulting in higher-quality prints. No, the QIDI is not $3,000 or $6,000. Let me be clear. It's a pittance compared to Ultimakers, with a build area of just 140 x 140 x 140mm. Dual-fibre printing is not supported and there is no automatic bed leveling, a camera or internal lighting. QIDI is worth a look, though, if you want to get a sense of how an enclosed printer works and do it for a relatively low price.

Product Pros
Print space with a border
Cartridges for extruders
Product Cons
Very little build area
There is no automatic bed leveling.
Monoprice 3D printers have earned a reputation for their dependability among customers. Voxel is one of them. It has a lot to offer to its user community. Flash Forge Finder is a lot like this one. Cuboid in form, it features an outsized touchscreen. It's simple to set up and simple to use. Those who are just starting out will find this more appealing. Build volume of the printer is 150 x 150 x 150 mm. It prints at 10 to 100 mm per second with a nozzle diameter of 0.4 mm. Layer thicknesses range from 0.05 mm to 0.4 mm in thickness. An easy-to-use touchscreen of 2.8 inches is included.

Product Pros
Reliable
There is a minimal setup needed.
Multi-materials are supported.
A heated mattress that can be taken out of the bed.
In 2018, Artillery introduced Sidewinder X1. It is constantly improving and adding new features based on client feedback. V4 is the fourth generation of X1 V4. It's sleek and polished, just like you'd expect. Printing at up to 150 mm per second, the printer can produce objects with a construction volume of 300 x 300 x 400 millimeters (mm). For about $400, you may get access to a wide range of high-end features.

Product Pros
Pre-assembled
The construction plate heats up quickly.
Low power consumption
A detector for filament run-out
Amazing attributes have left people in awe. It's easy to put together. The technology has been simplified by the corporation. Small and lightweight, the printer may be placed on any work surface. With an output speed of 100 millimeters per second, the Tech X Pro printer has a print area of 230x150x150 mm. Aluminum construction provides sturdiness as well as a reduction in vibration. 100 to 500 microns is the resolution range for the layering process. WIFI, Ethernet, SD card and USB can all be used to connect to the device.

Product Pros
Assembling is a breeze
With a magnetic construction plate
High-quality 3D printing
Reliable
Affordable
Product Cons
Leveling the bed by hand
Non-advanced proprietary slicer.
Things to Consider Before Buying the Best 3D Printer Under $500
Now before you go out in the market, there are several features you need to consider that will help you determine which is the best 3D printer. Therefore, we have made a buyer's guide for you so you are not completely clueless when you head out.
Assembly
Most models that we have mentioned above are partially assembled. This means that you have to put in some effort by attaching the necessary equipment to the model before using it. On the other hand, there are some large volume models that require building from the scratch. If you are not a pro and haven't used a 3D printer before, we recommend that you get the ones that are pre-assembled or only require half the assembly because instructions are relatively easy to follow.
Printing Technology
Since the invention of these machines, researchers have come up with around 11 types of technology that can be used to print your everyday items. From FDM and FFF to SLA and MSLA, there are lots of options available. If you are a beginner, we recommend that you read up on it and then decide which type of printer you are looking for. You can also look for professional advice from the store if you are unable to decide.
Type of Frame
Printers with closed frame designs are generally safer to use because there are no exposed plates that you can touch and end up harming yourself. If you have kids, we strongly recommend these types of structures. However, if the setting is large and you work in an office environment, then an open frame is good. You get to see the whole printing process with it as well.
So, which 3D printer are you going to get for yourself?
Frequently Asked Questions
No, you just need to read the guidelines and instructions carefully.
Yes, if you are a beginner we recommend that you use one because they will come in handy in the future.
Almost everything. From kitchen accessories to jewelry and ornaments, the sky is the limit.
Creality has been producing some excellent models in the last few years.
Big yes. It saves lots of time and effort and you can manufacture just about everything.