8 BEST AIR MATTRESS THAT ARE ESSENTIAL FOR A RESTFUL NIGHT
By Alice Green
|
26 May, 2022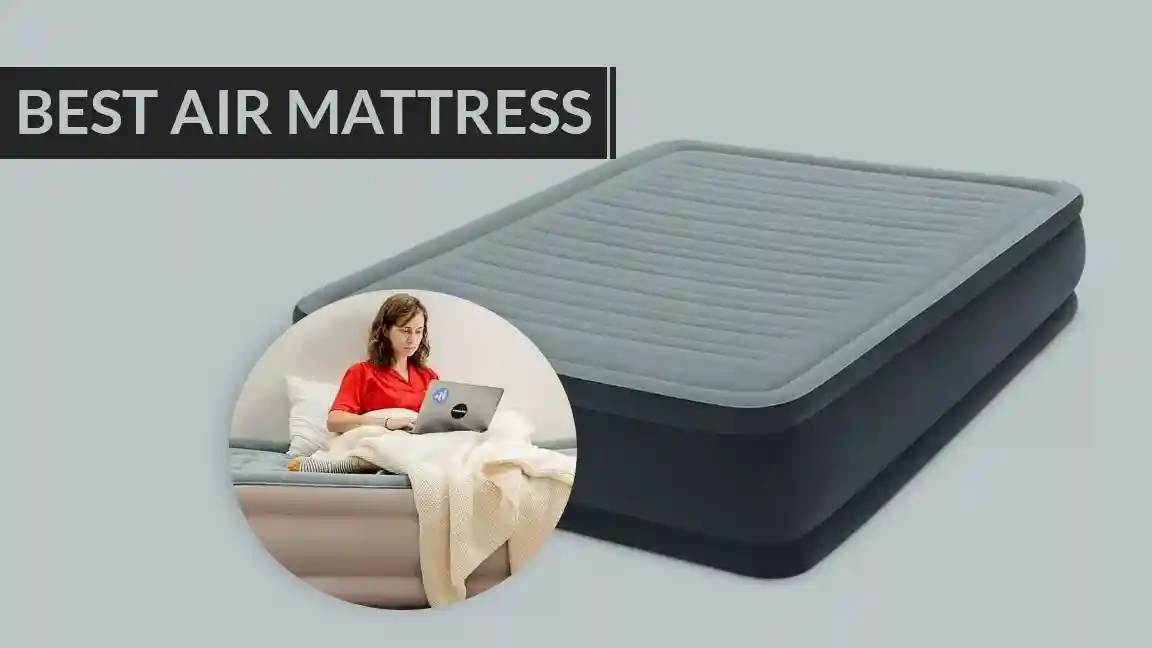 Even if it's only for a few days, having the correct air mattress is essential for a restful night's sleep. A budget-friendly, high-quality air bed is a must-have whether you have overnight guests, are going on a camping trip, or are temporarily residing in a place where you need one every day. You'll want an inflatable mattress that's easy to set up, compact to pack and store, and won't leak air overnight while you're using it for the most pleasant and convenient experience.
An air mattress is the best option to increase your home's sleeping capacity without having to buy additional furniture, like a couch bed. Anywhere there is floor space, you can quickly turn it into a guest room by rolling it out and pumping it up. An air mattress is also useful for camping and when you need a place to sleep while you wait for a new mattress to be delivered.
When you have overnight guests or are on the trip, having an air mattress on hand is a lifesaver. Mattresses with solid, comfy resting surfaces as well as long-lasting durability are among the best air mattresses on the market today. If you'd like to learn more about our top picks and purchasing advice, please continue reading.
Although there is no such thing as a flawless air mattress, we are convinced that SoundAsleep Dream Series Air Mattress holds air after numerous usage following six years of long-term testing. Because it didn't deflate much during the night, it provided superior back support than any of the other air mattresses we tested, and its inflation pressure is adjustable. As a result of this mattress being taller than other air mattresses we've tested (twin, full, queen, and king), it was easier to get on than other mattresses we've tried. If you don't want to disturb you're sleeping children (or are sensitive to noise), the SoundAsleep's built-in pump was the quietest we tested. SoundAsleep also offers a one-year warranty and fast customer care in the event that the pump or the mattress springs fail.
Product Pros
Insulated waterproof flocked
Customer friendly 1-YEAR warranty
It holds its shape.
It's quick, simple, and somewhat quiet to set up.
A built-in pump is included
A firm grip
A total of 40 air coils provide additional comfort.
A fabric bag for storing items.
Product Cons
Can be a little too stiff.
In addition, the built-in pump's cord is too short to be useful.
Repair kit is not up to snuff.
Pricey
Is not a portable device
A single firmness level
After a few usage, it begins to sag back into place
The Lightspeed Outdoors Air Bed Mattress lives up to its name as a camping mattress. This temporary air mattress weighs just 6 pounds, with the pump included. A storage bag and a battery-powered pump are included with this camping mattress (not included). There are better plug-in air pumps out there, but the Lightspeed bed isn't one of them. Temperature stability, abrasion resistance, and durability make TPU superior to PVC. Top and bottom layers are connected with patented stabilizers to create a bed that is adjustable from gentle to extremely hard. The bed is lighter and more compact than PVC-based equivalents. Easy inflation and deflation using a free-flowing valve. Pump with built-in battery power is also included (batteries not included). Maximum weight capacity of the 2-Person PVC-Free Air Bed is 550 lbs.
Product Pros
Affordable,
Comfortable
Two persons can easily set it up.
The sheet is thin, yet it appears to be effective at blocking the sun's rays. In the shade, you won't get too hot.
Product Cons
Two people are needed if the weather is windy. It's impossible to do it on your own.
If you don't face the wind in the appropriate direction, your tent will collapse. Tent raising requires the use of a pole.
There were some issues with the valve and pump.
Luxurious King Koil! A one-year manufacturer's warranty is included in the purchase price. King Koil added a soft flocking layer and a built-in pillow to their queen airbed technology. We stand behind the quality of our products and the terms of our warranty in packaging and with the purchase of a new airbed. Quilt top is exceptionally thick, waterproof, and supportive of the spine, with a sueded top that holds the bedding in place. Separate inflate and deflate knobs on the built-in pump make inflation quick and easy. A simple plug-in internal pump makes inflation and deflation quick and straightforward. Two minutes is all it takes to inflate the King Koil mattress to full capacity. If you have overnight guests or are going camping, the King Koil air mattress is a great option. Despite the fact that it keeps air incredibly effectively, you may inflate or deflate it just pressing the pump for a few seconds!
Product Pros
One-year warranty
Additional spinal support is provided by an extra-thick waterproof comfort blanket top.
Rapid inflation
High-density foam provides a more comfortable night's sleep.
Twin, Queen, and California King Sizes are all available.
Product Cons
The cost of a larger size is higher.
Due to the absence of the dual-pump architecture,
Despite our best efforts, the flocked sides are barely apparent.
Firmness cannot be adjusted.
You'll get what you pay for with the AeroBed, and it's the closest thing to having a true bed, including the frame. An inflated headboard on the AeroBed helps to keep people' heads in place while they sleep. A built-in pump with an auto-shutoff feature allows you to set the mattress to pump up and walk away while it takes care of itself. In the event that the mattress begins to deflate, it contains a second pump that quietly inflates it. When it's not in use, the bed folds up nicely into a handy carrying bag. Brushed polyester top on a PVC frame. Puncture resistance and weight reduction are both enhanced by using laminated material. A USB port is included in and a handy travel bag is included for easy storage.
Product Pros
Portable
Port universal society
Materials that can last forever
The headboard is built in.
Customizable options
Dual-pump technology ensures the desired hardness.
Roomy dimensions
Product Cons
Headboard that isn't built to last
Deflates after a few usage.
A flocked surface retains static.
Heavy movement may cause it to slide.
Isn't it true that we all enjoy a good night's sleep? The Insta-Bed, on the other hand, is a good option. As a result of its unique design, the Raised Air Mattress maintains its firmness over time. There are two pumps on this mattress. Inflating and deflating a mattress with a pump is the most common way to use an air mattress. After it's done, it will turn itself off. Other pumps are built into the mattress and will continue to work even if you turn off the light at night. That's so cool! The mattress weighs a hefty 13 pounds, which makes it easy to transport to different locations. In order to provide a long-term usage of the mattress, the top layer is composed of PVC material, which provides water and damage resistance.
Product Pros
Dual-pump guarantees inflation
Lightweight
Portable
You won't be woken up by the quiet internal pump.
Convenient to carry and store
It has a built-in edge support
Product Cons
Must be plugged in at all times, even while you sleep.
It comes with a one-year guarantee.
There is a risk of leaks
Strong odor out of the box
While inflating, the pump makes a lot of noise.
For those looking for a good air mattress at a reasonable price, the Intex Dura-Beam Standard bed is a fantastic option. The Intex Dura-Beam twin air mattress has a built-in electric pump that makes it quick to set up for one overnight guest or a child. The bed was put together in six minutes. A flocked surface, a built-in pillow, and a raised edge make this air mattress ideal for a solitary sleeper. It was well-made, comfy, and long-lasting, as we discovered. When not in use, this air mattress deflates into a carry bag with handles, making it easy to store or transport when going camping.
Product Pros
A built-in pump is included.
Inflation and deflation are quite easy to control.
Ease of transportation and storage
Excellent for short trips.
There are no leaks.
Product Cons
Due to excessive movement, this may change
There are no options for stiffness.
Not as pleasant as other airbeds
Hand pump is required.
Even though it's vinyl, the Lazery Sleep doesn't smell like typical PVC. It's well-made and long-lasting. When we tested the Lazery Sleep for 48 hours at a weight of 200 pounds, it exhibited no signs of pressure loss. Inflated to almost the height of a conventional bed mattress, it was remarkably easy to get in and out of. The mattress flattens flawlessly for folding and rolling and fits effortlessly into the supplied canvas bag for storage thanks to the efficient pump that removes all of the air.
Product Pros
Inflation and deflation are quite easy to control.
Convenient to take along when on the go.
Has a 500lb weight capacity and is made of a puncture-proof material.
The weight is uniformly distributed and supported thanks to the integrated coil technology.
Allows you to easily alter the firmness of the mattress by using a remote-control air pump.
Product Cons
Mattresses that are more expensive
Ineffective customer support.
Insufficient airflow is a possible drawback.
In the middle of the night, are you fed up with your air mattress deflating? You may want to consider the Noble air mattress if that describes you. It has a very durable construction, which helps it to keep its shape during the course of the night. It's easy to set up and oh-so-comfy to sleep on thanks to the built-in pump and smooth suede top. Ultra-Suede Top maintains bedding and sheets in place on the mattress, which is firm enough to provide good and excellent sleeping posture.
Product Pros
People who require a lot of firm support will appreciate how well this bed holds its shape throughout the night.
Another pleasant feature is the built-in pump, which allows this bed to be utilized both indoors and out.
Moreover, it's simple to inflate. Setup on this mattress, according to the manufacturer, just takes three minutes!
Product Cons
It isn't the most luxurious bed on the market, therefore it may not be suitable for those who need a lot of support.
Conclusion
If you're going to buy an air mattress, you should never do it on the spur of the moment. The only way to figure out which is ideal for you is to do some research and compare a variety of options. Take your time to choose the perfect air bed for your needs before grabbing the first one you see. Even while an inflatable mattress can be a blessing when you're constantly on the go, if you buy one that doesn't fit your intended use, it can be a nightmare. Hopefully this guide has given you all the information you need to ensure that you and your family get the air mattress that you deserve.
Frequently Asked Questions
When you're looking for a nice air mattress, always check out product and user reviews. In order to get a more accurate picture of whether or not an air mattress is worth buying, it's best to get feedback from people who have actually used it.
High-quality air mattresses may last for a long time, making them excellent for camping and last-minute travels. However, sleeping on an air mattress every night isn't something you want to do. Because this inflatable mattress lacks the stability of a traditional mattress, it may not be suitable for long-term use.
When you need somewhere to sleep that isn't on the ground or a couch, an air mattress is a good option. However, they aren't meant to be used every night. Long-term spinal alignment can be compromised by the lack of support provided by air mattresses, which can lead to pain in the back.
To comparing products and retailers is impossible because they are all unique. When only seldom used, air mattresses can last up to six years. Your regular mattress can begin to show signs of wear and tear sooner than if you only use it occasionally. In most cases, the importance of high quality is self-evident.