Top 10 Best Coffee Makers Under $100
By Alice Green
|
06 Jul, 2022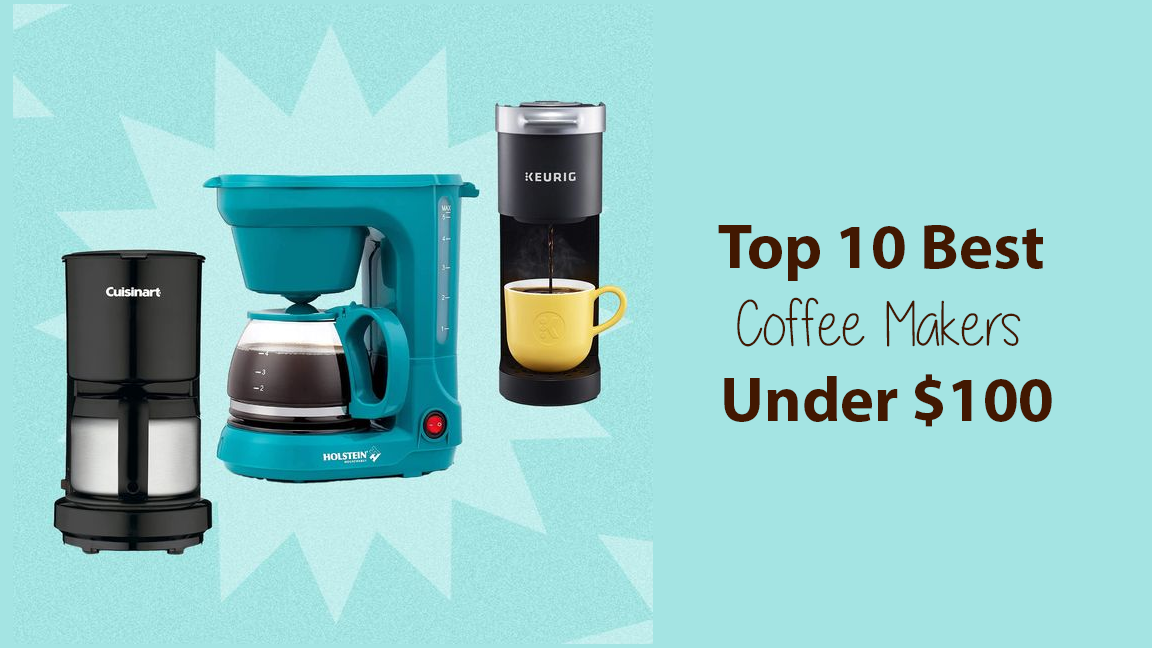 Coffee is a quintessential part of the day that quite literally ensures that you become productive from the very first hour. Waking up and having a cup of coffee can surely recharge you enough to spend a day with good vibes instead of questioning your life decisions. Now you must have heard some doctors and researchers mention that this is not a healthy habit but trust us when we say that consuming one cup of coffee in the morning can really turn around your day for the better. There are lots of motivational speakers who give you the easy formula of making money by asking you to forgo your dose of caffeine. While it is impossible to become a millionaire by saving $10 a day, we do think you can benefit from the extra cash you save every month by following a simple hack.
The investment that you are looking for is a coffee machine. If you are a regular coffee drinker, this is a must-have at your place because not only will you save the money that you spend on convenience store coffee but also the time it takes to go to the store and get it. Now you must be wondering that the suggestion might sound nice but a coffee machine is expensive and finding one that fits your budget is near impossible. Well, first of all, you need to realize that this is an investment. You will benefit from it for many years to come and even during vacations or weekends, when you don't feel like going out to get yourself a coffee, this machine will be right here, providing you a wonderful dose of caffeine and company that you desperately need.
We understand that widening the budget for a coffee might be difficult for you but what if we told you that you can get the best coffee makers for under $100. Yes, all you need is that $100 bill and you will be all set for many years to come. Our experts have reviewed the models and made sure you don't need to go out in the market without having some prior knowledge. So all you have to do is browse through the list and find coffee makers under $100 that will give you much-needed joy and delight.
Our Top Picks for the Best Coffee Makers Under $100
Are you the type of coffee drinker who doesn't like the hassle of preparation at all? Well, we might have just the product for you. This model is one of the best in the market and at the top of our list for a reason. It is easily programmable and wouldn't be wrong to say that you just have to click one button to get your steaming cup of coffee in the morning without any effort. We are not kidding when we say that even your grandparents can use it without any hassle so if you are planning to gift them one, now would be the time to order this beast of a machine for them.
Cuisinart is honestly a household name that doesn't need any introduction and its functions are well-suited for all kinds of drinkers. It is capable of producing 10 cups of coffee in a day so even if you have a small get-together at your place and everyone decides to stay over, breakfast is one thing that would be sorted. You can adjust the setting and leave it to brew and by the time people come, it would just be a tap away. You also get a charcoal filter along with the model so your coffee wouldn't be devoid of the minerals you need to thrive.
Features
Stainless steel carafe
Double-walled
Fully insulated
Charcoal filter
Pause button
LCD screen
Automated brew option
Self-cleaning
Product Pros
Comes with a gold filter
Auto shutoff
Thermally insulated carafe
24-hour programmability
Product Cons
The digital display doesn't have a backlight
The carafe doesn't keep the coffee hot
This is another brand that has ensured that the consumers are always satisfied with whatever they bring out in the market. It is available for under $100 and can easily make 12 cups of coffee a day. If you have a huge family and all of you are coffee drinkers, this should definitely be the top-rated item on your list. All you have to do is select the program feature and choose the kind of coffee you need and it will start brewing in a second.
One thing that our experts loved about this model was the auto-shutoff so once the brewing is done, it shuts off the machine automatically. This prevents a lot of hazards and you wouldn't have to waste extra water or coffee beans for that matter. It also has a zero wastage feature which means that when you are alone, you don't have to pour in any extra material and can make one cup of coffee for yourself. That also reduces the amount of cleaning you might have to do.
Features
96 ounces
Dual single serve
Drip brewer
Prepare 12 cups at a time
Pause feature
Compact design
Stainless steel
Auto shutoff feature
Product Pros
Lets you select the brew strength
Easy to program
Comes with a glass carafe
Easy refilling
Product Cons
Isn't very durable
No self-cleaning
Keurig has made a name in the appliance industry as one of the leading companies for coffee makers. They have partnered up with many coffee beans company and are now associated with the most delicious morning beverage in town. The experts as well as the customers love how easy it is to operate a Keurig machine, especially when you lobe in a small household. This modern-looking model is also available under your budget which means it is the best drip coffee-maker under 100.
We are in love with the style and the beautiful aesthetics that the brand works on. But, don't worry; the functionality is just as stellar as the looks. We guarantee that the guests coming to your house would be inquiring about this absolutely great model sitting on your lounge. It features a compact design as well as an auto-off specification that automatically stops brewing once the coffee is prepared. No matter which type of brewing you prefer, this small extremely efficient coffee maker is well-suited for everyone.
Features
3 cups at a time
Reusable coffee pods
K-cup pods
Compact
Auto-off option
Self-cleaning
Descale light
Product Pros
Simple button controls
Auto-off
Features a descaling indicator
Multiple cup size buttons
Product Cons
Can't pour in a carafe
Compatible with K-pods only.
We can't help but put another stellar product by Cuisinart on the list. They just know how to satisfy their customers and bring in a model that can do it all. It is a very go-big-or-go-home kind of coffee machine for huge families that need to fulfill their caffeine cravings early in the day. As a huge piece, it steals the show as the best coffee maker and we are not surprised. The serving size it packs is massive and you can almost feed a family of 15 with this one.
Even if you have a party at your house, you can sleep easily knowing that guests will take care of their early morning beverages with the help of this easily programmable model. The sleek pot, even though great in serving and size, looks absolutely beautiful on your countertop and the credit goes to the manufacturers for a sleek design that blends with other appliances so easily. It has an automatic drip brewer and features automatic shutoff so once the brewing is done, you don't need to go end the business. It takes care of itself automatically and you can find a variety of options displayed on the LCD screen.
Features
Stainless steel finish
Massive serving
Automatic drip brewer
Auto shutoff
Self-cleaning feature
Digital display
Carafe
Gold-tone filter
Product Pros
Built-in brew strength regulator
Comes with a gold-tone for better filtration
24 hour programmable
Lets you select the carafe temperature
Cleans itself
Has a backlight on the LCD
Product Cons
The quality of plastic is not that great
Hot plate rusts after some time
You are obviously looking for a drip coffee maker that also fits your budget and is available at a price that is suitable for your budget. Well, we have just the model. Ninja is a company that may not be well-known by many coffee drinkers but there is a reason it ranks at number 5 on our list. All the users who have brewed their cups in this maker were super impressed by the design and the options it provides at such a less price. It has a 12-cup feature which means it is ideal for both single users and families.
The reason why we have chosen this for you is the intelligent design that impressed the experts at first look. Most coffee makers that offer 12 cups are slightly huge but this one is such a compact appliance that the aesthetic cannot help but appeal to us. The machine allows you to set a timer for the beverage so you can prepare for your morning routine while it prepares the coffee in the background and alerts you the moment it is ready. Different brewing options are also available which is an added bonus at this price.
Features
Stainless steel look
Sleek design
12-cup programmable coffee maker
Lets you select the brewing strength
Timer
Integrated hot plate
Self-cleaning option
60-ounce water reservoir
Compact
Dishwasher safe
Product Pros
Comes with a removable reservoir
Adjustable warming plate
Can prepare small batches as well
Easy to clean
Product Cons
Might have electrical issues
A bit loud
You must be surprised to see this one on the list. Yes, we know that Black + Decker makes tools but they have expanded their business to accommodate some of the greatest coffee machines as well. If you are reluctant to try it, we recommend thousands of reviews that rate their appliances as the most powerful coffee machines on the market and the performance is better than anything you can imagine.
This model has a no-drip carafe which means you can prepare and store as many cups as you want, too without a hassle. It is easy to use and clean and because of the no-drip specification, you wouldn't have to wipe the machine as often as well. The value that this machine pack is incredible and people who love to enjoy a single cup of hot coffee in the morning will thank their stars for getting an appliance that helps kick start their day with genuine happiness and pleasure.
Features
Stainless steel finish
Utilitarian bent
No-drip feature
Carafe built with thermal materials
Product Pros
Compact
Best value
Easy to clean
No-drip carafe
High performance
Product Cons
Quality varies
The carafe cannot hold too much heat
If you are a regular coffee drinker, it is impossible to not have heard of this brand. Bunn is one of the best in the business because the quality of materials they use in their coffee makers is the greatest of all time. In fact, their machines are solely picked for their durability and how well they perform. We are huge fans of Bunn and see them being used in hotels and restaurants all the time.
The reason why it is a trusted brand is that everyone can easily afford it and get the greatest cup of coffee without much effort. As compared to other options on the list, the preparation time with this model is almost half and so if you are someone who doesn't like to get late, you can totally rely on this sleek model to help you save time and money. It is packed with amazing features like a spray head system that allows you lots of extraction from the coffee beans. It fills a full travel mug and a glass carafe that you can easily enjoy with friends if they have stayed over.
Features
Unique spray head system
Stainless steel
Allows more extraction
Super-fast coffee brewer option
Product Pros
Fast
Commercial grade water tank
Optimal coffee extraction
Durable
Sleek design
Compact
Product Cons
Might be a little difficult to clean
Anyone who is looking to save money and also get a cup of coffee every day that serves their caffeine dependence is in for a treat with this machine. It is easily available for under $100 and you will be delighted to find out about the features that come along with it. In fact, it is so cheap that you can also buy coffee bags from the store and stock up on the beans to have a fantastic month.
Bonsenkitchen specializes in affordable appliances and the price tag for this model is a testament to that. Even though the features aren't that great in number but you get a decent hot beverage every morning without having to spend lots of money and time on getting a latte from the nearest Starbucks. From 24 hours programmability to a quick touch, this machine has all the things you need to make your mornings refreshing. Plus, it comes with a carafe so you can fill your travel-sized mug while enjoying the morning cup.
Features
24-hour programmability
Stainless steel finish
Quick touching programming
Permanent filter
Hot plate
Carafe
Automatic shut-off
80-watt heater
Resistant to burning
Product Pros
Shuts off automatically
Safe
Offers protection against burning
Provides optimal brewing temperature
Extremely affordable
Durable
Product Cons
Hard to clean
Not a great design
In this sad world of instant coffee (no judgment), be the kind that actually brews the beans and provides the aroma that fills your entire brain with delicious musings of a coffee. Honestly, the hassle of everyday work life has us settling for average coffee that tastes more like water every day. However, when it comes to Cuisinart, it never disappoints in terms of flavor and provides a great variety for brewing as per the taste of different people.
Usually, this brand is expensive but considering the demand, they have rolled out this affordable model for under $100 and our experts weren't disappointed at all. If you like fresh coffee, you will automatically fall in love with the froth it provides and how the ground beans come out in the taste of the most amazing caffeine you have ever tasted. It has a brew-pause feature so you don't end up burning your hand. The 24 programmability allows you to keep the setting for a long time you can easily wake up the next day and have the cup ready to devour. The manufacturers have listened to the customers and also included a gold-tone filter that retains the minerals and taste and you can spend your entire day healthily sipping on the magic that pours out of this appliance.
Features
Automatic
Built-in grinder
Fresh brewing
24-hour advanced programmability
Auto shutoff
Charcoal water filter
Gold-tone reusable filter
Product Pros
Auto start and shut off minimizes your effort
Lets you control the brew strength
Multiple brewing options
Gold filter
A charcoal filter is healthy
Fresh coffee every day
Product Cons
The thermal carafe requires washing
Not very easy to clean
This is the latest find by our experts who believe that you should be made aware of all the different options in the market so when you go out and evaluate the coffee machine you want, you can decide easily. This one fits in our $100 budget and packs all the features that we deem necessary for a great brew in the morning. The thing that has been able to impress our experts is that most of the specifications in this model are usually found in high-end products.
For example, the coffee grinder that Gourmia has is so incredible that it easily crushes all the beans and produces a taste that is incredible with an aroma that can put you in a coffee coma for days. It has an 18 grind setting which is again a feature that you don't normally see in budgeted options. With just a few controls and coffee beans, you can have restaurant-style coffee at your disposal every morning and we cannot think of anything that would be better than that.
Features
18 grind settings
Stainless steel finish
Touchscreen
Flat Burr grinder
Water reservoir
One-touch button
Modern display
Product Pros
Precise settings
Multiple grind options
Multiple brewing options
Easy refilling
Easy cleaning
Sleek design
Product Cons
Warmer turns off every 30 minutes
No rewarm option
Things to Consider for the Best Coffee Maker
Now before you decide which coffee maker you want to make all your mornings delightful, there are a few things you need to consider. The market is full of options but in order to avoid scams, we have prepared a guide that will easily help you determine which specifications to look for when you are making that choice for yourself.
Number of Cups
This completely depends on how many members are in the house. If you are just one person who needs one or maybe two cups of coffee in a day, you should look into single-serve makers that are capable of providing three cups of coffee every day. Plus, their servings are great as well so they fill a huge travel-sized mug that you can take along to your workplace or just come back and reheat for an evening delight. On the other hand, if you have a huge family, then considering options with a massive reservoir would be wise. These coffee makers prepare the beverage in a large quantity in one go and have a carafe that holds the liquid till someone pours it into their cups. These are capable of producing 12 to 13 cups in a single day.
Usage
Nobody wants to struggle with a coffee machine in the morning. The whole point of getting one in your kitchen is to save that extra trip to the store or café so you can have a quiet time for yourself. This is why you need to look for makers that are extremely easy to use and have controls that can be easily operated. For this purpose, we have digital displays and LCDs that work without much effort. All the ones that we have reviewed above work with either a single touch or one button which makes your life easy. Even with the grinder options and multiple varieties of coffee, you don't have to struggle with these machines and get your work done in record time. Some of them also come with timers so all you have to do is get ready in the morning and put a timer so as soon as the beverage is ready, you are alerted and you can enjoy the rich and creamy goodness while it is still steaming hot.
Cleaning
Now as far as people who live alone are concerned, cleaning is a hassle they don't like much. They sometimes end up eating in the takeout boxes so that there are no dishes to do in the morning. Most of the coffee makers we have reviewed above come with self-cleaning which means the machine wipes out all the extra coffee inside and you can rinse it to get the job done. If you have a maker that uses a grinder, your work would be slightly difficult because it requires regular cleaning to get the ground coffee out from where it is buried. We usually recommend a coffee maker that has a water filter so it can easily be wiped clean without you having to spend a lot of time doing it.
So, which coffee machine are you going for?
Frequently Asked Questions
Under $100, you will get lots of reliable options from Cuisinart and Keurig as well.
You should go for dripping options that don't require much of a hassle and has a single serving as well.
Yes, absolutely. They cover all the basic features that can give you a fresh hot brew in the morning.
Just get a coffee maker that has a timer.
If you clean it nicely, it should stay with you for at least 5-10 years.