Top 4 Best Electric Pressure Washes 2022
By Alice Green
|
08 Sep, 2022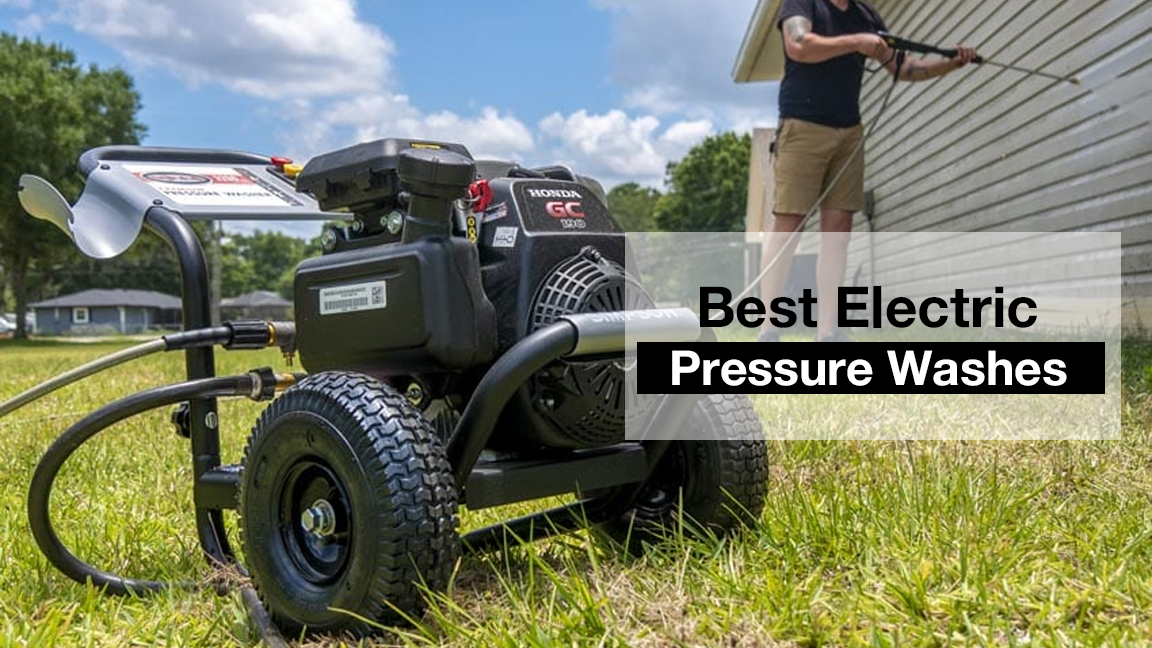 Let's face it, we all have a cleaning freak in us that occasionally surfaces when we say something great online. The home décor and furniture look the best thing ever created and you are somehow motivated to clean your entire house just to get that piece of equipment to look good in the place. Plus, it is summertime which means that soon 4th of July would be around the corner and you would have to prepare your house for the guests and make it look presentable for a great weekend filled with BBQ parties and backyard dinner. So, who is in the mood for calling cleaning services? Not us.
You don't have to ring up the professionals when we are here to bring the professionals to you. Seriously, all you need is good equipment and the right kind of willpower to dedicate one whole weekend to cleaning and you will be sorted for the next few months. Plus, you would be saving so much money that could be spent at a spa or even on your local shopping spree. Most of the work would be done by the equipment anyway and it would none other than the best electric power washer that will make your life easy.
Check out : best electric chain saw
When grime and dirt get stuck to the furniture or carpet, a simple treatment of hose pipe doesn't help. You need something stronger that will take away the dirt in one go without you having to scrub the dirt away. Well, the answer to your problem is the most powerful electric pressure washer on the market that will wipe away all the grime and goo, making your house look as fresh as new. Lots of machinery is available in the market for you to take advantage of but just to make things easier for you, our experts have reviewed the pressure washers so you can just browse through the list and pick the one that you think works best for your house.
So let's get started with the electric pressure washer reviews.
Despite what the popular opinion is, heavy doesn't always mean good. This lightweight pressure washer weighing just 25 pounds has a remarkable 2150 PSI with 1.4 GPM flow and is a powerhouse of a washer. You can easily pick it up and transport it anywhere you want and it still gives you the option to clean things as big as a dirty truck or a deck.
The manufacturers have included a 15-foot hose and 25-foot power cord which is quite compatible with the nozzle. You also get an attached detergent bottle which makes the cleaning all the easier. The best part about this machine is that you get multiple nozzles ranging from 0 to 40 degrees so you can adjust it however you want and apply the pressure of your choice.
Just add the detergent and within minutes the foamer feature will lather the soap all over for deep cleaning. it performed the best out of all the washers we tested and the experts were in love with how the measurements fit with the product so well.
Features
2150 PSI
1.4GPM
25 feet hose length
25 pounds
35-foot power cord
Product Pros
Includes 4 spray nozzles
Has a foam cannon
A flexible 25-foot pressure hose
Good design
Portable
Easy to store
Product Cons
Extended transport is short
A molded trigger is not comfortable
Even within houses, there are types which means you have to decide the size of the pressure washer you need for deep cleaning. With bigger houses that have sidings, fences, and driveways, you should look into machines like Greenworks Pro because they will make your work infinitely easier.
It packs an extremely high pressure of 2300 PSI and 2.3 GPM which is great and you are able to get done with the work so much faster. All you have to do is apply the pressure to the place that requires cleaning in your opinion and within minutes of effort, the extra pressure from the model has taken care of all the dirt and grub. It is a huge design with quite a heavy structure that moves around on large 10 wheels.
The reason why we think this is important is that you can steer it clear of your main property and store it in the yard somewhere so when you have to clean the house, you can do so from the distance. The company has also included a turbo nozzle along with 4 spray tips so you can apply the detergent and lather and then effectively remove every last piece of grime from your house.
Features
2300 PSI
2.3GPM
25 feet hose length
35-foot power cord
Product Pros
Large-10 wheels for all terrains
Tall transport handle
Comfortable grip
Flexible hose
Ideal for a bigger house
Product Cons
Bulky frame
Requires big storage space
Short lag time
Are you looking for a machine that fits your budget and gives you top-notch cleaning that will make your house appear as good as new? Well, look no further because WEN is here to ensure all your wishes come true. This pressure washer comes with 2000 PSI and a flow rate of 1.6 GPM which is amazing in this price range.
The machine is almost 12 inches tall and wide and holds your breath, it only weighs 14 pounds! It is extremely easy to store but can still take care of all your lawn and deck cleaning. Isn't it amazing? It is one of a kind product in the market right now that offers so much in so little. You will notice that it is as little as a cooler of ice so you can just move it around comfortably without extra effort. But, don't mistake its size for low performance because, with a 16.5-foot hose, it can wipe all the dirt and goo from the deck, fence, or your vehicle.
The spray is very powerful and you can move it around the electric power outlet because of the length of the hose. The manufacturers have also included a soap tank and a built-in nozzle adjustment so the hose can be angled as per your convenience and cleaned thoroughly without any problem. It really is a powerhouse in such a small size.
Features
2000PSI
1.6GPM
14 pounds
16.5 feet hose length
Product Pros
Compact unit
Easy to store
Easy to move around
Lightweight
Plenty of power
Product Cons
Lacks onboard storage for the hose and power cord
Needs a carrying case
Lacks wheels
Some of our houses don't require deep cleaning but there are still objects lying around like carpets or even smaller spaces like patios that have to be maintained once in a while. Since it is the summer season and there are high chances of having patio parties, we recommend that you get this Greenworks pressure washer that doesn't cost much, and is lightweight but will work wonders as far as cleaning small projects is concerned.
The pressure you will be getting with this model is around 1800 PSI and the flow rate is almost 11 GPM which is good enough for carpets and boats. You get three connect tips with the model and the various angles along with a soap nozzle to help the water go deep in and get all the dirt out. The 35-foot power cord makes it easy to move around and the 20-foot hose is wide enough for the pressure to hit right where you want it to.
What really impressed us in the structure was the built-in rack that is able to hold all the nozzles so you don't have to find extra space for them. This was quite thoughtful of the manufacturers who ensured the organization was also high on their priority list. It has 8-inch wheels and the frame is quite solid so it can be moved around without much problem. Like we said, if you want to keep it low-maintenance, you should definitely go for this option because such features are usually not available in light-duty models.
Features
1800 PSI
1.1GPM
20 fee Hose length
35-foot power cord
Product Pros
Large 8-inch wheels
Easily to move around on uneven surfaces
Comfortable trigger option
Good reach
Lightweight
Great value
How to Select the Best Electric Pressure Washer?
When you go out in the market, you are presented with tones of options. This can lead you to utter confusion because most of them look the same and if you don't have any idea about what features to consider, your trip will be wasted. So, here we are telling you how to pick the pressure washer that will work suitably in your house and meet all the requirements that you want. Just read through the guide and look for these particular features. We guarantee that you will be able to narrow down the best electric pressure washers without any problem.
Power
The entire game of how well a pressure washer lies in the pressure. The grime and dirt will automatically be cleaned if you are exerting the right kind of force to get rid of them. Now obviously, we don't expect everyone to know how to measure the pressure so you have to trust the readings available on the product and since they are tested by the experts, you should have no problem taking it home. To be clear, pressure is measured in pounds per square inch (PSI) and the flow is measured in Gallons per minute (GPM). Usually, these two are the ratings that you will see enlisted on the machines and this is how you have to decide which product you want. PSI is used when you are talking about the pressure of the machine itself and it is quite evident that the higher this rating is, the more your cleaning would be effective. The pressure essentially removes all dirt marks and stains from furniture and carpet and if you see a 3000 psi electric pressure washer, you should know that that is a good enough deal. Usually, the machines are tagged between 1500 and 2500 PSI so depending on how strong you need the washer to be, you can pick yours. People usually choose a 2000 PSI electric power washer because those are good enough for small and medium homes. GPM, on the other hand, determines the volume of water that comes out of the pressure washer. Since it is closely tied with PSI, a high GPM rating also means that the cleaning would be more effective.
Hose Length
With any kind of water cleaning, the length of the hose matters a lot. But again, that depends on what you want to clean. For instance, if your objective is to wash a truck, you will need more length because of the space that is required for moving around. But, if you have to wash a deck, you might not need much length because it is easier to clean and there is not much moving around involved. Some people like a hose that is longer as that increases your cleaning options but generally, it is a hassle to move around so much weight and of course, the water is going to be coming out later than with shorter lengths. Plus, if you have kids, you need to make sure that the water source is not very far from the nozzle or there could be tripping hazards involved. Luckily, there are lots of options available in the market so you can find the ones you prefer.
Type of Pump
Now when it comes to pressure washers, you get two types of pumps namely axial and triplex. Usually, you get axial pumps with electric pressure washers and that is preferred by many people because of how easy they are to maintain. In fact, they require no maintenance at all so you don't have to change the oil or get the pump looked into every once in a while. The only downside is that once it is damaged, you have to get a new one because it cannot be fixed. The seals and valves are irreparable with axial as compared to triplex which does require maintenance but you can replace it in case there are any problems with the pump. If you don't use a pressure washer frequently, you might want to look into an axial-operated electric pressure washer. Otherwise, if you don't mind a bit of maintenance and can oil it every once in a while, we would recommend that you go for triplex.
Conclusion
When it comes to choosing a pressure washer, we recommend that you go with the standard best overall option which is Stanley electric. It has an axial pump that requires no maintenance and is the top choice of not just the experts but also the customers who rate it highly after using it. The deep cleaning feature is excellent for both small and big projects and you can easily store it in your house without much hassle. Other than that, look at your personal preferences and see which pressure washer would you want from the list.
Frequently Asked Questions
Be careful while using them because they are powerful enough to cut through the skin. Always take safety measures and remain out of this way. It is recommended that you test with the least aggressive nozzle first.
When you store a pressure washer, it requires winterizing after some time. The standard process is to drain all the water from the pump and the hose and then add antifreeze and lubricant through the pump in the system. This should make sure that all the water is drained and wouldn't freeze when you store it indoors.
Usually, the pressure washer shuts off when it reaches its maximum capacity. It is a safety measure and can happen a couple of times when you start using it. The solution is to pull the trigger.
Approximately, the pressure washers are available between 1500 and 2500 but a good one for a medium-sized home should be above 2000 at least. It gives you more options for cleaning.
Greenworks and Stanley both have a great reputation with pressure washers.