Best Electric Toothbrush Under $50
By Melinda Smith
|
18 Mar, 2022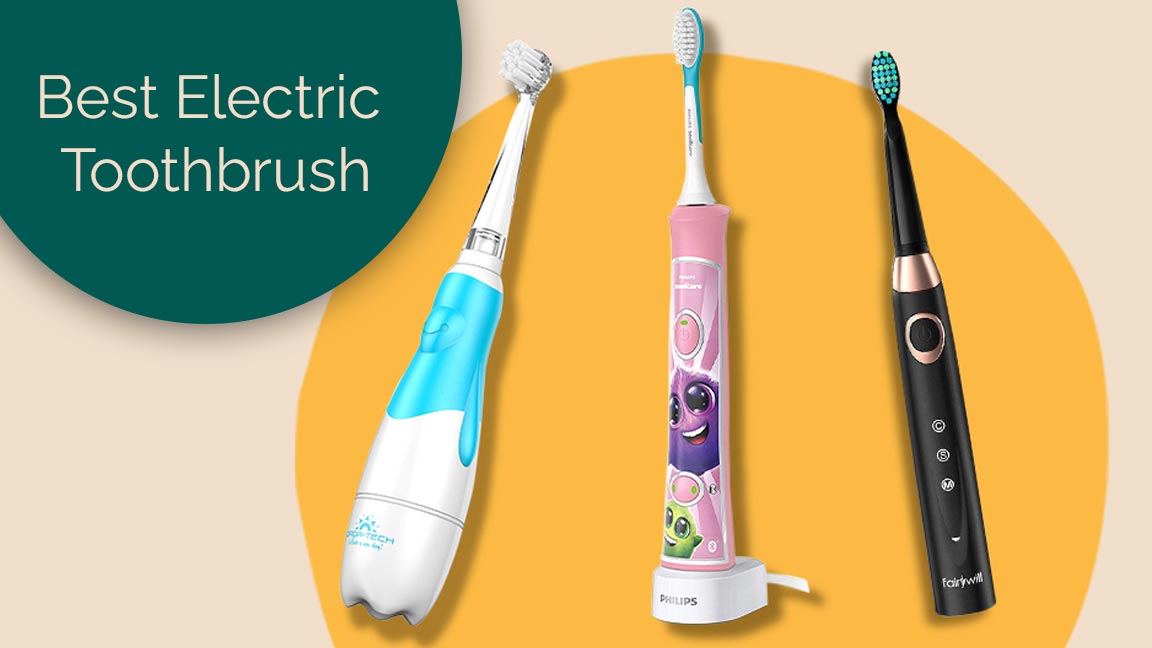 Do you have trouble brushing your teeth? We all do. It is a process that becomes too lazy for us, quite often. Hence, for lazy people like us, and for effective cleaning, you need technology to step in.
This is where electric toothbrushes are handy. They do not just clean quick to fit with our busy schedules, but they are also efficient in cleaning sides that a manual toothbrush doesn't reach. The only downside is that they are costly. But not anymore!
We bring you the best toothbrushes that are cheap but are of great quality. If you don't believe us, check out this review for yourself! Then, you can decide which best electric toothbrush under $50 you will add to your closet!
A word of advice; before you purchase, do ask your dentist.
5 Best Electric Toothbrush Under $50
1. AquaSonic Black Series Ultra Whitening Toothbrush
2. Philips Sonicare ProtectiveClean
3. Oral-B Pro 1000 Power Rechargeable Electric Toothbrush
4. MOCEMTRY Sonic Electric Toothbrush
5. Oral-B Pro 1000 CrossAction Electric Toothbrush
Battery Life
This should be your utmost priority. Especially if you are traveling a lot, you need a toothbrush that doesn't need to be constantly charged, right? Hence, consider a toothbrush that can be used twice a day and can still last a few good days. Plus, it should also not take too long to charge.
Timer
Almost every toothbrush now has a timer that sets off after two minutes. This is because the recommended time by dentists is two minutes. A good timer will work for 30 seconds with 4 intervals to finish its two-minute timeframe. This is an ideal feature present in the best electric toothbrush.
Good Grip
If the toothbrush doesn't offer a good grip, then there is not really a point in buying it, right? A toothbrush may be doing the automatic cleaning inside your mouth but you are the one holding it. So, the one thing that you need to do must be comfortable for you.
Extra Brush Heads
Brush heads need to be exchanged after every three months. At least, that is what a dentist recommends. But they are expensive and hard to find one that is compatible with your toothbrush. If you are investing in a toothbrush, you should buy one that has replacements coming with the purchase.
You asked for the best, this is the best that you can get.
It has got the sleek design and the stylish black color to add tone to your bathroom sink. But moreover, it has also got the performance to accentuate with its stylish look.
You can expect the toothbrush to last two years and the brush heads to last four months. yes, four months, not the usual three! It has a messaging mode for the strengthening of gums. The motor produces more than 40,000 vibrations per minute.
There is also a whitening mode because it wouldn't be a toothbrush if it didn't help with the teeth whitening now, would it? But here is the best part, this sleek design's waterproof ability is nothing as compared to its timer that is set at two minutes. No, wait. These 2 minutes are broken down into 30 seconds for each side of the teeth! How crazy is that?
Product Pros
Portable
Wireless charging
Comes with a travel case
Durable battery
If you want smart technology, say no more because this toothbrush is not just smart but also unique in design.
The small brush head is created to help the toothbrush reach the farthest parts of the gum. You know how you always leave the last teeth for cavities because your toothbrush can't corner them? Forget that because this electric toothbrush is made to tackle cavities.
Plus, another great thing about this product is that it has a pressure sensor. There is no need to get worried about overbrushing because the toothbrush will stop itself if the pressure becomes too much. You can say hello to healthy gums.
Remember when we talked about it being a smart toothbrush? Yes, that's because the brush head will remind you for its potential replacement!
Product Pros
Timer
Rechargeable
Gentle brushing
Long lasting battery
Product Cons
No travel case
You know why this is a special product? Because it is a clinically proven toothbrush that is guaranteed to provide the best cleaning!
Due to its extremely small brush head, you can expect it to reach the far and wide sides of your mouth. The toothbrush doesn't just have a cleaning mode but also a pressure sensor to send a reminder to stop when the pressure becomes too hard for the gums.
It is compatible with a lot of brush heads for an easy replacement process. moreover, it also has the two-minute timer set like other electric toothbrushes for an effective clean!
Product Pros
Rechargeable
Effective and far cleaning
Easy to use
Product Cons
Not ideal for sensitive teeth
A 3-D electric toothbrush? Yes, you have heard that right about this product. For an effective cleaning, you can expect it to rotate, oscillate, and pulsate for the best cleaning inside your mouth. Both your teeth and gums will be happy with its performance.
It has three different modes, a cleaning mode for baseline cleaning, a white mode for the whitening of teeth, and the sensitive mode especially designed for sensitive teeth.
The vibrations go as high as 48000 per minute! That's a crazy number, isn't it? But the sensitive mode has lesser vibrations to accommodate the fragility of the teeth. To top it all off, the toothbrush has a waterproof design for an easy handling.
Product Pros
3D cleaning
Sonic technology
15 Month warranty
Good portability because of travel case
Product Cons
Replacement brush heads are not easy to find
This product is named due to its circular motion that aids in effective cleaning. Your gums and teeth will both be clean superbly after the toothbrush has done its job right.
But along with the circular motion, it is also a great fit for sensitive teeth. It has a gentle cleaning action due to its small size which helps in making small circular motions with less pressure.
You can expect it to be efficient! Because it has both a pressure sensor and a small head to get far and wide into hard-to-reach areas of the mouth.
Product Pros
Rechargeable
Great for sensitive teeth
Good range cleaning
Wrapping up, the best toothbrush under 50 are not that hard to find. There are a lot of products that offer almost the same features but differ in certain features. What you should do now is figure out the kind of toothbrush you need. If it is for traveling, then your list will narrow down. Hence, research well before you make your long-term purchase.
Frequently Asked Questions
If you are on a tight budget, you can opt for this decision because it is better to buy one toothbrush and multiple brush heads. However, do remember which one belongs to whom!
Buy the one that has a 30 second interval. It will notify you automatically that you need to change sides.
It is quite possible. Hence, it is better to ask your dentist before buying an electric toothbrush. Moreover, if you have sensitive teeth, buy the one that has a sensitive mode. Again, do ask your dentist before making any decisions.