The 18 Best Gas Grills Under $500 (Review)
By Brenda Taylor
|
06 Apr, 2022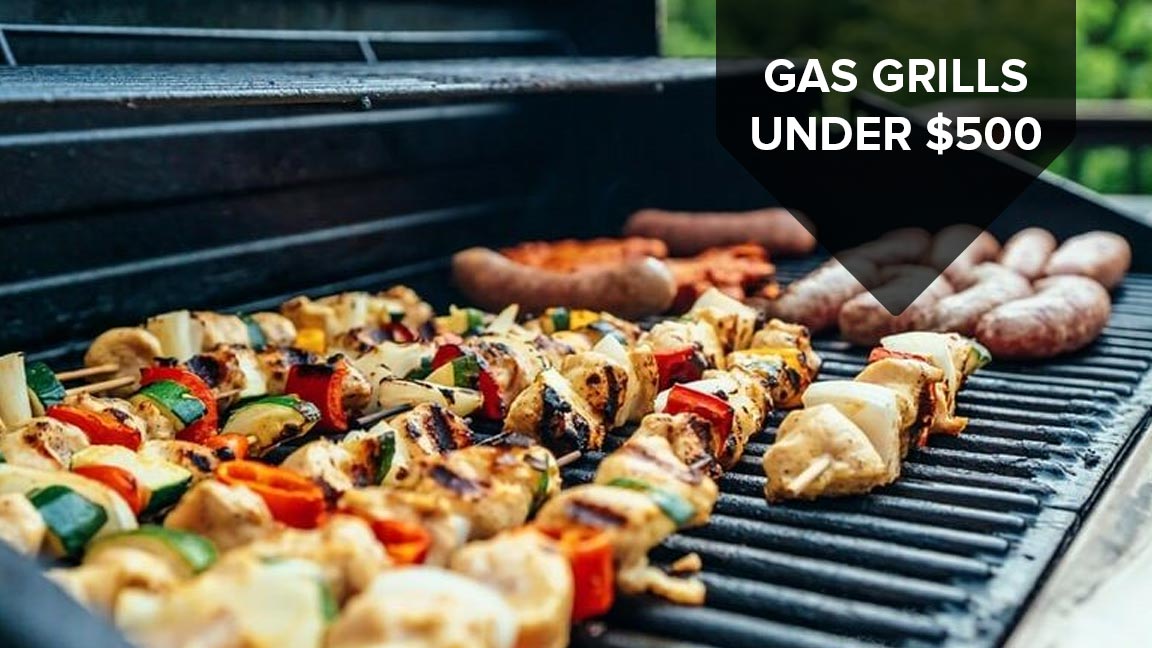 Are you ready for the barbeque season?
The real question is, who isn't? Because our spirits and the flames on the grills are ready to partner up and put a nice, sweetened glaze on the meat! But wait, you don't have the money or time to buy the most important thing; the grill?
Yes, we figured that out and decided to bring you a list of the best gas grills under $500! So, your budget doesn't have to suffer a huge dent and your plans do not have to take a bad turn this near your BBQ gathering. So, let's start right away!
18 Best Gas Grills Under $500
Char-Broil 463632320 Signature TRU-Infrared 2-Burner Cart Style Gas Grill
Weber Spirit II E-310 3-Burner Liquid Propane Grill
Cuisinart CGG-7400 Propane, 54 Inch, Full Size Four-Burner Gas Grill
Weber Q2200 Liquid Propane Grill
American Gourmet 463773717 Char-Broil Classic 360 3-Burner Liquid Propane Gas Grill
Fuego Professional F24C
nomadiQ Portable
Char-Broil Performance
Kenmore 4-Burner
Royal Gourmet Gas Charcoal Combo
Monument Grills Stainless Steel
Fuego Element F21S-H
Char-Griller 3001 Grillin' Pro 40,800-Btu Gas Grill
Weber 57060001 Q3200 Liquid Propane Grill
Nexgrill 5-Burner Propane Gas Grill
Broil King Monarch 320
Weber Q1000
Royal Gourmet 8-Burner Event Grill
Buying Guide
Still not sure which product to go with? We know just the solution! Read this buying guide and you will know exactly what makes a grill make its way into the list of best gas grills under $500.
Yes! We have picked the parameters that set out any gas grill apart. These features should be your topmost priority before making the purchase so you dint get ripped off of your money! What are these must have characteristics in a gas grill? Keep reading.
Cooking Area
So, how much space can you dedicate to your gas grill? It is one of the most important factors that you need to consider for a valuable purchase. Because if you choose a small grill for a large space but it doesn't fulfil the family's needs then you are just opting for a time-consuming BBQ.
Hence, you need to research the best way you can combine the family's needs in a gas grill and allow it to have adequate space at your home.
However, ensure that you separate the cooking space from the grilling area. Because many gas grills advertise about large cooking spaces but they are not all for grilling the meat you want on the table.
Quantity of Burners
There should be enough burners on the gas grill so you can get even heat distribution for the meat. Plus, the more the number of burners, the more the flexibility. You can set different heat on each and cook different proteins accordingly. It can help especially when you have large gathering at the house.
Similarly, BTUs or the ability to produce heat matters the same in a gas grill. It goes hand in hand with the number of burners. The greater the number of the BTUs, the more the heat emitted. However, it is not the only parameter that goes into the grilling temperature but it is one of the main ones.
Portability
Typically, gas grills are situated at one point. That is what most families prefer anyway because who will move it around here and there with each passing day?
However, that is not the only case. There are also portable grills which you can take out every BBQ season for your ease. With limited space, it seems the only choice. Similarly, if you are opting for a grill that can be used for travel purposes and in camping/hiking/trekking, then a portable grill will be your best bet. 
Lastly, does it have wheels? Sometimes portability only refers to light weight but with wheels, it is easier to move around the grill. So, you can also check for this feature.
Ignition System
An ignition system is the most comfortable part of a gas grill. When you wish to light up the gas grill, it should do so within seconds. You shouldn't spend hours finding the lighter which may or may not work, leaving you with an empty desire for a cookout. Almost all the ignition systems now come with a single push button or a knob. You can even look for the infinity ignition system, introduced by Weber.
Easy to Clean
Grease and oil together are a combination that people run away from. It can make your next BBQ session a thing you would hate. Hence, you should pick a grill that is easy to clean and can turn your next few events a delightful evening on the grill.
Quality Grill Grates
The two main grates that people prefer are either the cast iron grate or the stainless-steel grate. These two works best for tackling the rusting effect and are easier to clean as well. This feature is important as it provides an aromatic taste to the charred meat you are expecting to bet your teeth into. Cast iron grates are the preferred option out of the two because of the heat retention they offer along with rust protection.
Additional Features
While the above features are the basic requirement, you can also look for these additional parameters in your gas grill. They include having a side burner, carrying a compact size for your storage space, a place for grilling tools, and built-in lighting.
If you talk about advancement in technology, you probably won't think about a gas grill taking any hints. But this gas grill is one of the few that has borrowed modernism from science.
An infrared element is heated within the grill that transfers the heat to the grill and then eventually the food. So, all the meat that used to catch sparks of flame can now be kept on the grill without a worry. Because the flame will not touch the food directly.
If we talk about its design, it is quite simple and modern. There are four wheels on which the grill stands so there is no issue with portability. Out of these four wheels, two of them lock to place the grill at one position. Plus, it has a removable grease tray which is a big plus considering all the oily mess that comes as part of the BBQ package.
Product Pros
Equal heat distribution
Easy to assemble and use
Portable
The best part about this gas grill is its spirit. No, we do not kid you!
The spirit inside this gas grill, also known as infinity ignition, is something that the brand claims will always ignite. The roaring flame will be evenly distributed because of the burner tubes on the gas grill.
Another great feature that is quite commendable is its flavorized bars. The gas grill has these bars that catches the essence of the smoke, and letting it waft around the food. As a result, you can bite into the moist, smokey meat of the BBQ.
The grease management system of the gas grill is another plus on its resume. It helps in controlling the amount of grease and drips it into a removable try. An easy system that guarantees flavor! It is just what you need in the season!
Product Pros
Versatile for cooking different foods
Three burners
Allows storage of grilling accessories
Product Cons
Slightly expensive in comparison
Difficult to assemble
This product is a great hunting partner because it is best in all conditions.
A great outdoor help, providing clear view in both rain and fogs, you can expect it to work in low light conditions as well. Along with these easy to love features, it creates a great grip for hunters which is a must during the hunting trips. You know how you have to hold the binoculars for time long gone just to stalks the prey's movements? A comfortable grip works in handy, for sure.
However, one thing that bothers many users is the fact that this pair is heavy to carry. Now, you may be looking for a sweet grip while studying the prey, but that doesn't mean you would like to carry heavy equipment all during the trip, right?
But to tackle the handling issue, some pairs come attached with a harness which prevents neck pain like a pro!
Product Pros
Bright images
Fast focus
Suitable for all hunting conditions 
If you are looking for a skleek design to look fashionable in your backyard, this product is the way to go!
It is incredibly easy to assemble and even easier to handle. You will find a normal push button that turns on the grill, ready to give you amazing, top-notch quality charred meat. Talking about charred meat, its performance is just as notable.
First of all, it provides a large cooking space for the person. This allows not only a bigger quantity of meat for huge gatherings but also for easy handling of the meat on the grill. After the cookout, you can clean the gas grill and the disposable grease pan without any hassle. Many users found the grease pan an effective addition to this product. 
Product Pros
Iron grates
Large cooking area
Easy to assemble 
Talk American meat with this product and let your BBQ stand out in the gathering!
This particular item on our list is special because of its design. It holds a 360-degree angle for the cookout but on a non-sticky grill that allows for better handling and grilling of the meat. You start the whole grilling process within seconds through a simple push of the button.
Through three buttons to the grill and a wide cooking space, the individual can spend little time with his family and friends as well rather than putting himself fully on the grill!
Product Pros
360-degree cooking space
Easy to use
Sleek design
If you have limited space in your backyard, this is the product you need to add in your shopping list.
It holds a modern design but can fit in the smallest of spaces, if you have the desire to set up a BBQ setting. Why spend hours hoping to buy a limited space grill when there is right one in front of you! But its design isn't the only thing worth mentioning.
A sleek design with the perfect standalone structure, this gas grill does not disappoint in its performance either.
It heats up within minutes through an easy setup and allows the individual to cook up some charred meat for the cookout. There are two main burners for direct and indirect heating, helping in even balance for the meat.
Product Pros
Quick setup
Stable design
Ideal for limited space
You asked for a portable grill? Here you go!
This product is ideal for camping, trekking, and outdoor cookouts. You can dump this lightweight grill into a bag and free yourself from the worries of cooking outdoors. Plus, people with limited grilling needs can also opt for this option as it is easy to use and handle around the cookout.
If we talk about its performance, it works through a simple electronic ignition system. Moreover, the grill has removable grates that can be easily put through the dishwasher for a proper and smooth cleaning process.
Product Pros
Lightweight
Easy clean
Quick setup
This gas grill is a favorite of many people because of its side burner. You know when you want to grill vegetables along with the meat? Welcome the side grill that can be your perfect match in sautéing the veggies for a crunchy side on your perfectly moist meat.
It also carries a large cooking space so it is easier to cook the variety of meat for a large gathering. It also consists of removable grease tray for an easier cleaning process. 
Lastly, the burner carries a shelf to store all the other things you want near the grilling station.
Product Pros
Side burner
Good temperature control due to four burners
Easy to assemble
Product Cons
The sides are sometimes easily damaged
This is one of the largest grills we have on our list, making it a perfect fit for large gatherings. If you want this product, you should know that the company claims it can cook up to 40 burgers at a time. Now, it may or may not be true but we can guarantee that it offers a big cooking space for grilling.
Moreover, the materials used in this gas grill are stainless steel and powder-coated surfaces which hosts a durable grilling station for the user. You can rely upon it to be your partner in grilling meat for long years to come.
Lastly, it has a side burner for people who want to sauté vegetables along with their meat. Or they can also grill the buns for a little crunch in a scrumptious burger.
Product Pros
Durable material
Side burner
Large cooking space
Product Cons
No hooks for grilling tools
This is an ideal item on our list. If you have a soft heart for charcoal charred meat, you would love this product.
This gas grill comes with a unique combination; a gas grill that has an adjustable charcoal pan. Yes, adjustable! So, you can simply raise or lower the charcoal pan to control the heat and the taste of coals given to the meat.
But wait, it is not a dependent combination. But rather, you can use them both separately. Hence, whatever you are in the mood for today, you can get the perfect grilled and charred taste of meat tingling your taste buds.
Product Pros
Gas and charcoal combination grill
Temperature control is good
Adjustable charcoal pan 
This product on our list is also one for large gatherings!
It carries a big enough cooking space that can accommodate all the hungry bellies within minutes for discipline during your casual hangout. Plus, it is easy to ignite with a simple push of the button so you don't have to be on the grill for hours.
Moreover, there is a powerful side burner for sautéing the beautiful vegetables that can soon become the sides to the perfectly charred meat.
Product Pros
Warming rack included
8 years warranty for the stainless-steel burners
Sid shelves included
Product Cons
Heat may escape from the hood
Do you need a grill for limited space? Yes, we felt like we introduced too many large spaced grills into the mix.
This compact design, however, can fit into small spaces. It allows you to indulge in a grilling cookout even if you do not have a backyard. Because charred burgers are scrumptious enough to savor all tastebuds.
A round hood is there to distribute the heat amongst the heat in a modern fashion. So, your meat will be both warm and tasty! Plus, it is easy to assemble hence you can carry it for your road trips too.
Product Pros
Compact design
Residue tray is available
Product Cons
Works for a family of 2-3 people
This product is a sweet modification from a charcoal grill to a gas grill with some of the features of the latter still visible.
Instead of the coal grill, there are three burners to accommodate even heating to the meat. But the cast iron grates of a charcoal grill can still be seen on the product, providing a fresh aromatic taste to the meat.
It offers an adequate cooking space for families and is a budget-friendly option for the people. There is also a side burner for cooking the sides that would go best with your prepared meal!
Product Pros
Good value for money
Side burner
Uniform heat
Product Cons
Weak plastic wheels cause disruption in portability
Hard to assemble
This Weber product is a compact design that offers the features of an average-sized gas grill.
Its body and the lid cover are made of aluminum. So, you can expect this product to be at your home for a few good years. It reduces the rust on its body and supports reliability for a long-term commitment.
It is easy to assemble and easier to fit into small spaces. So, whether you live at a home with no backyard or an apartment with a balcony as the only available space, this grill can be your partner in future cookouts.
Product Pros
It has a little light to support nighttime cooking
Battery operated ignition for easy start
Large storage space
Product Cons
Warming rack is not reliable
With five burners, this product offers great value for its money.
You can rely upon it to give you a hand on a large cookout for your spontaneous or even planned gatherings. Plus, it has a side burner for doing effective side cooking processes for your main meal. We all need a little side for our main dishes to make them super delicious!
Lastly, it is not just easy to assemble but also easy to start. Through a simple push button, it can be ignited for a fun grilling session of meat!
Product Pros
Large cooing area
Five burners
Side burner
Product Cons
Low work quality in windy season
This product offers a compact design but don't worry! It has a lot of features packed in this small deal.
First of all, you get a classic three burner deal in this gas grill which can support uniform distribution of heat. Plus, you can expect it to support you in average-sized gatherings for a quick cookout session.
Moreover, it carries a smart ignition that can light up the gas grill within seconds for a kickstart into the grilling session. Lastly, it has two side shelves that can fold down for stacking up all the grilling essentials you would need during the cookout. No more asking your family members to do the assisting!
Product Pros
Compact design
Great build quality
Powerful grilling
Product Cons
Less features as compared with competitors
Seeing the product, you can tell it is a portable grill.
But the best thing about this portable grill is that you can plan your camping trip right now! Because this easy to assemble and easier to use gas grill can be your partner for a great cookout session under the stars.
The powerful heat distribution will guarantee a fast cookout and the chance for you to savor a warm and scrumptious meal any time. It is both lightweight and stylish so you can be seen carrying it in style! Lastly, it is easy to clean too so you won't have to spend hours on the grease after a satisfying dinner.
Product Pros
Quality power for grilling
Durable because of material build
Stylish design
Portability
Product Cons
Stand comes with a separate purchase
A handy purchase for people who are hosting large gatherings all throughout the year.
Yes! Whether you are a person who is always stuck with hosting the family BBQ or a willing representative of a society, you can use this gas grill for a quick and easy grilling session! The cooking space allows for the cookout of 60 burgers at the same time! All you will need is a vigilant eye and quick hands because the large space is ready to do the grilling.
There are additional 2 widespread table spaces for doing the prepping of the food. Lastly, there are also 2 storage spaces in the form of shelves to store all the essentials you need during your cookout.
Product Pros
Wheels for easy transport
Large cooking space
Space for grilling accessories
Conclusion
Wrapping it up, the best grill under 500 is a quality find that you can boast about for years to come. But it is not the easiest of tasks. Hence, we put up this list of the best pellet grill under $500 to make sure you do not miss out on the best matches for your grilling needs.
We hope that you have found a gas grill that can be the host to your family gatherings and an interesting addition to your cookout sessions.
Frequently Asked Questions
There is help from a little friend called the grill brush that can aid you in cleaning the gas grill. You can do it after every cookout but ensure that you do not leave the grill to get cold. Because it hardens after it has cooled down, making the cleaning process a bit difficult. Similarly, for a deep clean, you should take soap and water and get onto it after every two or three months.
For every square inch area of the cooking space, you will need around 100 BTUs. However, this is not the only parameter you can rely upon. There is a lot that goes onto the perfect grilling temperature for your meal like the grill's max temperature, the number of burners, the power of the grill, and the quality of the build.
Not all of the gas grills have this feature attached in the package. If there is, chances are that you will find the instructions in the user's guide. However, you should always consult with an expert before volunteering for this exchange as it could be dangerous for both you and the gas grill. Your best bet is to buy the gas conversion kit with the gas grill and make sure to buy it of the same company (if possible).
This is entirely dependent upon your needs because they both are environment friendly and make for great options in the cookout. Although natural gas is cheaper than propane gas, it is not entirely accessible everywhere. Hence, for you to buy a natural gas grill, you will need to ensure that you have access to natural gas in that specific location.
People mostly prefer buying gas grills after September and before the Fall season. The main reason for this is because people welcome the winter season with warm cookout sessions that can last the next few years, down the line. Plus, there are great discounts available at the end of the year too!