Top 5 Best Noise Cancelling Headphones For Sleeping
By Alice Green
|
07 Sep, 2022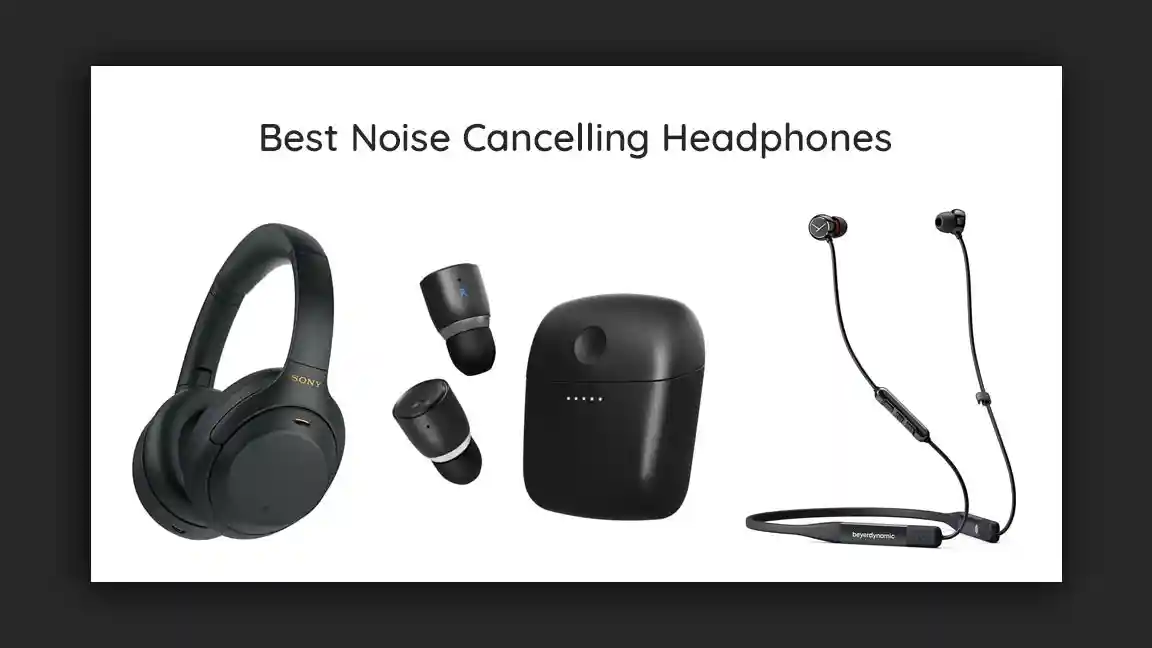 Sleep is the most important part of anyone's routine. After a long day of work or hustle, all you want to do is sink into the bed and slip into the greatest slumber of your life. For this purpose, a lot of people also spend money on buying the best mattress and pillows so they have an undisturbed sleep throughout the night. However, it is not the same for everyone. Lots of people struggle with anxiety and restlessness which makes it difficult for them to fall asleep without absolute silence. Sometimes, even the noise of their own breathing gets too loud.
If you live in a city, then the problems are even more serious. The sound of traffic and neighborhood parties can be quite disrupting to your sleep and you might not be able to figure out how to tune them out, especially if you have to wake up in the morning for work or school. However, you don't need to worry about it anymore because we have a solution. It is possible to have the absolute quiet you desire during your sleep with the help of sleep headphones. They are noise-canceling and as soon as you put them on, all the background sounds like snores and traffic are eliminated. Not just that, if you are someone who likes to fall asleep to the sound of soothing music or any ASMR technique that you have seen online, you can connect your earpiece to your phone and slip into the slumber with the help of that.
Now you might think that you already have a set of AirPods or any other headphones under $100 that you use, so why do you specifically need sleep band headphones. Well, the answer to that is simple. These involve a technology that will instantly make your slumber so much better. You would be able to sleep without hearing a single sound from the outside and your other earphones aren't designed to work that well. Plus, the ones that you already have might be slightly uncomfortable too so you need to make sure that you don't wake up in the morning with any kind of ear pain or headache. For this purpose, sleep headphones' Bluetooth connection to your phone works the best.
Our Top Picks for the Best Headphones for Sleeping
What we love about this particular set is that it is well-equipped with all the technology that you need in your earphones but without the expensive cost. It is an affordable pair that lasts for a long time. It is ranked high for its comfort and the company itself is proud of designing the kind of model that people prefer because they want to have a good night's sleep. You get flat faceplates with this one and can keep them in your ears all night. Even when you lie on your side, the earphones don't move further inside and ensure that you don't wake up with an ache. There has been a high demand for the Beyerdynamic Soul Byrd earphones by people who love to enjoy their music and TV shows in bed. The ear tip comes in five sizes which is great because you can select which one is yours and they will never be a misfit. You can easily control the sound with play and pause as well as the skip track options in the dark and don't need any extra effort to operate them. The only downside is that the flared tips support noise isolation and not noise cancellation but at this price, it is a decent option.
Features
No Bluetooth
No Noise Cancellation
6 grams
Supports iOS and Android both
Product Pros
Balanced sound
Comfortable fit
Detailed delivery
Affordable
Now, this is what we call the benchmark for all headphones for sleeping because it doesn't get better than this. It is one of the best options in the market often considered the ultimate pair for all kinds of music ventures. Sony has already established its name in the market as one of the most reliable gadget companies and it keeps on delivering the best. If you have done your research prior to this, you already know that the noise-canceling features of these earphones are unmatched. As soon as you put them on, the noise around you disappears and the only thing you can focus on is the music and sound coming out of this high-tech set. They rank amazingly high in the comfort category too as they are designed with the XMR model which means that Sony asked all its customers about the improvements they could bring to the earphones and then the new model was based on their suggestions. Isn't this remarkable? The earphones consist of polyurethane that ensures a snug fit inside your ears. You can say goodbye to the stress of getting tangled up as these are wireless and will make you fall into a deep slumber without any problem.
Features
Bluetooth
Noise-cancelling
8 hours of battery life
7.3g
Supports both iOS and Android
Product Pros
Clarity
Detailed bass performance
Wonderful musical sense
Comfortable
High-tech
Great battery life
If you have used Melomania 1, you already know how fantastic their sound quality is. This is an upgraded version of those earbuds and is obviously wireless so that you don't get entangled in the wires while sleeping. Just like the previous set, this too operates for almost 9 hours continuously which is an amazing bargain if you look at its price. No one sleeps for more than that anyway, right? Even if you want it to be instantly charged again for a second round or feel like spending the day in your bed lazily, the case will bring it back to life. It can perform for more than 45 hours with the case and we love the set for it. The control of the earphones is also very easy because all you have to do is press play and pause. One good thing that we liked about this particular pair is that you can easily use Siri and Google on it without any problem. So, let's say you wake up during the slumber and realize you want the music or the sound to be off, you can just order Siri to do so. Our experts loved the sound quality because the details present in it made the whole experience delightful. However, do make sure that the piece doesn't slip off your ears because there have been some reviews pointing that out.
Features
Bluetooth
No noise cancellation
Battery up to 45 hours
4.6g
Supports iOs and Android
Product Pros
Extra dynamic expression
Great clarity
Slick app support
High-quality sound
Affordable
Product Cons
No noise-canceling
Spilt fit
Well, this one needs no introduction. You already know this is the most sought-after pair in the market and people are seen saving money just so they can get their hands on this model. Honestly, we understand the appeal. There are so many options in the market that match the sound quality but the premium experience that Apple offers is unmatched. From comfort to slick processing, everything is outstanding and it is very difficult to not enjoy the music while you have such amazing bass detail playing in your ear. What adds to the appeal of the Air Pods is that they are super lightweight so even when you put them in your ear while fully awake, you barely feel any sensation. The results of people sleeping with these Air Pods have been quite promising because it also allows you simple control of the player. The sensors are located at the stems which is a rare quality we see in Apple because usually those are near the head of the bud and cause difficulty with navigation, especially while you are asleep. This feature effectively eliminates any risk of damaging the Pods and provides you with a premium experience. You can count on them to last you for a long time and even though they are slightly expensive, you will get your money's worth as opposed to when you buy headphones under $20.
Features
Bluetooth
Noise cancellation
Up to 5 hours of battery life
5.4g weight
Supports iOS
Product Pros
Comfy
High noise-cancellation
Even audio
Long-lasting
Trusted brand
Product Cons
Issues with timing
Doesn't support Android
For people who don't have the issue of lying on their side i.e. they sleep either on their front or on the back, this is one of the best options on the list. The noise cancellation it provides tops all others in this category and price. You would be delighted to know these masterpieces by Sony won the What Hi-Fi Award in 2020 for being the most comfortable headphones on the market. Honestly, once you insert them into your ears, you get such a plushy feeling in your ear but that doesn't mean they slide further inside. Very rarely have we seen gadgets living up to their hype Sony 100% does it with this pair after hearing the complaints from the last one. It is cool that they consider what their customers are saying and tweak the performance as per their reviews. The sound quality is also much improved and you cannot help but listen to your favorite track before going to sleep as it provides such a cinematic experience. The low frequencies are where most headphones lack because companies pay less attention to those ranges but Sony performs extra-ordinarily and gives you results that make you stick for a long time with this brand. If you use it safely, there is nothing that can stop the set to last you for many years. The price is definitely worth it.
Features
Bluetooth
Noise cancellation
30 hours battery life
254g weight
Supports both iOS and Android
Product Pros
Dynamic
Detailed sound
Rich quality
Sensational timing
Lightweight
Comfy
Great design
Product Cons
No IP rating
No aptX support
How to Pick the Best Headphones for Sleeping?
We have picked out some of the best options on the list that will help you get a good night's sleep. Now obviously, every person operates differently which means that you have various preferences that might be different from others. We have tried to include a maximum variety so all you have to do is browse through the list and pick the option that you think works well for you. Here is how our experts decided on the headphones.
Sleeping Situation
This is an important aspect to consider before you pick out the headphones for yourself. Are you someone who sleeps in a room with a lot of noise? If yes, the normal noise cancellation might not work for you. Lots of people live with their roommates which automatically means that not everyone has the same schedule for sleeping or working. The people living with you might be up during the hour and listening to music on the speakers or just chatting away in the lounge. To tune out their sound, you need extra Active Noise Cancellation that comes with clunky ear cups. You don't need to worry about the comfort level though because you can easily sleep wearing those as well. We especially recommend these types of headphones to people who struggle to sleep due to their partner's continuous snoring. The noise is much closer to you so the solution needs to be effective as well.
Comfort
Of course, you need to consider the comfort that the headphones provide to you. If you are unable to sleep after putting them on to avoid disturbance, then what's the point? A lot of people have noticed this with earbuds because when you lay on your side, they are thrust further inside and might cause a little suction. Not only is the sound unpleasant but it also creates a weird sensation in your ears which is downright nightmarish for the light sleepers. So we have looked around for those types of earphones and headphones that don't create such kind of problems for the customers. The reason why we suggest that you should go for pieces that are specifically designed for sleeping is that they ensure your comfort level and don't cause issues like suction. You should especially stay away from the ones that make your ears ache after a few hours because chances are that you will wake up with a sore face or ears and that would just take away the whole point of having a nice sleep.
Audio Quality
You have to consider this in all kinds of earphones so this is sort of a given. However, with sleep headphones, we have put a little bit more effort into finding the perfect sound quality so it keeps all the outside and wanted noises away from you. What you need to know about the audio is that you don't need headphones that perform well with bases and make you listen to each instrument with clarity as is usually the demand when you are buying the models. The primary goal is to sleep and get enough noise cancellation to not be disturbed while you are in your slumber. If these conditions are met, then there is no problem with getting the highest quality of sound since we suggest that you don't use them for anything else except sleeping.
Conclusion
List down the qualities that you want in your headphones and browse through the list to find the model that would suit you perfectly. You have to consider the price as well but do make sure that you don't get the ones that need a repurchase every few months. It is a long-term investment so prefer high quality and you would be set for quite a few years if you are careful.
Frequently Asked Questions
Yes, they don't cause any harm to the ears but they need to be comfy.
Sony has produced some of the comfiest options in the market so you should try those out.
Only if you use the ones that cause compression of the bud inside your ear.
Yes, if you have trouble sleeping, you should definitely try those and you would see an improvement in the quality of your sleep.
Get noise-cancelling headphone that can help you get better sleep at night.