The 12 Best Humidifiers for Baby Needs (Buying Guide)
By Brenda Taylor
|
07 Sep, 2022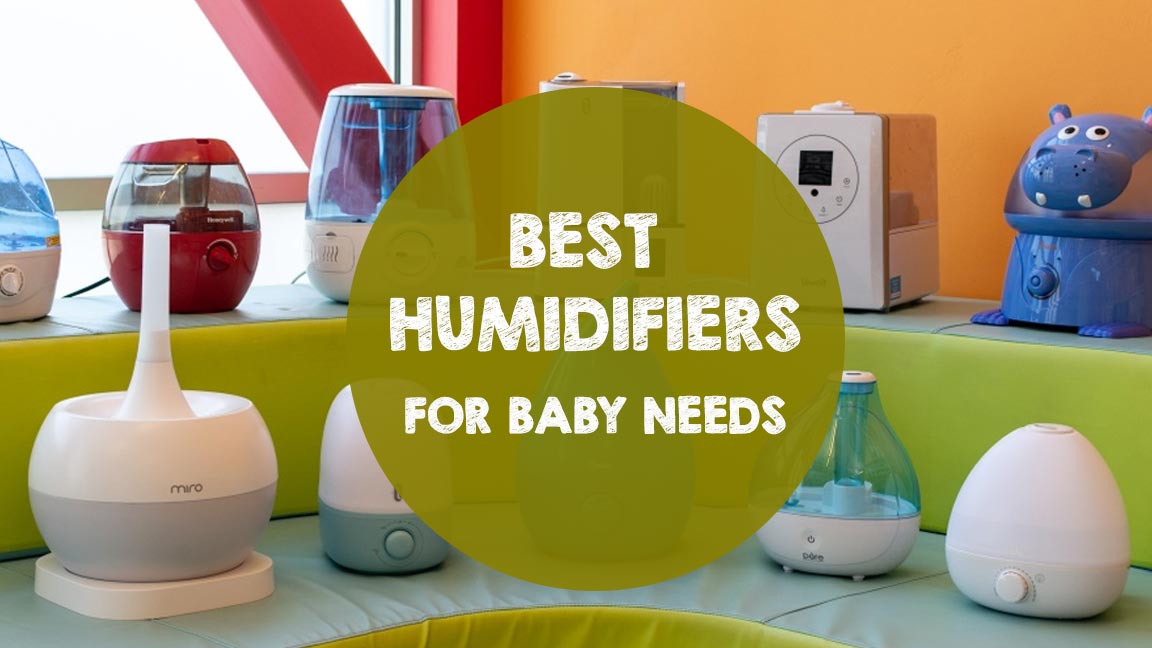 Babies are sensitive beings. Especially in the winter season, it is hard to keep them free from allergies and colds. But with a humidifier, a baby can breathe better. Hence, it is suggested that a humidifier is used within the room at night to allow the baby to have a sound sleep.
However, there is one big problem; it is twice as hard to shop for babies as it is for a grown adult. You cannot rely upon the claims of the internet solely because you need to buy a product that can help your baby in the best possible way. You need the best humidifier for nursery!
This is why we have come up with this review for your aid. You can skim through the products and see which one suits your needs the best. So, let's get into it!
The 12 Humidifier For Babies
If you think you will have a problem with replacing filters, congratulations! Your wish is this product's command.
With no filters to replace or maintain, you can expect this humidifier to do its job with ease! The ultrasonic technology on this humidifier will turn the moisture into the air using sound waves. No, you will not have to worry about the loud noise that comes with humidification because there won't be any loud hums!
An interesting thing about this product is that it comes in a variety of different shades, and wait, in different animal shapes? Yes, you got that right! Adjust this humidifier into the room, within any space, and enjoy a fun, stylish machine staring back at you!
Product Pros
It has a nightlight for a swift operation in the dark
Suitable for rooms up to 500 sq feet
Automatic shutoff when the machine runs empty of water
Product Cons
The nightlight doesn't shut off
If you are looking for a product that can run for a longer duration, then get this humidifier for easy use!
The Frida Humidifier, as you can see, is a 3-in-1 package; you get the usual conversion of moisture into the air. But you can also expect it to be a diffuser and a nightlight too! Plus, it runs for 12 long hours! But don't worry; there is an automatic shutoff feature in case you are worried about leaving it for too long. In addition, it has a mist adjuster that can provide a cool-mist for your baby's easy breathing.
Lastly, it is quiet and stylish, all in one deal. So, it does have the perk of appearing good amongst all the mess in the room.
Product Pros
It can work as a diffuser
Product Cons
  Not suitable for large rooms
When you buy a humidifier, there is no denying the fact that you will need to clean it. You cannot escape it but you can minimize the mess. Luckily, this product saves you by allowing a non-messy cleaning!
It has a design that carries a wide opening and the top-fill design allows a larger and clearer view of what's happening inside. You know what that means? Knowing where to scrub and saving you a whole lot of your time. In addition, the humidifier comes with a diffuser so you can put in the oil and enjoy it as a dual package.
Lastly, there is also the option of the nightlight to save you from an embarrassing workout at night. 
Product Pros
Diffuser along with a humidifier
Easy to clean and maintain
Product Cons
 It can only work in rooms of 200 sq. feet
Are you worried any humidifier will not be able to adjust in your small room? Get this compact-sized humidifier which does not go low on its quality.
It has a small size and it is quiet in its nature. So, you can catch a good deal out of this humidifier if you want a compact design with good performance. In addition, it does not carry any filters so you won't have to worry about replacing or maintaining the machine. However, having a small tank does not mean it is difficult to clean. Lastly, you can add menthol vapors as a way to further ease the breathing in babies
Product Pros
Compact design
Quiet working
Easy to maintain and clean
Product Cons
Some users say that it only lasts for 20 hours
If you want a quiet humidifier, this is the one that you should get!
It aids the baby in a peaceful sleep. And that is not just because of its low noise level, but also because it has a starry night feature. How? Well, the night light can turn the ceiling into a starry cosmos that will delight both you and the baby. Plus, you do not have to keep the humidifier on for the starry lights to get into action. But with the humidifier, it does automatically start screening.
In addition, it has a small filter along with an easy-to-use tank. You can quickly replace the water without any hassle so it serves as an easy machine.
Product Pros
It is compatible with Vapopads
It is easy to clean
It can fit 1 gallon of water
Product Cons
Filters should be replaced regularly
This quiet humidifier is another one on the list that will give your baby a sound and comfortable sleep.
The machine is easy to use, has a few simple buttons to guide the user, and offers a night light feature. So, the parents will not have any trouble operating it or using it as a guide for the baby to sleep. Plus, it can adjust 1.5 liters of water, which can run for 16 hours straight, without any hassle. It also carries a mist adjuster where you can fix the intensity of the mist flow. Lastly, it has an automatic shut-off feature which you can enable to have a relaxing night yourself.
Product Pros
It can run through the night
An automatic turn-off button is present.
This wide-open humidifier is just what you need if you are worried about cleaning and maintaining the machine.
It is incredibly important that you keep your humidifier clean for your baby's effective health. This is why this particular one on our list gets the badge of being the one that is the easiest to clean. It is partially because of its large opening and more due to the fact that it doesn't have any nooks in its space. In addition, it is quite lightweight so it is easily portable and can be taken throughout traveling trips.
Product Pros
Easy to carry around
Large opening
It can adjust 0.8 gallons of water
Product Cons
Replacement of filters is costly
This one on the list will run for the whole night!
It has a 1-gallon of capacity for water and it can run through the whole night but only for 12 hours. Don't worry, if the water finishes while you are sleeping, it will automatically turn itself off. Moreover, it carries a medicine cup to help babies with medicated aid for congestion problems. It also has a nightlight to calm the babies down and give them a sound sleep.
Lastly, it is designed to empty the water before turning it off. so, water is neither wasted nor turned into a habitat for germs. Don't fret; you can adjust the steam settings too!
Product Pros
It does not have a high noise level
A nightlight is present
Medical cup is also present
Product Cons
Nightlight does not shut off automatically
Keep it out of reach from children
A combination of a compact design and a large humidifier is what this next machine on our list looks like.
It is one of the largest humidifiers that can hold 6 liters of water. But that isn't its famous feature either. The fact that it can run 50 long hours is what attracts many customers. If you have a busy schedule, and hate refilling, this is the machine to go for! Plus, you can avoid the hassle of making space for this large humidifier as it is quite compact in design.
In addition, it is quiet in its nature. It may be because it is ultrasonic but you can assure yourself you and the baby can have a peaceful sleep. 
Product Pros
Long running hours
Silent use
Large water tank
Product Cons
 Refilling may be difficult for some users
A combination of a quiet humidifier that works on the ultrasonic mechanism is a hard one to miss!
However, this baby humidifier takes it up a notch due to its impeccable ease of use. With a remote controller, it is twice as easy to locate and handle the machine. Plus, there are options to adjust the mist intensity settings that vary from three different options. In addition, they are well-lit on the machine so they are quicker to spot, without any hassle.
The machine has a one-liter tank that can work up to 12 hours a day. So, the machine does not require as many refills as you would fear from it. And it has an automatic shut-off feature which allows you to have a comfortable sleep too!
Product Pros
No heating elements
Modern design
Automatic shut-off feature
Product Cons
Requires cleaning after every few days
If you are looking for a humidifier cum diffuser, this is the product that you need to buy!
First of all, it works quietly, so, you and your baby can enjoy a peaceful sleep together. But its major plus point is that it can run for 20 hours straight. This is a huge pro on its profile as it allows for easy handling and minimal refilling; a thing that most parents are after.
In addition, it has three different mist settings to help the baby adjust to what is better for him. Lastly, it is small and easier to carry, refill, and handle!
Product Pros
Easy refills
Longer run time
Small and modern design
Product Cons
  Some users reported that it has an unnecessary bright light
If you need a humidifier with a nightlight, this is the product that your eyes are seeking!
With its unique and stylish design, it serves as a two-in-one package for customers. You don't have to turn the main lights on and can easily rely upon the nightlight to accompany you in your late-night adventure. Plus, it is soothing enough to help the baby sleep peacefully. 
It claims that a single refill can run up to three days! That is quite a strong and attractive claim and we are all here for it! Plus, it is easy to use and carry due to its simple design.
Product Pros
It has a 360-degree rotational mist outlet
No replacement of filters is needed
It runs quietly
Product Cons
The highest setting may use up the water quickly than expected
Buying Guide
Have you decided which humidifier for newborn is making the cut?
Yes, we understand that it is hard, and you want to get the best out of the equation. Hence, we have decided to help you with this buying guide. You can look into the parameters that make a humidifier the best baby humidifier. Along with the reviews and this guide, you are surely getting a valuable humidifier for baby room that can aid your baby!
Water Capacity
The most important feature of the best cool mist humidifier for babies is how big of a space it holds for storing water. Your initial thought would be to go with a water tank that has a larger capacity. It will save you from constant refills and allow you to have a peaceful night in with the baby! If you are lucky, that is!
However, that is not the only thing you should seek. A large water tank should have different mist settings. If you are sleeping all through the night, you can rely upon it to work all night as well. Or it might sue up all the water within a few hours.
Auto Shutoff Feature
This is another important feature to have in the best humidifier. Because if you leave the machine running and sleep, it could burn up or cause any damage. However, with an auto-shutoff feature, you can rely upon the machine to close itself once the desired humidity level reaches, or the water has emptied itself.
Space
You need a humidifier that can fit into the room. If it is too bulky, then it might be difficult to hold, and even difficult to carry around. A double nuisance for you! Hence, it is best if you opt for a machine that takes up less space, can run for a long time, and yet doesn't feel bulk enough to be a burden on your shoulders.
Conclusion
So, what do you think about our list of humidifiers? We understand your concerns as a parent to buy the best nursery humidifier. This is why we created a list of twelve different products that are the best in their features. However, it doesn't hurt to look around and read reviews. So, we suggest you to put up your research skills to the test, and buy a humidifier that is good for your budget yet provides great value for money!
Frequently Asked Questions
Yes, it is safe to use a humidifier within the baby's reach. However, we suggest that you use a cold mist humidifier because a hot mist may be troublesome and dangerous for your baby. We do suggest that you put the humidifier near the baby for the best outcome but just not enough for him to gain access to it! After all, it is a machine.
Yes, if your tap water is considered drinkable, you may use it. Otherwise, you can use distilled water for your humidifier.
A cool-mist humidifier is recommended because a warm/hot mist may cause burns on the baby. And it is also hazardous if it is spilled.
The humidifier creates the best moisture near its vicinity. Hence, it is the best application to place it near the baby. However, you should note that it is still a heavy machine. So, place it such that the baby cannot reach it.