Top 4 Best Mouthwashes for Oral Hygiene 2022
By Alice Green
|
09 Jun, 2022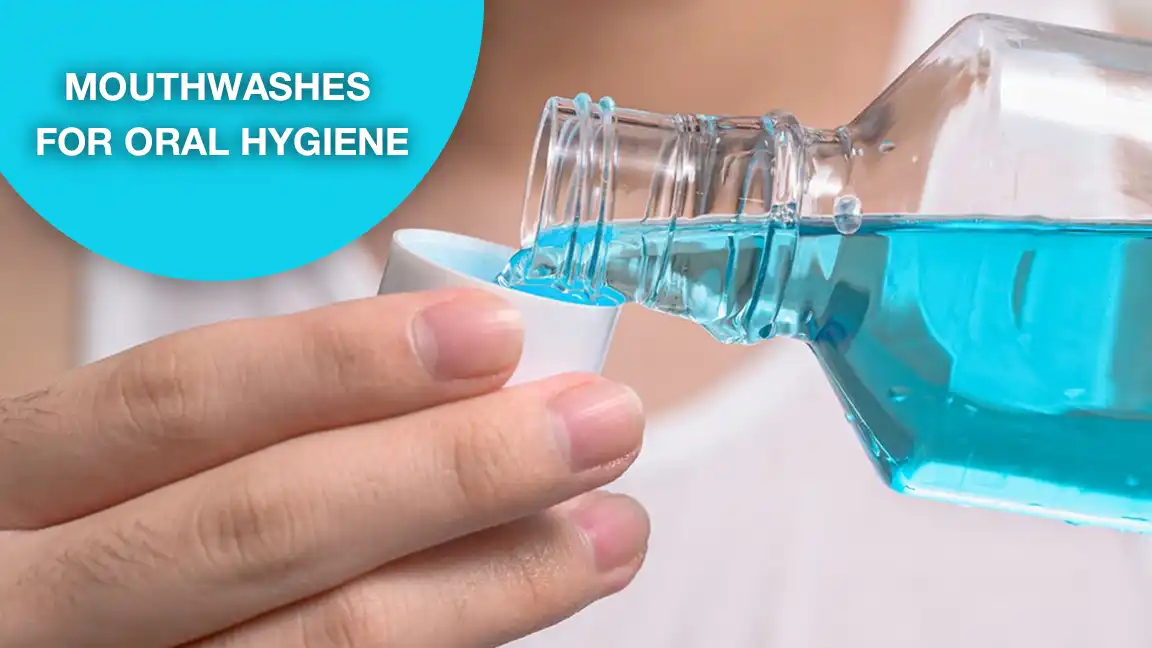 Oral health is one of the most important things to consider when it comes to hygiene. After all, it is a part of your body that you use to interact with others and you also have to consume food through it. Lots of stomach illnesses are often linked to the health of your mouth which is why doctors emphasize keeping it clean of germs. You consume various kinds of food throughout the day and that can cause the breeding of bacteria in your mouth if it is not cleaned thoroughly. Brushing your teeth and using products to cleanse your gums two times a day is considered standard as it prevents all kinds of germs from staying in your mouth and both your stomach and mouth can remain healthy. 
Along with brushing and flossing your teeth, "a quick 30-second rinse with a mouthwash can help prevent plaque buildup, gingivitis, cavities, bacteria, and provides cosmetic benefits like better breath and whiter teeth," as per a New York-based cosmetic dentist Lana Rozenberg. You already know the importance of cleaning your teeth after waking up and before going to sleep but the best mouthwash might help prevent some diseases that can form as a result of bad gum health.  
Now obviously, mouthwash is not a substitute for toothpaste or floss because you have to scrub your teeth with a brush to get all the plaque out but the list we have compiled below for the best mouthwash for bad breath, you can ensure that you smell fresh all day. No one should recoil while talking to you because that smell isn't just harming you but also leaves a bad impression on everyone around you. We suggest that you include rinsing your mouth with a good product in your daily routine and you will see the benefits in a few days.  
If you are unable to decide which is the best mouthwash to use, we are here to guide you to the most amazing products by trusted brands that have made their name in the market for being reliable. The greatest thing is that there are lots of options available for different issues so it makes your choice relatively easy.  
Our Top Picks for the Best Mouthwash 
If you are familiar with how oral hygiene works, then the chemical CPC wouldn't be unknown. The CPC is recommended by all the dentists as it plays a major role in getting rid of all the bacteria that might cause potential illnesses in your mouth and stomach. This mouthwash is full of this ingredient and has active participation in why people choose this over the others. From bad breath and tooth decay to gingivitis and bleeding gums, there is no problem that cannot be solved with the help of this magic formula. Lots of people have issues in their mouth that make them unable to use a
mouthwash with alcohol
as it has a tendency to burn the wounds. This one, however, is free of all such elements and is great if you want your breath to smell minty all day. It can be used by everyone as it doesn't cause any irritation and leaves a very nice aftertaste as well so there is no need to rinse your mouth excessively after using it. You have to brush your teeth along with it because the sensitive gums might retain the color of the liquid if you use it without brushing. We still suggest that you ask your dentist before using this mouth wash if you have a diagnosed dental problem. 
Product Pros
Contains antimicrobial agents 
Made to fight bad breath 
Helps reduce gingivitis  
Alcohol-free 
Product Cons
May leave an unpleasant taste 
Since you are going the extra mile by using a mouthwash after brushing and flossing, if you get an extra advantage along with it, it would be an added bonus. This is the mouthwash that makes your teeth free of plaque and leaves an extra whitening touch that speaks of amazing oral health. The reason why our experts have fallen in love with the Crest products is that they are alcohol-free and so anyone can use them without worrying about consequences like irritation and burning. Of course, you can consult your dentist in case there is already swelling in your mouth, but overall this is a healthy product for all the users. The liquid contains fluoride that gets rid of the unpleasant bad breath and the
hydrogen peroxide
helps fight the plaque to give you those brightening whites. The surface of your teeth remains clean after using it and you will notice the difference after several washes. What we love about this particular product is that the ingredients are designed in a way that they cover all the oral hygiene bases so the enamel of your tooth is also strengthened with it. 
Product Pros
Alcohol-free 
Designed to help remove stains 
Whitens teeth 
Strengthens enamel 
Product Cons
Takes several months to whiten teeth 
Cavity is one of the major problems that kids face, especially when their usage of candies, biscuits, and all things sugary is not monitored. Taking candies away from the kids is nearly impossible so we suggest that you take extra care of their oral hygiene so no cavities form in their teeth as they grow up. Getting them into the habit of using an effective mouthwash will do the job well so if you want a children-friendly liquid with as few liquids as possible, this ACT care will achieve the results quite soon. It is
aluminum and paraben-free
so you don't need to worry about them consuming anything unhealthy. Plus, no amount of sulfate or phthalate is used in the formula. The manufacturers have added fluoride that takes extra care of strengthening the teeth and whitening them. With kids, you can rinse their mouths with the liquid twice a day, especially before sleeping so their teeth don't face any decaying bacteria that can later harm their oral health. It is a great choice to include in your daily routine as the gums are solidified with the use and it is quite beneficial for kids whose gums are still in a sensitive stage. Plus, it is available in two flavors: one with alcohol and the other one is alcohol-free. So, choose the one based on your personal preference.  
Product Pros
Contains few chemicals  
Effective against cavities 
Promotes healthy gums 
Another extraordinary choice that specifically targets the problem of dry mouth is this ACT mouthwash. Our experts have tested all the features of this brand and found out that it is amazing when it comes to dealing with issues of dry mouth. Even after hours of use, you will see that it is quite effective in keeping your mouth free of all plaque-induced illnesses. The formula also consists of fluoride which helps in whitening the teeth and preventing cavities. It is also approved by the dentists so if you don't have any diagnosed condition, you can use it without any problem. When our experts used this
mouthwash,
they realized that the amount of saliva in the mouth increases as well which gets rid of the bacteria that is responsible for forming plaque on your teeth. Use the mouthwash as per the instruction on the bottle because you might need to leave it for an extra minute, which is more than recommended. Note that this mouthwash and usage is strictly recommended for people who are suffering from dry mouth. Users also suggest that it has a great aftertaste so you don't have to worry about excessively rinsing your mouth to get rid of the flavor. Your breath will smell amazing all day and until your condition is cured, you can keep it in your bag and use it several times a day to effectively produce more saliva in your mouth. 
Product Pros
Alcohol-free 
Made for dry mouth 
Contains fluoride  
Whitens teeth 
Has a great flavor 
Product Cons
Dry mouth might come back quickly 
What to Look for in the Best Mouthwash?
Everyone has different gum health that needs to be taken care of in its own way. If you are brushing your teeth and flossing twice a week, you are covering all the basics. But there are other things like rinsing with a mouthwash daily that will help kill the bacteria that are the root causes of many diseases. Our experts have compiled the lust after careful consideration of all the options available in the market. But still, if you head out to make a choice on your own, you should know which specifications to look out for and what features should your mouthwash have to maintain good oral hygiene.
Oral Health Goals
Like most hygiene products, mouthwash is also something you purchase depending on your personal preference. Whatever issues you are facing with your oral health, most brands have covered them while producing their own formula. For instance, if you have bad breath which is not going away even after frequent brushing and flossing, an additional rinsing with mouthwash might help. It does indicate some sort of illness as well so it is better to visit a dentist and get it checked but if everything is alright with your gums, the best fluoride mouthwash will help your breath smell fresh and minty. Also, it allows you to engage with other people without any embarrassment. If you have frequent issues of bad breath, we suggest that you keep a pocket-sized mouthwash in your bag and do a quick rinse before any meeting to ensure that you don't have a bad breath. Some people also experience the issue of dry mouth. This might be common with people who drink alcohol quite often. Lots of dentist-recommended medicines exist on the market for the dry mouth but if that is not helping you out, you can always try a mouthwash. Since it is a liquid, it will help with cleaning the bacteria that accumulates as a result of the lack of saliva and keep the functions running smoothly. Other than these, the most common dental problem among people is plaque. Its buildup causes your gums to ache and bleed and leads to severe oral hygiene issues. This is where using the best mouthwash for gums becomes absolutely important. Some of the products we have listed below also contain ingredients that actively fight bacteria so using that will prevent the buildup of plaque.
Price
Whenever you are buying any product, this is the thing you always have to consider. Mouthwash is something that you use daily which means that you will have to purchase it after a few weeks so the price per ounce or bottle matters. Usually, oral hygiene products are not that expensive and you get variety in the market too which makes your choice easier. What you have to look for is how much liquid is available in the bottle as per the cost you are paying for it. Sometimes, fancy-looking bottles that are pricier don't do the job well and you just end up wasting your money. If you are a daily user of the formula, it would be wise to buy the bottles in bulk so you don't have to pay additional money all the time. In fact, some brands have also launched reusable bottles so you can just get them refilled instead of wasting plastic with each purchase.
Ingredients
We have already mentioned that mouthwash is based on personal preference so whatever your oral health issues are, you buy the product with the formula that fights them. However, there are some standard ingredients that are found in all bottles that you should look for in the best mouthwash for plaque or any other dental problems. Fluoride is one compound that helps fight tooth decay. It is recommended that you make your kids use mouthwash that contains fluoride because this issue is quite prevalent in small children who consume sweets like candies and chocolates in high amounts. Other than that, you can look out for chloride that erases bad breath and also fights the bacteria that sits at the front of your teeth causing stomachache. Dentists have noted that most people who seek professional advice are suffering from gingivitis, the prevention of which is possible with the help of a good mouthwash that contains chlorhexidine. If you want to make your teeth appear white and in great health, fluids with hydrogen peroxide will help you achieve that.
Conclusion
Mouthwash is an added step that is recommended in maintaining your oral hygiene. Obviously, you have to brush your teeth and floss twice a week to strengthen the enamel and whiten the surface. With mouthwash, you can prevent other diseases like gingivitis and cavities. You should also get your kids into the habit of rinsing their mouths with the liquid so that no matter how many sweets they eat during the day, at the end of the night their teeth don't decay. From receding gums to plaque, all of the issues can be easily treated but it might take some time before you notice the difference.
Frequently Asked Questions
Mouthwash has ingredients like fluoride that need to settle in your mouth. Their effect only starts to show after a few hours of staying with the teeth. They get rid of the bacteria and other additional problems that reduce tooth decay and whiten the surface of the teeth. This is why it is better to not rinse your mouth after the liquid.
Look for ingredients that have CFCs so that they can actively fight bacteria and maintain your oral hygiene. You will have to brush your teeth and floss along with it so that the formula can show its result soon.
Usually, all the famous formulas are tested in the labs and you will see American Dental Association approval on many brands. Buy the ones that are authentic and have customer reviews to fall back on. You can also conduct your own research and find the products that are approved by the ADA.
As we said, it is a nice addition to your oral hygiene routine that prevents the buildup of plaque and leaves you with a good smell in case you have any issues with bad breath.
Yes, you can use it daily after brushing and flossing.