The Best Setting Powder for a Glamorous Finish
By Brenda Taylor
|
15 Apr, 2022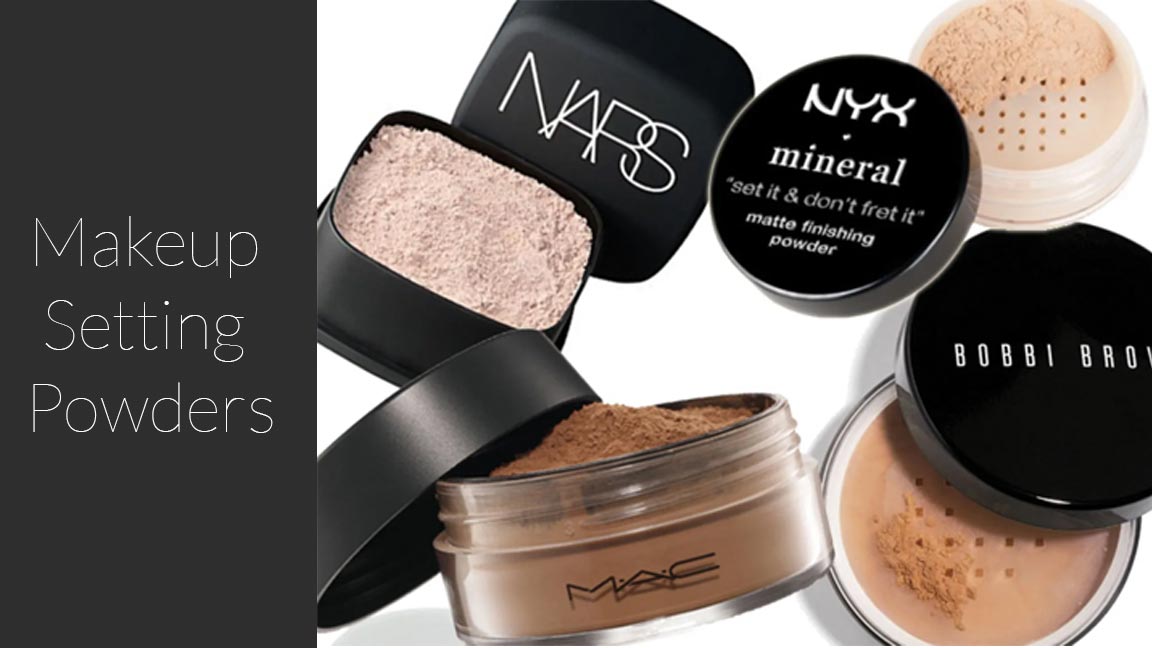 Does your makeup wear out after a few hours? Do you need your makeup to have an extra push of glamorous finish?
A setting powder is a substance that elongates the time of your makeup. In addition, it enhances the look of the foundation to provide a better finish to your face. So, every time you wished that your makeup lasted longer, there was a solution you did not know existed. But now that you are here and fully aware of the concept, you are searching for a good setting powder, right?
So, which is the best setting powder? That is a debate that can take hours to solve because there is not just one best loose powder. This is why we decided to bring you the best in the industry. Then, shall we start?
The 13 Best Makeup Setting Powders
This product is the best overall in our list of top-rated setting powders. What makes it stand out? Probably the fact that it has a number of different shades!
Putting aside the fact that it was designed by Rihanna, it carries an edge that makes it shine out of the rest of them. With eight different shades, you can find the match that will suit your tone and your makeup style. Yes, no worries about that. So, what about its performance? Well, we can say that it lives up to its name.
The pigmented setting powder left the skin smooth after its application. It hid all the pores and lines that dominated due to unfortunate reasons. Plus, it is a great addition for people with oily skin type as it offers a fine matte finish you were seeking. Lastly, it does not need many iterations either. One application pretty much does the job for you!
Product Pros
Eight different shades
Suitable for oily skin
Hides pores and provides a matte finish
Product Cons
Shades have confusing names
If you have an oily skin type, maybe this setting powder would suit you the best.
What does a person with oily skin need the most? That shine turns into a matte finish that can last as long as their event. At least, that is the minimal wish. This product provides just that with some tweaks that are best for your makeup!
It is a translucent powder which means it is almost transparent in color. However, once you start applying, you will notice that it has its shades that can darken upon further applications. Yes, you may call it magic because the trick isn't over yet.
It is lightweight so it doesn't burden the skin. Moreover, the setting powder sets such that it offers a matte finish to your face. A finish that appears as natural as you had been hoping for! Lastly, since it is designed for the oily skin type, it has certain ingredients to favor the skin type; it does not carry any pore-clogging features and is hypoallergenic.
Product Pros
Suitable for both oily and sensitive skin
Translucent in color so there is no headache about finding the right shade
Offers a matte finish for a natural look
Portable and easy to use
Product Cons
Requires application after every few hours
A setting powder that is designed for dry skin types? Yes, please.
This particular setting powder will not suck the little moisture you have on your skin if you are a dry skin type person. We all know how much you cherish the tiniest amount of smoothness your skin allows. But that will change with this product because it does not only hide the pores in action. Moreover, it creates a base that can provide a finishing look without appearing too dry!
If you wish to get into the depth of that smoothness, you should know the ingredients that get into this setting powder. The first, and the main star, is the hyaluronic acid. In addition, it also contains antioxidants and avocado powder. Together, they create a moisturized look that leaves the dry skin with the perfect finish.
Lastly, if you would like to know about its manufacturing, the ingredients are all vegan. They are non-toxic so you can add another plus point on the product's profile.
Product Pros
Vegan ingredients
Suitable for dry skin type
Available in four different shades
This is one of the baking and setting powders that the giant in the industry has put forward. And we have to say, it is one of the strongest competitors out there.
The best thing about this product, loved by all, is the fact that it provides a luminous finish. What is so special about that? Doesn't every setting powder offer that? Yes, but with a camera, that luminous shine turns into a shite glow which you will not find in this product. Considering it is made by a makeup artist, we wouldn't really doubt the claim.
Moreover, if its performance is taken into consideration, the product does not disappoint. You will not find any crease lines under your eyes or on your face once you have applied the product. Lastly, it is quite easy to apply. You will find that the mesh fabric allows for only an adequate amount of powder to come out which marks it as a clean application.
All you need to do to get the perfect look is apply the powder for 3 to 5 minutes and then politely brush off the excess. The recommended areas are the chin, under the eyes part, the corners of the mouth, and the T-zone.
Product Pros
It has a variety of different shades
Doesn't produce a cakey look
Provides a smooth and silky texture
Lightweight
Product Cons
Best suitable for under the eyes
If you are seeking a clean and smooth application, this product can be your partner in crime.
This product has a beautifully catered milky fine formula that is non-toxic and harmless for the environment. Even pregnant women can use it to glam up without any worry about it affecting them badly. The ingredients of this particular setting powder are designed to cater to every need. From keeping the pores and lines hidden to creating a luminous glow on the face, it is a combination worth noting.
In addition, it is a translucent powder so you will need multiple applications to make it darker. However, be polite with the application otherwise you might end up with an ashy skin tone. But you should note that it does not offer multiple shades so a darker shade may be hard to find. This is also because of the fact that many customers have said that they did not need multiple iterations with this powder.
Lastly, its packaging doesn't disappoint us either. The easy-to-use powder has two safety handles for simple handling. The product has a screw lid, then a second lid, and to top it all off, a mesh fiber.
What's with all the layers, you may ask? Well, if you want a clean and non-messy application without powder wasting, then you would appreciate the extra layers!
Product Pros
Easy-to-use product
Hides the pores and lines under a matte finish
It does not carry any toxic ingredients
Product Cons
It does not have a lot of shades
This setting powder is part of the pressed powder types but is one to look out for because it has created a buzz in the industry.
You sure must have heard about this product if you are slightly interested in this domain. But you might have wondered, what is with all the rave about it? We will tell you. This easy-to-use, lightweight powder is suitable for both dry and oily skin types. Yes! It has ingredients that can hide those pores and keep the skin hydrated for a long time. A double treat, indeed.
Moreover, it is without any doubt that this popular product carries a shine that will keep your face glowing for a long time. However, there is one little problem; the powder requires that you apply it after every three to four hours for it to do its job perfectly.
Of course, considering its benefits, it may not seem like a con on its part but some customers have definitely complained about it.
There is one thing that won't bother you with the reapplication process; its packaging. You can easily rely on the handy, lightweight, and small box to help you out throughout the night.
Product Pros
Slim packaging
Suitable for both dry and oily skin types
Four different shades are available 
Product Cons
There can be one or more darker tones
This product on our list is a special treat because it offers the features of a double agent.
You can make it work like a skincare product and a makeup essential all in one go! Yes! Its ingredients contain collagen, antioxidants to boost the young look, and collagen to minimize the pores. Yes, minimize, not just hide its appearance.
As for its performance, the setting powder does its job; hiding all the pores and providing a glowing look for the evening. Its major plus point is that it does not feel heavy on the skin. The single shade translucent powder can be used to get the required skin tone; from fair to dark. And it creates a silky, smooth texture that leaves the skin with a light finish.
Many customers commended the product's smoothness. You only need to apply a little of the powder to get the right texture. However, its packaging can be improved as it leaves more of a mess than reduces one.
Product Pros
Combination of skincare and makeup formula
Minimizes pores
Available in one shade
If you are looking for a budget-friendly option in the mix, we have got one right here.
This setting powder hits just the right savings and the average quality that can expect from the powder. Yes, it will serve its basic needs like a pro! You will find that it will hide all the pores and lines that were annoying you a day before the event. In addition, it will create a smooth texture on the skin that will leave your face visible with a luminous glow.
You should note that it is translucent so there are not many shades available as your choices. However, you can apply the same powder multiple times to get the tone you want.
Sometimes, it is risky for beginners because people don't know when to stop and end up having ashy skin that makes you appear ghastly. But unlike other setting powders, it also does not require multiple iterations for achieving a single shade.
Lastly, customers have found that it is a great option for people with oily skin types. Why? Because the matte finishes that people have been after recently can be achieved with this powder right here!
Product Pros
Suitable for oily skin type
Offers a matte finish with a luminous glow
Cheaper setting powder
Product Cons
May produce flashbacks on camera
This particular option on our list serves to make the skin appear radiant and young at the same time!
Yes! This dual agent in the mix is one handy product for every woman out there! The powder has a carefully curated formula comprising of antioxidants and thyme extract that puts a boost on the skin. But what does it do?
Upon application, you will find that your skin will appear young and vibrant. This happens because the rich ingredients in the setting powder prevent skin cell damage. As a result, your skin can be free of wrinkles.
Moreover, wrinkles are not the only thing this powder hides. You can wave goodbye to pores and lines for a brief time once you apply the setting powder. Ultimately, you will be welcoming a luminous finish on your face!
Lastly, it is easy to handle! The packaging comes with a micromesh that prevents the powder from making a mess during use. And a puff comes with the powder so you can rely on this purchase to be your all-in-one deal!
Product Pros
Comes with a puff pad
It carries antioxidants for youthful skin
Luminous shine 
Product Cons
Requires multiple applications for a matte finish
This setting powder is another special one on the street. Why? Mainly because it is waterproof!
Yes! Imagine all the times your makeup wore out not because you didn't use a setting powder but because it was not waterproof. Say goodbye to that problem now that you have come across this product. It will save you from your own sweat. Because let's face it, not all the events you go to have a cooling temperature to aid your look!
Coming to its performance, it blurs all the lines and pores you want to hide for the evening. And it is a translucent powder so you do not have to go through the hassle of finding the perfect shade. Simply apply the same powder the desired number of times to get a fair to dark shade.
Lastly, the powder offers a luminous glow so your hours will not be wasted on creating the perfect makeup look for the evening. However, there is one problem; the shade gets quite darker upon multiple applications. So, you might have to look out for that.
Product Pros
Blurs pores and lines
Water-proof
Single shade translucent powder
Do you have a favorite angle or side when you are taking photographs? We all do! But with this product, you will get the perfect picture from anywhere! No matter which side you choose!
Yes, this setting powder is a camera-ready makeup essential that you need to add to your buying list. With Photochromic technology infused in the makeup, it adjusts the light all throughout the day. As a result, you can click your pictures all day because you will surely be looking glamorous with your new setting powder.
The formula of this product also carries antioxidants so your face can look bright and young, without any hassle. Say goodbye to wrinkles, pores, and lines without the powder caking up, and allow freshness to embrace you with good spirit!
Moreover, it is quite suitable for dry skin types. This is a major plus for users who cannot find a good match for their dry skin. Lastly, it is lightweight and doesn't burden the skin so anyone can use it all through the day with ease.
Product Pros
Light absorbent for camera-ready pictures
Carries antioxidants for fresh skin
Suitable for dry skin
If you want a product that is specifically designed to be lightweight on the skin, then this translucent powder is a good fit.
Since it is translucent, you will find the ease of using one single powder to achieve any kind of shade. The formula has a little diamond powder infused which allows you to catch the perfect angle in the camera. Yes, you guessed it right, without any flashbacks!
As for its performance, you can expect the basics to be covered; you will get a luminous finish out of the application and it will also give you the bonus feature of concealing the unwanted. Yep! We know you want to hide the pores and lines coming to bother your look. But there is one bonus tip, you can use the powder for the part under the eyes to create an enhanced look for the day.
The powder will work in elongating your makeup duration and is quite easy to use. Thanks to the gold sifter and custom cap, you can apply the powder without worrying about it making a mess everywhere.
Product Pros
100% talc-free
Allows makeup to set for a longer wear
Prevents creasing and hides wrinkles
This one is a special product to end the list of the best translucent setting powder of the day!
Why is it special? Because all the people with dry skin types will have a soft spot for this powder. The reason is that its formula has a little ingredient known as Hyaluronic acid. It is only "little" metaphorically because it is doing big wonders on the skin. This special ingredient will keep your skin moisturized all day.
Whatever you decide to test as your makeup look for the day, this setting powder will be there to keep it smooth and hydrated. Most of all, it serves to preserve the shine of the glam by providing a long-lasting glow!
It is a translucent powder so you won't have to worry about searching through hundreds of options to find the perfect shade. The best part is that you can use it on top of your night cream and let the Hyaluronic acid do its job! A two-in-one deal, for sure!
Product Pros
Blurs fine lines, wrinkles, and pores
A smooth finish
A combination of makeup and skincare 
Product Cons
It does not offer the best oil control
Buying Guide
Are you even more confused about the best loose setting powder than before? Yes, we get you!
The thing is that you don't know what makes a setting powder the best setting powder for your closet. You don't know which one will suit you. But rather, you are here to pick the ones that the internet claims are the best. This is where you are going wrong; you need research.
Don't worry, we are here to solve that problem too. A setting powder should have a few qualities that can make it stand out amongst its competitors. This will allow you to make a swift decision and compare the prices of the best in the industry for an ultimate valuable purchase. But what are these features that you should consider before buying a makeup setting powder? Let's see!
Types of Setting Powder
The first thing you need to know is what kinds of setting powder exist.
Pressed Powder
Pressed powders are portable, easy-to-use types of cosmetics. They do not create a mess and can be used anytime without any hassle. They are available in a variety of different shades and offer light coverage.
Loose Powder
Loose powders are not that easy to handle. Well, firstly because they are loose and practically can fall anywhere, making a mess. However, some of the loose powder kits come with a protective casing that allows for a clear application. Usually, these loose-setting powders come in a jar and can either be available in different shades or are translucent. They offer light coverage as well.
Translucent Powder
They are mostly found in a loose powder form but are also available in pressed forms. You can expect this powder to be invisible on the skin but it does its job quite well; controlling oil and providing a luminous shine. Moreover, some translucent powders come with the freedom of changing shades upon multiple iterations.
Finishing powder
Finishing powders are somewhat similar to the translucent powders but carry certain additional features in their formulae. They do a good job at hiding pores, lines, and wrinkles. Plus, they create a great finishing look. But the bonus part is that they prevent flashbacks on camera.
Mineral Powder
These powders claim that they can be a better resource for your skin. Apart from the usual setting, they also provide an average coverage and a boost to your skincare.
Choose the Right Shade
Choosing your shade is extremely important. Because if you do not pick the one that suits your skin tone, then you will be stuck with a regretful purchase.
Why? Well, when you will use it, the powder will make you appear ghost-like. It is best to pick a powder that is similar to the shade of your foundation. Usually, they both are similar and can be a great combination for your skin type.
Mostly, translucent powders are easier to buy because, with one powder, you can get various shades. However, it may not be accurate which is why shaded tints are preferable.
Know Your Skin Type
It is also important to know what skin type you have! Whether you have sensitive skin, dry skin, or oily skin is a thing you must know before worrying about the best translucent powder. For oily skin types, the best powder is the one that can clog the pores and provide a radiant finish. As for the dry skin types, your best bet is to go with a hydrating setting powder.
You can seek out a dermatologist to see which skin type you possess and then consider that feature in your setting powder.
Longer Wear
The main job of the setting powder is to help you with the longevity of the makeup. That is the basic deal! Hence, you must always see if the powder that you are buying can serve to keep your makeup for long hours.
Additional Features
There are some additional features that you can look out for if you need the best of the best. For a setting powder to be good, you can see if it also acts as a skincare product. Next, how easy it is to apply the setting powder? Will it make a mess?
Plus, you need to see if it is portable. This brings us to the next point which is related; do you need multiple applications? If so, then is the product easier to carry around? You can also see if it is waterproof to prevent sweat from ruining your makeup look. Lastly, your budget proves to be the main deciding factor.
Conclusion
Summing it all up, a setting powder can either be the good part or the bad part of your makeup look. Hence, getting the best it important.
How do I choose the setting powder? Hopefully, your search for the best setting powder will reach a fruitful decision if you have gone through this whole blog.
You might as well have picked a product for a valuable purchase. If not, then we sincerely hope that the buying guide gives you enough peace to get on with the hunt for the setting powder.
Frequently Asked Questions
Setting powder is a product that elongates the duration of your makeup look and enhances it with a luminous shine. Baking is a technique to apply the cosmetics. However, there are products that are known as baking powders because they offer the best baking technique.
No. A setting powder is used right after the foundation and serves to remove pores and oil from your skin. In contrast, the setting spray is used to lock the makeup and is used after the whole makeup is done.
Yes, some setting powders can ruin your makeup look. In such cases, they either have an applying technique where you must stop after a specific coverage. Or you can use a setting spray afterward to lock in your makeup.
It depends upon your skin type. However, you should note that it is only one parameter and you should consider more factors before picking the best makeup essential. A common saying is that if you have a dry skin type, you may opt for pressed powder over loose powder. In contrast, if you have oily skin, the loose powder may be more suitable.
Yes. You should put the setting powder after you have used the foundation and concealer. A makeup brush or puff can be of your aid. However, a setting spray is different and must be used after the whole makeup routine.