11 best window air conditioner to keep you cool
20 Jun, 2022 | 5 min read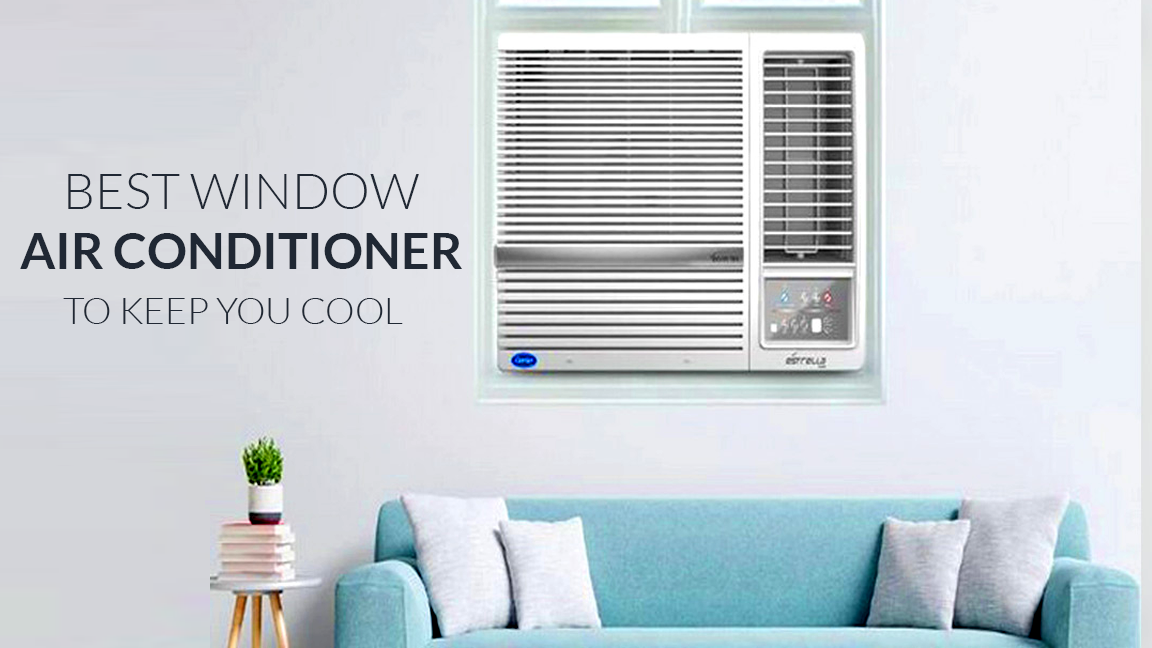 Air conditioning is a necessity on hot days, and window-mounted units are among the most popular and cost-effective methods of cooling a space. We research dozens of models to determine the finest window air conditioners, evaluating them on cooling power, simplicity of installation, noise level, and energy economy.
In the middle of a mid-summer heat-wave, window air conditioners are the only option for those who don't have central air conditioning at their disposal. Advancements in technology have made window air-conditioning devices more efficient and versatile than before. Many window AC units offer Energy Star ratings and are Wi-Fi compatible, allowing one to modify temperature settings from nearly anywhere. Some even include technology that makes them quieter than the normal refrigerator and some are average quality in 5,000 Btu air conditioner.
We analyzed the most popular and highly rated window air conditioners, taking into consideration their BTU rating, durability, value, and other features. if you are looking for cheap Window AC, visit our list of 7 best Cheap Window Air Conditioners Under $100
Haier's smart window air conditioner is competitively priced, yet it is compatible with Amazon Alexa, Google Assistant, and Apple home-kit voice commands. In order to control the product, you can ask Siri, launch the Home app on any Apple device, or swipe down to open the control center on an iphone or ipad. You can also use the appliance's bundled remote to control it via a mobile app. These air conditioners have a dehumidifier, a light-up control panel, and an eco-mode for easy filter cleaning, among other features. When the room is cool enough, the AC's energy-saving mode turns off the fan and compressor. 
In spite of the summer's heat, the entry-level Haier smart AC cab can maintain a comfortable temperature in a medium-sized room. Additionally, 10,000, 12,000, and 18000 BTU cooling capacity options are offered. Every air conditioner comes with a window-mounting kit included in the package. 
Reason to Buy
Compatibility with all virtual assistants 
Various cooling capabilities are available. 
Reason to Avoid
The entry-level model could benefit from a more powerful cooling system. 
For decades, window air conditioners' core mechanisms remained the same. As a result, engineers commend Midea for the extraordinarily silent operation it achieves while pumping out enough cool air to chill a space as large as 350 square feet. We've never seen a design like this before, and it's a pleasant perk on breezy, mild days when you want to open and close the window. Using the Midea's straightforward controls and Wi-Fi connectivity, as well as its reusable filter, which can be rinsed in water, is a breeze. 
Reason to Buy
Extremely quiet 
Efficient in energy use 
The window is still operable. 
Reason to Avoid
It's a little difficult to get the unique installation done. 
Frigidaire Galleries are "by far the quietest units on the market," according to Mastro. His recommended inverter technology, which the brand claims is also energy efficient and consistent, is used in the products' design. In addition to being Wi-Fi-enabled, this unit's lights are dimmable and can be turned off entirely so that they don't disturb you at night. It's not all about looks, but this unit "looks fantastic," a reviewer on Amazon claims. Instead of buttons and knobs that protrude from the surface, the design employs a flat, honeycomb-like pattern for a more refined look. In addition, Lakin claims that this device is quite simple to set up. 

Reason to Buy
Connected to wi-fi 
Washable Filter for Ease of Cleaning 
Dimming the Digital Screen 
Additional Quietness at 41dba 
The GE PHC08LY is the quietest and best-looking window AC on the market if you like a more conventional design. Even with the compressor operating and the fan on maximum, it's still quieter than the typical conversation or any other AC we've tried in its designated Quiet Mode. GE's freshly improved smart-home integration allows for seamless, natural voice commands, and the touch-sensitive controls and soft LED lighting give it a sleek, modern air. When you're not at home, you can use location services to switch off the AC automatically (or on when you are). The Midea U is our top selection, but this model is quicker to set up and just as comfortable to live with, despite its lower energy efficiency (albeit it is Energy Star certified). 

Reason to Buy
High-efficiency cooling 
Very quiet 
Compatibility between smartphones and smart speakers 
Reason to Avoid
We were unable to locate any. 
This was the most silent air conditioner. For one thing, it was the only appliance with a unique U-shape that allows you to close the window in its center, better separating the compressor (which is always located on the appliance's exterior) from the interior. An air conditioner mounting bracket is required for the MAW12V1QWT's design, which is more mechanically complex but also quieter. The fact that this is an inverter compressor air conditioner, like the LG, contributed to the low volume. Instead of just turning on and off, the compressor adjusts its speed to meet demand. Additionally, this Midea a/c was the only one with an auto-louvre swing feature—the louvers move vertically to disperse air more evenly around the room. That and the MAW12V1QWT's high BTU rating make it a powerful air conditioner in the home. The fact that the air filter is inclined makes it much easier to get at when the front panel is tilted out at a 45-degree angle, which is another plus. To ensure that the filter is cleaned regularly and to promote cleaner indoor air, it should be made easy to access. 
Reason to Buy
Easy to install  
Quiet operation 
Innovative design 
Reason to Avoid
App lacks two-factor authentication 
Longer installation time 
If you have horizontal sliding windows, this Frigidaire air conditioner will fit the bill. Sliding and casement windows are ideal for the tall, narrow flat. Installing a ductless air conditioner is a little more involved than installing a normal window air conditioner. Three fan speeds and energy-saving and fan-only modes are included in this 8,000-BTU air conditioner. 
You can direct airflow in four different directions, and the unit comes with a full-featured remote control that allows you to make all of the necessary adjustments. As a result of its low-power startup and the ability to remove up to three pints of moisture per hour, it isn't Energy Star certified. 
Reason to Buy
it is compatible with both sliding and casement windows 
Low-power startup 
A full-function remote 
Reason to Avoid
Complex installation process 
An Energy Star rating and Wi-Fi make this 6,000-BTU air conditioner excellent for bedrooms and other small spaces. When coupled with a digital assistant and the Friedrich app, the air conditioner may be controlled by a smart device or by voice. The front of the device features a digital control panel as well. It has a 12.1 energy efficiency rating, making it one of the most efficient small versions on the market. It's also very quiet, thanks to its quietmaster Technology, which features insulation on the unit's inner wall to reduce sound transmission. 
Reason to Buy
High efficiency rating in terms of energy consumption. 
quietmaster technology lowers sound. 
Wi-Fi ready 
Reason to Avoid
Can cause condensation on the unit's top on occasion. 
Three cooling and fan speeds are included in this LG model, which can help you save money on your electricity cost. 340 square feet may be covered by its 8,000-BTU capacity, which makes it ideal for usage in a spacious master bedroom or studio apartment. Installation was a breeze, and the full-featured remote control made it easy to regulate the temperature from the comfort of your own bed. We particularly appreciate the additional functions, such as the sleep mode, 24-hour timer, and the ability to adjust the pace. At low fan speeds, the LG is also quite quiet. 
Reason to Buy
Powerful air-conditioning system 
There isn't much noise. 
Efficient in energy use 
Reason to Avoid
Large rooms aren't ideal for this product 
The Soleus Saddle Window Air Conditioner has a unique design and is incredibly simple to install if you need to cool down quickly. With the 11-inch maximum clearance for window sills in mind, make sure you measure before purchasing. This design also has the added benefit of obstructing very little of your vision. 
This air conditioner is available in two BTU capacities, 6,000 and 8,000, and with or without Wi-Fi access. In comparison to a regular air conditioner, this one runs at a decibel range of 38 to 49 because of the compressor's location on the outside of the window. You may use the remote to control the various settings without having to get out of your chair. It offers a sleep mode, a dry mode, and an evaporative dehumidifier mode.
Reason to Buy
The saddle form makes it simple to install. 
Isn't obstructed by windows 
Quite a bit of noise. 
Wi-Fi or no Wi-Fi, you can use it 
Reason to Avoid
Doesn't work with all kinds of window frames. 
For its size, it's a little expensive. 
The Windmill AC, unlike other window air conditioners, is a streamlined type that blends in with the rest of the décor. You can use your phone or Google Assistant or Amazon Alexa to control the temperature and other features of this stylish item using the latest in smart technology. In order to avoid waking you up at night, the LED display automatically dims. 
Snips, two kinds of insulating foam, a window lock and side panels are all included in the Windmill package. Air pollutants and odors are removed using activated carbon filters in addition to the washable, antibacterial mesh filter. In addition to the 8,300-BTU model currently on the market, the firm has lately released a smaller 6,000-BTU variant. The Windmill AC's smart features might be a bit of a challenge to set up, which we don't particularly enjoy. It took our tester many attempts to link the device to her mobile phone. 
Reason to Buy
Sleek, modern design with side panels 
Quiet operation 
Dual filters 
Easy to install 
Reason to Avoid
Smart features can be challenging to set up 
Pricey for its size 
Designed for use in tiny rooms, this air conditioner has a 5,000 BTU capacity and can cool an area of 100 to 200 square feet. Despite its low price, the Keystone comes equipped with a slew of useful features, such as a fan-only mode, dehumidification options, an LCD remote control, an energy-saving mode, and an on/off timer set for 24 hours.
Even while the Keystone's BTU rating is lower than that of air conditioners built to cool larger spaces, it nonetheless managed to chill our 340-square-foot test environment with surprising efficiency. By the end of two hours, the temperature in the room had decreased by 10°F. We also found that it was very effective at disseminating air, making the space feel cooler even before the temperature had actually decreased. When it came to dehumidification, it took less than two hours to reduce the humidity in our test environment from 66% to 52%. 
Reason to Buy
Evenly disburses cool air in an efficient manner 
Remote control included 
Energy-saving mode is included. 
Reason to Avoid
It is difficult to understand the controls. 
Frequently Asked Questions
At least once a year, before the season begins, you should clean your air conditioner. Using soapy water or hydrogen peroxide, remove the face panel and clean (or replace) the unit's filter as directed by the manufacturer. Vacuum and straighten any bent or damaged fins inside the appliance.
For the most part, a window air conditioner is a better option than a smaller, portable air conditioner. If you don't have windows that can accommodate a window air conditioner, you might want to look into a portable one.
According to Carson, most window air conditioners can survive between 10 and 15 years if they are regularly cleaned and maintained. But the specific longevity of your AC unit will be determined by a number of factors, including how frequently you use the unit and where it is situated.
Water is no longer used in modern window air conditioners. Compressing air instead produces condensation, which then escapes the AC unit and drains to the home's exterior.
The cooling power of a window air conditioner can range from 5,000 BTUs to more than 25,000 BTUs, depending on the model. Most rooms in your home will not necessitate the use of a high-powered air conditioner; rooms that measure between 150 and 500 square feet require between 5,000 and 12,000 BTUs of power to remain cool.