12 Best High Quality and Durability Work Boots That Provide Comfort
By Alice Green
|
26 May, 2022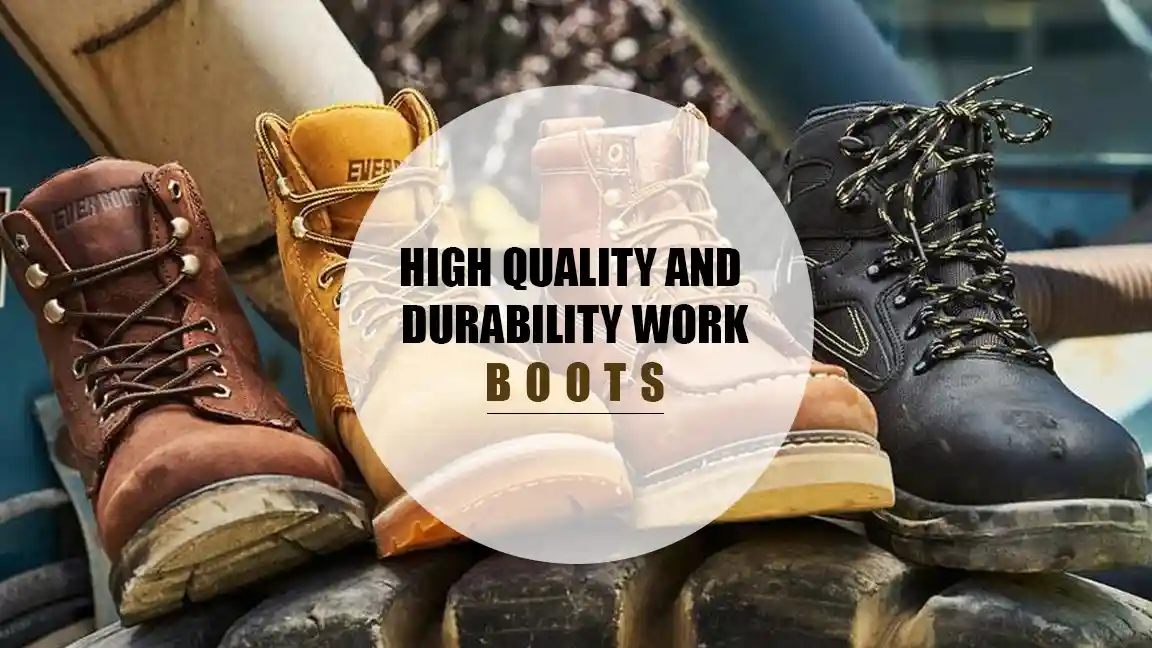 As a hard-working person in severe situations, you need footwear that will last for a long time. Wearing shoes that are long-lasting, comfortable, and well-made is critical everywhere you go, from the factory floor to the farm. Several excellent Australian and American work wear manufacturers have incorporated a more contemporary approach to the manufacturing of men's work boots throughout the years.
The greatest men's work boots must excel in three key areas. In the first place, they need to safeguard your feet from the many dangers present on building sites and in industrial settings, such as flying debris and electrical charges. Comfort is the second. All of your feet will be dry and comfortable even if it rains or snows. Finally, they must be able to last. Wearing these boots on the job, hiking, or anywhere else is a great way to put them to the test. If you're looking for the greatest work boots for guys, don't be afraid to take on the toughest tasks. For those looking for a range of high-quality and durable boots, these are the top work boot brands.
If you're looking for a hard-wearing boot, this one is for you. Built from the bottom up and propelled by an advanced comfort system, the Diagnostic Hi Waterproof steel-toe work boot incorporates all of the benefits of ERGO. Designed for optimal comfort and durability, this 6-inch Cat boot is anatomically correct.. Steel toe and electrical hazard protection, plus a best-in-class slip-resistant outsole are all included in the Diagnostic Hi.
Product Pros
Waterproof
Protect your feet from the cold with 200 grams of Thinsulate™ patented thermal technology insulation.
From all over protection to comfort throughout.
An EVA insert with Gel Technology is included for comfort and further shock absorption.
Oil, water, and abrasion resistance are all strengths of the T901 Outsole.
Reduces the risk of slipping and falling on low traction surfaces with its SRX Best-in-Class, Slip-resistant Rubber Outsole.
Open circuits up to 600 volts in dry conditions are protected by ASTM F2413-18 Electrical Hazard Protection.
Product Cons
Water can still get into these boots, despite their water-resistant build.
Red Wing's King Toe series is designed to provide you 44% more room for your toes than the company's basic boots. EH-rated, puncture-resistant, and waterproof, Red Wing's King Toe 3512 is a shoe that has it all. This product is CSA-approved if you're located north of the border. With an HRO sole that can withstand temperatures up to 475°, it's ready for anything.
Product Pros
Resistant to oil and slipping
EH-rated & CSA-approved
Waterproof
Safety toe made without metal
CSA-approved
Known for the 1973 introduction of the first yellow boot, It became an icon in footwear when hip-hop artists started donning the boot in the '90s. As a fashion staple that is both sturdy and fashionable, the Timberland boot has proven its worth. For increased warmth and traction, Timberland included the Taslan nylon laces that have become synonymous with the company's boots (and they deliver), as well as a leather collar. Insulation comes from recycled water bottles and Primaloft in this boot, which is a nice touch.
Product Pros
Water proof and insulated, so they can be used in a wide range of conditions.
Arch support that is better
Better grip
More masculine
Product Cons
It's more expensive.
Extremely difficult to keep clean
Several customers have expressed their displeasure that the lining doesn't last very long.
Not suitable for narrow or slim jeans because of its weight.
Blundstone's Original 500 Series for Men is built to withstand the most extreme situations. A revolutionary shock absorption technology is built into these foot-shaped boots for maximum comfort. For added sturdiness and longevity, the shoes' waterproof leather uppers are combined with sturdy brown premium leather uppers in a v-cut silhouette. Added comfort and durability are provided by the boots' removable insoles and muck-proof rubber outsoles. In addition, they come in a variety of colors and sizes.
Product Pros
built to carry you wherever life takes you
The oil, acid, and fat resistance of premium leather makes it ideal for outdoor use.
To provide even more comfort, the SPS Max Comfort system has a changeable foot bed.
The slip-resistant TPU sole is ideal for cabin life.
Product Cons
It was difficult to slip into around the ankle, and the shoe itself felt like a plastic material rather than leather-customer feedback.
Tactical teams and those in uniform love the Danner Acadia 8 because it is waterproof, robust, and easy to clean—especially important if you're attempting to maintain a professional appearance.' The uppers of these work boots are constructed of a nylon and leather blend. Abrasion, rip, and scuff-resistant, fast drying, and breathable are only some of the advantages of the latter. Fiberglass shanks provide lightweight support and stability, while a Gore-tex interior keeps you dry and comfortable.
Product Pros
Waterproof
Gore-tex breathable lining
8-hole shaft
To ensure optimal safety and support, we use a fiber glass shank.
It's a lightweight footwear that anyone can wear and still be comfortable.
Product Cons
Fits tiny feet, however large feet may have difficulty.
Extremely costly
Working on a construction site for eight or ten hours a day while standing can be difficult in your regular work boots, but these Keen Pittsburgh steel toe boots will keep your feet comfortable and safe. The KEEN Utility® Pittsburgh Waterproof Steel Toe Work Boots for Men feature Keen's famous comfort and robust design to keep your feet happy on the job. The Pittsburgh is equipped to take on the toughest chores with the latest fatigue-fighting technologies, waterproof protection, and proven Keen® craftsmanship. Nubuck is both waterproof and durable.
Product Pros
The removable PU foot bed provides all-day cushioning.
The EVA midsole provides exceptional cushioning.
Water-resistant
Oil- and slick-resistance are built-in
Product Cons
No insulation, no soleplate protection from nail punctures, and even stitch-breaking have been observed.
These may be criticized for their lack of sturdiness.
To have a more athletic look and feel, check out the Nisswa collection of footwear by Irish Setter. These oxford-style work boots (more work shoes, really) have a wedge sole and are ideal for warehouse or delivery work because they include a safety toe. Lightweight and tough shoes with an aluminium safety toe for extended days on the job are now possible.
Product Pros
The thick sole and heel that provides the optimal grip on a wide variety of surfaces. •
You'll be protected from hefty items with the boot's steel toe
Arch support is provided by a steel shank in these shoes.
They can withstand rain and snow
The leather is a tough and long-lasting material
Product Cons
They are difficult to get used to.
The insoles' slip-resistance is a concern.
Sketchers' Radford work boots included a lace-up clasp and metal eyelets for a solid fit that allowed you to labor all day. Thinsulate insulation kept your feet toasty on the coldest afternoons and evenings during our testing period for this boot. Aside from meeting Electrical Hazard Safety Standards, Radford boots could be worn in high voltage areas.
Product Pros
Toe protection from nonmetallic composites.
Waterproof leather upper with an oiled finish.
Cushioned midsole.
Standards for electrical hazard protection
All-day comfort thanks to the gusseted tongue and padded neck.
Breathable soft fabric lining.
A brand that is well-known in the industry for its durability and comfort might provide top-notch work boots that are both functional and durable. It has been more than a decade since the Raider was first introduced, but the Durashocks are a relatively fresh addition. Soft or Carbonmax toe choices preserve the iconic Raider look while providing a more flexible, pleasant ride. These boots provide outstanding comfort and need little to no break-in time. Wolverine's Multishox Comfort System is to blame for the latter. Nonslip and abrasion resistant sole are features of this boot. In addition, it is quite breathable.
Product Pros
Rubber lugged outsole that is slip, grease and abrasion resistant
PU midsole with excellent lightness and breathability
Leather upper with full-grain leather
Contour Welt structure is flexible and athletic.
Product Cons
They do not have anti-fatigue technology integrated.
For people with tiny feet, they're a little too wide.
They are also deficient in terms of stress absorption.
Full-grain leather and a waterproof fabric make this hiking boot from Kodiak extremely durable. This pair of work boots has composite toes and plates on the inside, as well as an external toe guard. Their "SOS Smell Out" technology ensures that they remain fresh for longer periods of time. Slip-resistant outsoles that are oil, heat, and abrasion-resistant up the ante on security.
Product Pros
Full-grain leather that is waterproof, durable, and full-grain.
A waterproof, breathable membrane is included in the design.
Odor control technology Kodiak SOS Smell Out Science.
Vibram TC4+ rubber outsole with oil, heat, and slip resistance.
Composite toe was approached by CSA and ASTM.
On a farm, weather is just one of several dangers. For regular usage, these 8-inch boots provide weather protection and impact prevention. The Achilles flex joint and a strengthened heel work together to provide natural motion and impact resistance. With a waterproof-breathable membrane and a robust rubber tread, these boots keep your feet dry and warm no matter the weather.
Product Pros
Padded collar and tongue for enhanced comfort

ASTM F2413 electrical hazard protection for the toes

A water-resistant membrane

leather made from oil-tanned hides

A protective toe

Resistant to oil, chemicals, and slipping
The memory foam foot bed and shock-absorbent rubber midsole make these boots an excellent choice for walking long distances. If you decide to change it out in a few years, it's easily removable. They also have a waterproof membrane and Goodyear storm welt construction, which means that the welt is wider, making the boots more durable. There's also an ANSI/ASTM F2413-11 M 1/175 C/75 EH-compliant steel toe cap and an oil- and slip-resistant outsole for grip and stability.
Product Pros
Briar Pitstop, full-grain leather
Waterproof X-Stream
Ultimate Shock Absorption Foot bed with Removable Insoles
Product Cons
Customer feedback indicates that they are heavier than any other boot.
What to Look For in a Work Boot
What are the qualities of an excellent work boot? There are four things to look for when purchasing a nice boot. Among them are:
Comfort: It's important to keep in mind that you'll be wearing these boots for about 10 hours a day, so comfort is key. Make sure you're getting boots with extra arch support and a sturdy heel.
Style: In terms of style, some people like the traditional American work boot, while others prefer the more modern variations. If you're a desk worker who wants to enhance your fashion game, the moc-toe design is hard to beat.
Protection: Protecting yourself from the weather is essential for people who are actually wearing their work boots. Work boots with both an inner and exterior lining are common in high-quality models, providing additional protection.
Construction: If you're undertaking construction work, this can be a major consideration. As previously stated, the majority of high-quality boots have numerous layers, although the materials utilized to construct them might vary widely. Taking into account the final use for which you intend to put them.
Frequently Asked Questions
The top brands of work boots mix a durable and robust design with ease of use and a fashionable appearance. Caterpillar and Carharrt are two of the most popular brands of work boots, despite the fact that there are many more. Both Wolverine and Danner are well-known for their long-lasting boots.
First and first, safety on the job site determines whether a pair of work boots are worth their weight in gold. If your work boots don't protect your feet, they are useless. Durability is the next consideration; long-lasting work boots are a must. Comfort is essential, as you'll be wearing your boots for long periods of time every day. Finally, pick out a pair of work boots that you like!
Timberland is known for making the best work boots. Quality, protection, and comfort are all hallmarks of these footwear offerings. High-quality work boots from Danner cost a little more. You may find many more options in our review of the finest men's work boots.