BLACK DECKER DUSTBUSTER HANDHELD VACUUM Review in 2022
20 Sep, 2022 | 5 min read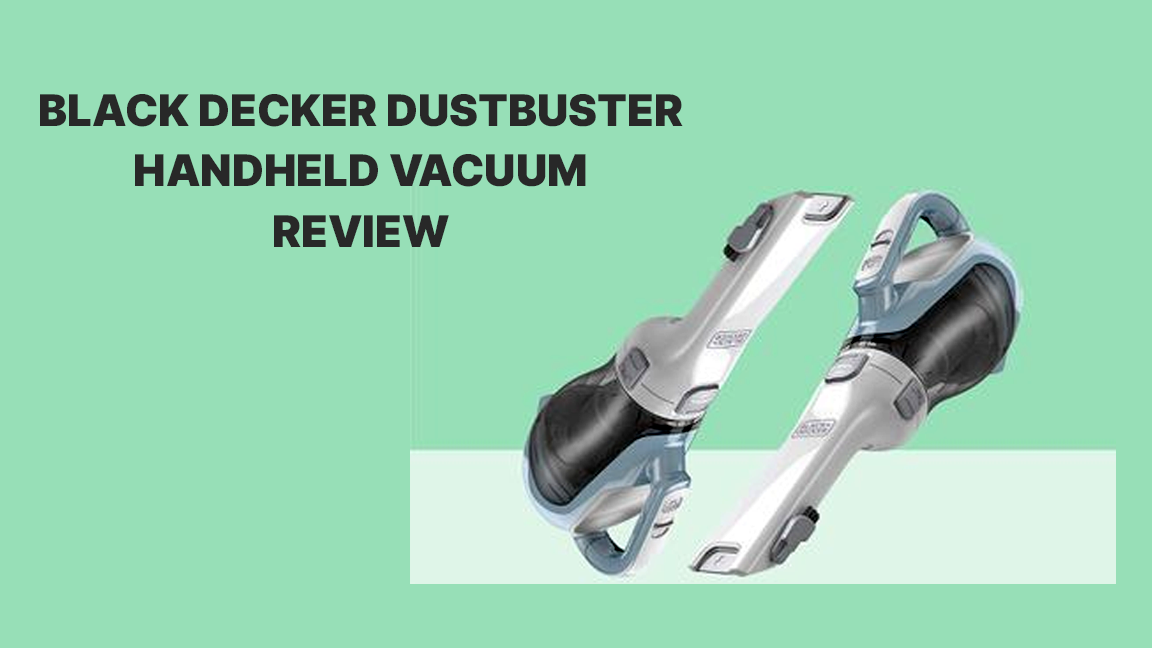 This BLACK+DECKER Dust buster Vacuum is our top pick for anyone looking for handheld equipment. The cordless vacuum gives unrivalled independence for cleaning every nook and cranny of your home, the interior of your car, or other remote areas. Users can see when the dirt bowl needs to be emptied because of the device's transparent dirt bowl. Using a flip-up brush and an extension crevice tool can help you clean upholstery and hard-to-reach areas even better. Additionally, this popular vacuum has received five stars from more than 50,000 Amazon buyers.
This BLACK+DECKER Dustbuster offers lightweight cordless technology for regular debris clean-up. Its wide-open mouth can also effortlessly scoop up heavy foods like pet food and cereal. With a simple rinse, the transparent bowl and filter can be cleaned thoroughly and hygienically, and the bowl release stops any contact with the dirt. Use the charging wall bracket to put it on the wall for tidy storage and quick "grab and go."
Design
The Black & Decker 16V Lithium-Ion portable vacuum has a small nose and a head with a spherical shape.
This vacuum's strange design contains an even weight distribution level.
The nozzle of this handheld vacuum gives an extension within the nozzle itself, allowing the vacuum to reach those hard-to-reach corners and crevices. I don't find either end is top heavy or challenging to carry. There is a brush attached to the nozzle as well.
When the brush is used, it easily flips onto the nozzle, allowing users to stir up the dirt and debris before sucking it up.
When the brush is not in use, it is placed flush against the nozzle, helping to prevent it from interfering with the cleaning.
The exterior uses a minty blue base, a white nozzle, and grey accents as its primary colors. Combining the three colors results in a sleek, contemporary-looking portable vacuum.
Features
1. Handle
2. Power switch
3. Dust bin
4. Cleaning tools
Accessories & Parts
There aren't many parts and accessories included with the Black & Decker 16V Lithium-Ion handheld vacuum; everything that comes with it is already on the vacuum, except the power base.
The brush tool that comes with this vacuum is also attached to the nozzle and can be flipped up at any moment, and a crevice tool inside the vacuum can be pulled out to lengthen and shorten the width of the nozzle. You don't need to grab an additional attachment because everything is ready to go on this portable vacuum.
The vacuum is held vertically by a small, independent charging base that is part of the package. The Black & Decker portable vacuum's charging pins are located at the bottom and back of the unit's round tail end.
Usability
The Black & Decker 16V Lithium is very easy to set up and use. There is no setup. You can start using the device after taking it out of the box and charging the base.
While the vacuum is charging, the light on the charging base will be a solid blue hue; once the vacuum has finished charging, the light will switch off.
You need to turn the switch to start using this handheld vacuum.
Once this Black & Decker vacuum is turned on, you may start cleaning on any surface because there is only one cleaning mode.
Additionally, it couldn't be any simpler to use associated tools. The sliding nozzle, which is only an extension, is indicated by an arrow.
Maneuverability
The Black & Decker portable vacuum is remarkably easy to maneuver.
Users can move this handheld vacuum around and clean in smaller crevices and corners thanks to its lightweight design and rotating nozzle.
The vacuum cleaner's head can spin when a little lock button on the middle of the device is depressed, which causes the crevice tool to move from its horizontal position to a flatter, vertical one.
The Black & Decker 16V Lithium also has an excellent handle and weight distribution. Black & Decker could distribute the weight to the unit shorter than 18′′ lengths, preventing a top-heavy handheld vacuum.
Maintenance
The frequency at which you should probably change the vacuum's various parts and components is shown in the following table. The manufacturer recommends replacing parts at the following intervals: The Black & Decker portable vacuum is simple to maintain.
The filter should be rinsed off after each use and replaced every 6 to 9 months, and the battery should be changed as needed.
There isn't much else to do to ensure your vacuum operates to its most incredible ability other than these duties.
At this point, it's difficult to say what the annual costs will be. Unfortunately, we could not find a replacement battery. Thus, we are unsure of its potential cost.
Battery
On Modern Castle, every review of a cordless handheld vacuum is subjected to a standard evaluation of battery size, run duration, life, and replacement cost.
I'm going to test this out in the future, but it appears like this is a nearly impossible amount of time to keep lithium-ion batteries charged.
Nevertheless, the vacuum does an excellent job of maintaining the same power until the battery runs out. No fade-out effect is present.
Product Pros
• Exceptional performance on unfinished flooring.
• Extremely transportable
• Easily stored
• Relatively simple to maintain.
• Outstanding performance on bare floors.
• Fairly simple to maintain; very transportable; and easy to store.
Product Cons
• Long recharge times and short battery life.
• A little dirt container.
• Limited battery life and a lengthy recharge time.
Conclusion
For cleaning bare floors, the BLACK DECKER DUSTBUSTER HANDHELD VACUUM is fantastic. It cleans practically everything on this surface, and its suction holds steady even when the dirt container fills up. It can take a while to clear up a large mess, though, as its charge only lasts for around ten minutes, and its tiny dirt bin needs frequent emptying. That said, it requires little upkeep, which is convenient.