Cyber Monday Gaming Laptop Deals- Grab Your Favorite at the Lowest Prices!
26 Nov, 2022 | 5 min read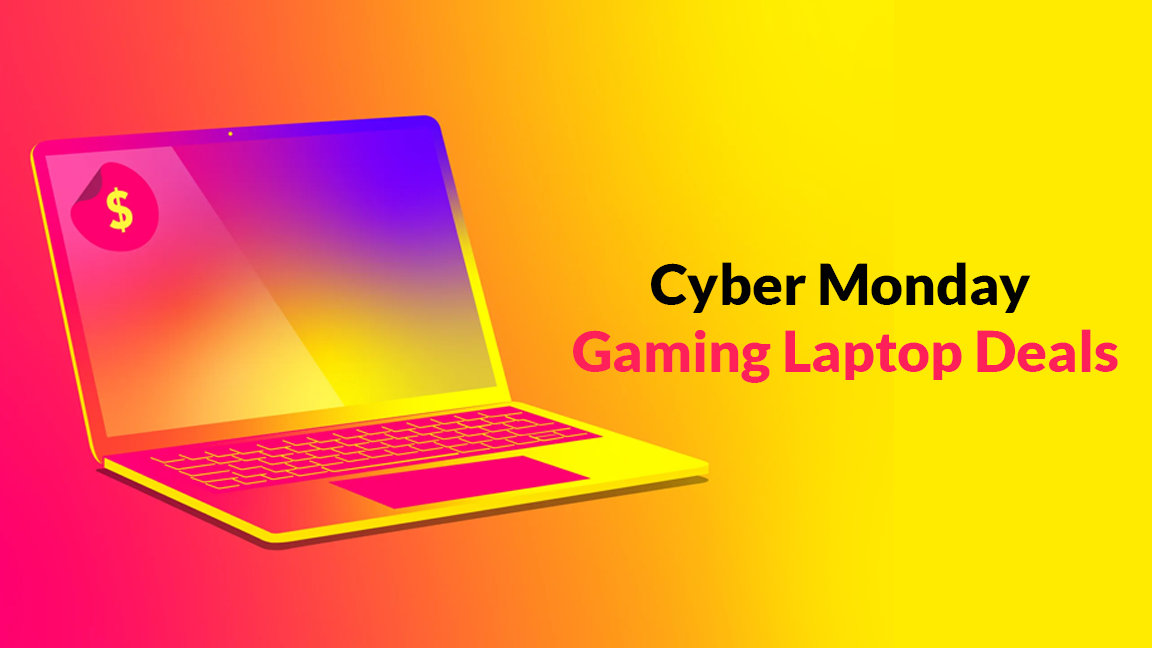 Cyber Monday is one of the biggest holidays. It brings forth sales and discounts that make everybody want to shop. It is almost like handing our wallets to the vendors but the shopping pays off when you have such huge discounts. This is why it is probably one of the favorite holidays for shopaholics. You will surely spot people you know camped near the stores such a favorite holiday. If the deal is on gaming laptops, then it is a game that you must win, isn't it?
Now, you are probably wondering whether to shop on Black Friday or on Cyber Monday. But let us ask you a question. Why are you focusing on that? Why not consider it as an extra opportunity to save even more than you initially intended? Black Friday will surely bring a platter of deals that will make your bank balance sing praises of the holiday.
But with Cyber Monday, you can explore even more chances of saving up. The real question that is here now is what are the best gaming laptop deals coming on Cyber Monday? This is what will help you plan early and buy early too, saving you from the embarrassment of limited stock.
 Best Cyber Monday Gaming Laptop Deals
Normally, Monday is the worst day of the week. But you will change your mind once you hear about these deals. So, let's explore some of the best deals in town!

Focused firepower streamlines and elevates the core Windows 11 gaming experience in the ROG Strix G15. With a powerful Ryzen 7 processor and GeForce RTX 3060 graphics, everything from gaming to mutitasking is fast and fluid. Go full-throttle on eSports speed with a competition-grade display with immerse rich details on the WQHD 165Hz/3ms display. Adaptative-Sync makes gameplay ultrasmooth, while advanced thermal upgrades help you stay cool under pressure. No matter what you game, you can achieve your perfect play.
Razer Blade 15 is one of the popular laptops for Cyber Gaming laptop deals. Due to its heft price, many users shy away from buying the laptop. But Cyber Monday is the best time to make your wish come true by purchasing this gaming laptop at low prices. The glass touchpad is one of the smoothest, allowing a swift gaming experience. On top of that, its sleek design and slim display make up for an attractive choice. If this laptop is there, you can easily find yourself wanting to play at the setup.
Normally, you can find this laptop at around $2.5K but with the deals coming in for Cyber Monday, the price is expected to drop to $1.5K. So, it is definitely something worth checking out.
Reason to Buy
i9-12900H
Think and sleek design
Great battery life with a lot of ports
32 GB RAM and 1 TB SSD
Reason to Avoid
Slower memory in comparison with other laptops of the same price
It may have a dimmer display 
Alienware is one of the top designers for gaming laptops. It is known by all gamers and many even possess its models. Now, you can be one of the people who get the opportunity to play on this laptop. With the Cyber Monday deals, this laptop will be available at such a tempting price that you might buy two. Plus, it has the sweet CherryMX ultra-low profile Butterfly mechanical keyboard which is a rare find. So, if you want to grab your hands on an Alienware laptop, this surely ticks the boxes.
Usually, it is available at a price of $2649.99 but you can purchase it at an exciting price of $2249.99 this November. Just wait for Cyber Monday to come and enjoy the discount of almost $400 off on your laptop!
Reason to Buy
i9-12900HK
Powerful gaming performance
Attractive design and display
64 GB RAM and 4 TB SSD
Reason to Avoid
Low battery life
Poor webcam quality 
This laptop is a star runner by Asus and a top choice for many gamers. The primary reason is the 8GB AMD Radeon RX 6800S graphics card that this laptop guarantees. With a graphics card of such specifications, you can play hours long gone without getting bored of the quality of the game. Especially when it is an interactive game, there is not a bummer as big as seeing poor graphics. But you can always play mini-games, play around with animations, and have your entertainment-packed experience with this laptop at a low price. All thanks to the Cyber Monday deals.
Reason to Buy
Ryzen 9 6900HS
Compact and portable size
Good touchpad and keyboard feel
32 GB RAM and 1 TB SSD
Reason to Avoid
There is no webcam
A slower response in comparison 
If you need a laptop with a good battery, then look no further. This gaming laptop has got your back. Especially when you are seeking a gaming laptop, it is necessary that you have hours of battery to support your rigorous gaming hours. It is not like you have the self-control to leave the gaming setup after 20 minutes. You do? Kudos to that. But a healthy battery and long hours does not mean it will heat up. There is a special cooling pad to keep the laptop working efficiently. That is why it is a great Cyber Monday deal that you should keep your eye on.
Reason to Buy
i9-12900H
Fast system performance
Good battery life
32 GB RAM and 2 TB SSD
Reason to Avoid
Does not have a few advanced features
Dominate the Game: With the 12th Gen Intel Core i7-12700H processor, your Nitro 5 is packed with incredible power for all your games. RTX, It's On: The latest NVIDIA GeForce RTX 3060 (6GB dedicated GDDR6 VRAM) is powered by award-winning architecture with new Ray Tracing Cores, Tensor Cores, and streaming multiprocessors support DirectX 12 Ultimate for the ultimate gaming performance
Visual Intensity: With the sharp visuals of a 15.6" Full HD IPS display with a lightning-quick 144Hz refresh rate and 3ms response time, your game sessions will be fluid, unbroken, and unmatched. Internal Specifications: 16GB DDR4 3200MHz Memory (2 DDR4 Slots Total, Maximum 32GB); 512GB PCIe Gen 4 SSD (2 x PCIe M.2 Slots, 1 x 2.5" Hard Drive Bay Available)
Prioritize Your Gameplay: Killer DoubleShot Pro with Ethernet E2600 and Killer Wi-Fi 6 1650 lets you use Wi-Fi and Ethernet at the same time, and have total control over priority traffic to maximize speed, throughput, and control
Reason to Buy
I7-12700H
Great performance overall
An amazing GPU
32 GB RAM and 2 TB SSD
Reason to Avoid
Average battery life
Mediocre graphics 
Jump right into action with the TUF Gaming A17 that is built with mechanized endurance and battlefield brilliance. Stream and multitask with ease thanks to an AMD Ryzen 7 6800H CPU and blisteringly fast 4800MHz DDR5 RAM on Windows 11. Leverage the full gaming performance of the GeForce RTX 3060 CPU with a dedicated MUX Switch. When your game library gets full, an empty M.2 NVMe PCIe Gen 4x4 SSD slot makes upgrading your storage capacity a breeze.
Escalate your game with up to 8 high-performance cores in the AMD Ryzen 7 5800H processor, 16GB DDR4 RAM, and 512GB NVMe SSD storage
With NVIDIA GeForce RTX 3050 Ti graphics behind you, you can enjoy the depth and visual fidelity of real-time ray-tracing – RTX Gaming,. The 15.6" FHD (1920 x 1080) IPS display on the Legion 5 gaming laptop delivers speed and color clarity for full-fidelity gaming
Legion TrueStrike keyboard with 4-zone RGB backlight; 2 x 2W speakers with Nahimic Audio for Gamers. Connectivity: Built-in 720p webcam with e-shutter, WiFi 6, Bluetooth 5.0, USB-C, 4 USB, HDMI 2.1, DisplayPort 1.4, RJ45 Ethernet
How to Choose the Best Gaming Laptop Deals Cyber Monday?
With Cyber Monday coming up, you are either excited about the discounts or confused about what to buy! We understand that it is not easy. But this is the time when you need to research and find the deals that will get you maximum savings. There are a lot of people claiming that their gaming laptops are the best. But you need to not just see the price, but also the features that are coming at that price. So, here are a few factors that you should consider before buying a gaming laptop.
Size
An important thing that you must take into account is its size. And this isn't just to show off but rather, to take it while you travel. Portability is a big issue when you are traveling occasionally. Similarly, when you are setting up your gaming arena, you need a size that accommodates other gaming accessories and gives a nice aesthetic to the setup. So, one thing that you must seek is a good size for your gaming laptop.
Battery
When gaming, you are bound to play for long hours. That is unless you lose and want to crash your laptop. That happens too, we understand. But don't throw the laptop away, you will regret it later. But no matter how you play your games, it is significant that you get a gaming laptop with good battery health. You do not want it dying after every hour. On top of that, it must have a good heat management system to withstand the long hours of gaming.
Keyboard
A gaming laptop's important accessory for playing is its keyboard and touchpad. Both of them need to be top-notch so you can have a smooth gaming experience. Any lag may result in a slow attack or a slow defense. Both of them are burdening for a game that you could have won. Yes, we do like to blame the accessories too when we are losing but it should not be the actual case.
Graphics
A good gaming laptop must have an amazing combination of screen resolution and graphics. You would not want to lose a game just because the video quality was poor, right? Now, there are many advanced features available. You need to find those features and compare them with the deal you are getting. There are many latest inclusions that guarantee an exciting, adventure-filled and visually amusing gaming experience for all of you.
Performance
The most important factor is the performance of the laptop. You do not want a lag in your gaming experience. That too when you have bought the laptop with a plentiful amount of your savings. Yes, you are seeking to purchase the laptop through the Cyber Monday deal. But a low price does not mean you get low quality. So, make sure that you get an efficient processor combined with a good memory that is able to handle the large storage of games.
Frequently Asked Questions
Cyber Monday will be on the 28th of November. Yes, it is far but it is never too early to prepare for a holiday sale that everybody has their eyes on. Most of all, preparing early for these sales means that you know what you have to buy. So, you won't have to encounter an item that has run out of stock. On top of that, the Black Friday sales and the pre-Black Friday sales will start running live from the start of November. You can also take a look at that.
There are many retailers on the block that are selling top-rated gaming laptops. All of them claim to help you get a quality gaming experience through the laptops. But the best thing about these retailers is that they have been offering huge discounts on quality laptops in the past years. So, you surely should keep an eye on them; • Amazon for a huge variety of laptops • Dell for amazing discounts on its collections • Walmart for getting cheaper laptop deals • Newegg for the best deals on quality laptops • Best Buy for saving on big brands
Yes! The Cyber Monday sales are known to bring discounts on things that never see such a huge discount all through the year. Many tech items and gadgets are the most popular purchase during this season. We all know it is because of the great deals and promos you can get on the tech items. So, if you are waiting for November to buy a gaming laptop, you are doing a huge favor on your savings.
It depends on the deals you are getting on a particular laptop. Because some laptops have a huge discount as compared to others. However, on average, you can save up to at least $300 on a laptop.
They only remain valid for one day. You can purchase all you want but the deals are usually only available on the big day. However, there are some retailers that can help you gain access to these deals online for more than a day. But you will have to stay updated with the respective website's policy. If you sign up for their email newsletter, you have a chance to remain updated with the latest news.