Best Cyber Monday Laptop Deals 2022: Save up to $1000 on Dell, Hp, Apple, Lenovo and Much More.
By Alice Green
|
24 Nov, 2022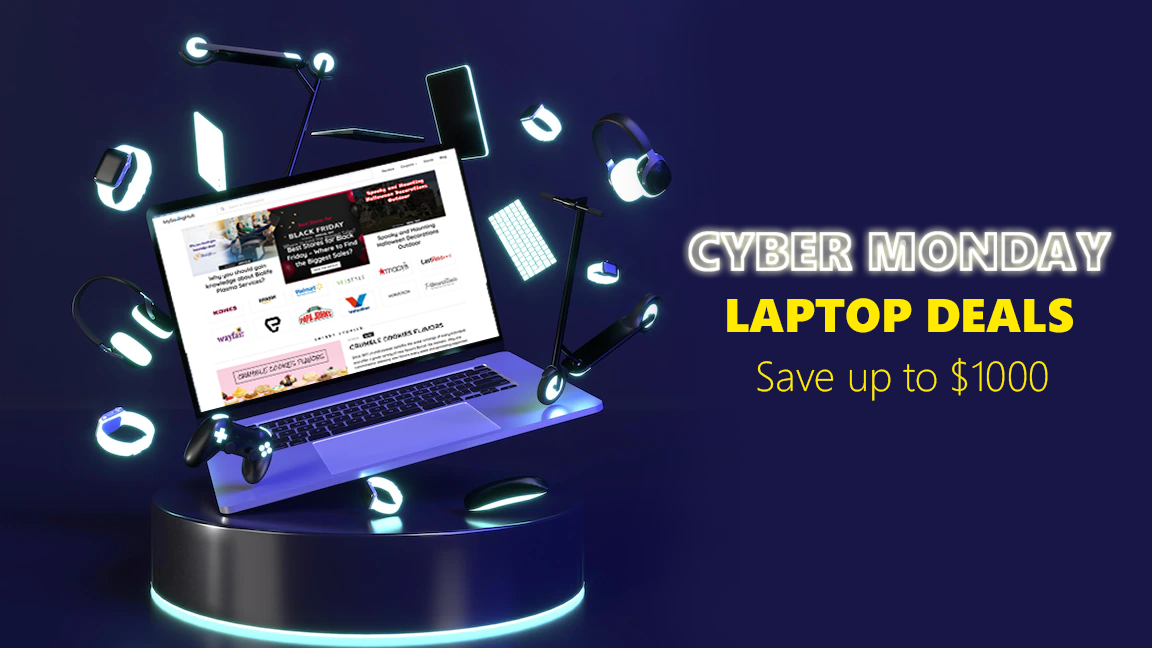 The need for a new laptop pops up more than one can realize. To cover up your work from home needs, taking online lectures, performing business tasks on the go, enjoying Netflix or any online streaming, there are many reasons why someone would be planning to buy a laptop. This means you will be on the lookout for discounts on laptop all year around and why shouldn't you? With great opportunities like Black Friday Sales and Cyber Monday Laptop deals it would be foolish to purchase a laptop on full price.
For Cyber Monday, prices on laptops of all sizes and shapes are among the lowest of the year, if not the lowest. You may find savings on a variety of builds from popular companies like Dell, Apple, HP, and Lenovo, ranging from basic Chromebooks that are suitable for young students to more powerful mid-range PCs that are perfect for work from home. Cyber Monday 2022 takes place on November 28 this year. Computer markdowns were less pronounced during the Cyber Monday laptop sales 2021. But this year, you'll see a lot of price reductions on all kinds of laptops.
Best Cyber Monday Laptop Deals
When the thrill of Black Friday subsides, Cyber Monday laptop sales can still provide some excellent savings. Even while flash sales on Fridays typically feature the largest discounts, individuals who missed the sale can still take advantage of some great deals across the weekend and the following week. We want to make sure you're ready for anything that can happen since this is a great chance to get some of the final holiday bargains before the Christmas season.
Whether you're looking for a budget-friendly machine, a high-end workhorse, or a dazzling premium Ultrabook, Cyber Monday laptop offers frequently appear across the price spectrum. We are presenting the best of these deals year after year, so we know what constitutes a good price and which models will probably be the most advantageous with Cyber Monday Laptop Sales 2022. In order to assist you choose the ideal model in advance, we have compiled all of our favorite laptops for Cyber Monday sales 2022.
If you are looking for a laptop that is slim in design, has a great ton of features and is also lightweight while falling into your budget then the ASUS vivo book pro is going to your ultimate pick from the Cyber Monday laptop deals. This laptop is excellent for productivity, streaming, and gaming. It can achieve 60 frames per second at 1080p with great graphics thanks to the AMD 5800H CPU and Nvidia GeForce GPU.
Additionally, the OLED display is stunning and the battery life is pleasantly surprising. You'll need to go to Medium or High graphics in demanding contemporary AAA games because the general design is a little basic and the port selection is restricted. Despite its flaws, the Vivo Book Pro 15 is your best bet if you're seeking for dependable performance on a stunning OLED screen.
Product Pros
Offers Excellent Productivity
Has a superb display quality
Great battery life
Product Cons
Simple aesthetics.
Inefficient fingerprint scanner
Limited port selection
Acer swift X is a multi-purpose option you will find on a great discount for Cyber Monday. This laptop is known to deliver good performance and a great profile with the option to give maximum portability. Designed for moderate use, the laptop is sufficient for gaming too. It has a 512GB SSD, an Nvidia GeForce RTX 3050 Ti GPU, and an AMD Ryzen 7 5800U processor. It accomplishes 48 frames per second at the Highest preset, as advertised. But there are certain drawbacks. Under stressful conditions, the keyboard gets a little warm and the fans become noisy. However, the Swift X will undoubtedly satisfy your need for potent CPU and GPU performance provided you're willing to put up with those drawbacks.
Product Pros
Stellar performance
Impressive battery life
Impressive graphics
Product Cons
Cramped up display
Noisy fans during heavy workloads
The Dell Latitude 5490 offers advanced features that will help you accelerate and optimize your productivity. Physically this laptop is light and versatile allowing you to bring your work where ever you go. Internally, this laptop is equipped with a powerful Intel Core i5 processor with a clock speed at 1.70 GHz GHz for exceptionally fast computing. In addition, this Dell is loaded with 16GB of RAM for multi-tasking efficiently and handling memory-intensive applications.
The HP 17 Laptop PC blends style with performance and comfort. With its sleek, stylish design, full-sized keyboard and integrated numeric keypad, this eye-catching laptop looks as good as it performs and lets you work comfortably from anywhere. Enjoy your photos, movies, and games with the crisp quality of 1.4 million pixels on a 17.3-inch diagonal, HD+ (1600 x 900) screen. Enjoy fast performance and modern graphics thanks to the powerful combination of the 11th Generation Intel Core i3-1115G4 processor and Intel UHD Graphics.
The quality of Samsung Meets the accessibility of chrome OS. Its all-new light and compact design lets you stream, work, create, and play on a fast, secure device designed to take everywhere. You can download and save content and work with others using Google suite. Built with long-lasting battery and Gigabit Wi-Fi connectivity, The new Samsung Chromebook 4 brings speed and efficiency to any and every task or adventure.
You can get the unmatched Acer chromebook for a great price with the Cyber Monday Laptop Deals. The Acer Chromebook Spin 713 is a fantastic convertible laptop that will undoubtedly meet your needs. Its colorful display, all-day battery life, and wide range of ports all caught our attention.
Even if the design is somewhat functionalist, this is the kind of device that prioritizes functionality over beauty. Although there are certain drawbacks, such as the loud fan noise and the absence of a real privacy shutter on the webcam, these problems are minimal. Overall, the Spin 713 is a reliable and effective convertible laptop. You can get this great deal on amazon or Cyber Monday.
Product Pros
Exceptionally strong performance
Good build quality
Solid battery life
Beautiful display
Product Cons
No Privacy
Boring design
Fan noise is loud
How to Choose the Best Cyber Monday Laptop Deals?
To choose the best Cyber Monday laptop deals it is important that you make a list of the specifications you need in a laptop or shortlist the models that fit your needs. After the black Friday sales, most of the stock for great laptops run out this doesn't mean you will not find a good product but the good ones will be so limited in stock hence, be vigilant to purchase a good deal as soon as you find one. Another tip to score the best laptop Cyber Monday deals is to price match different competitors and pick out the best price for you. Here are some additional factors to consider when buying a laptop for you.
Operating System
Before you land on the looks, price and specification of the laptop you need to decide the right type of operating system for you. Generally, there are four types of operating system in the market which include windows, MacOS, Chrome OS and Linux. These operating systems differ from each other in terms of many features such as compatibility and as well as performance. However, when it comes to operating system the major deciding factor is your personal preference.
Screen Type
Laptops with touch screens make using your computer simpler. Similar to how you would on a smartphone or tablet, tap to select, hold and drag to move things, swipe to scroll, and pinch to magnify. Available now on a lot of Windows computers and some Chromebooks.
Screen Size
Laptop screens can be anything from 11 and 17 inches wide when measured diagonally. The best screen size for gaming, watching movies, editing photos and videos, and side-by-side document viewing. Remember that a large screen might make a laptop larger, heavier, and use more electricity.
2 in 1 Feature
Many PC laptops are 2-in-1 laptops, hybrid machines that can switch between tablet form, the more common clamshell mode, and other positions in between like tent or stand mode. Detachable with screens that completely separate from the keyboard and flexible laptops with hinges that fold back 360 degrees to change modes are the two main styles of 2-in-1s. and since there are going to be many 2 in 1 laptop Cyber Monday deal, so it's the right time to consider whether or not you want to opt for this option.
Also, the majority of these devices are significantly more effective at one use than the other, with bend-backs being laptops first and detachable providing a better tablet experience.
Display
The more content you can fit on the screen and the sharper it will look, the more pixels you have. Sadly, some business laptops and economy laptops still feature screens with a resolution of 1366 x 768, but if you can afford it, we suggest spending extra money for a panel that operates at 1920 x 1080, often known as Full HD or 1080p. High-end laptops offer displays with resolutions of 2560 x 1600, 3200 x 1800, or even 3840 x 2160 (4K), all of which look brilliant but use more power, reducing battery life.
Intended Use
There are laptops in the market for as low as $200 and as high as $2000 or more. The price and cost depend on the features and also the intended use you have planned with the laptop. Expensive laptops don't always mean they are exceptional but when you look closely you will find many features that agree with the high price.
Light Use: Web browsing, online bill payment, social networking, email, and organizing and sharing of digital images are examples of light use.
Usage on average: creating documents and spreadsheets, as well as storing and streaming music and movies.
High Use: altering complex graphics and photos, multitasking with numerous tabs open, and creating videos.
A better resolution screen, a more potent processor, more system memory, and a bigger hard disc or a quick solid-state drive will be desirable to more demanding customers who are willing to spend a little more.
Handling
The main purpose of a laptop is to have portability and easy work while traveling. This is also the reason why desktops went obsolete and laptops become common. By handling a laptop, you can discover a lot about it. Consider the model's overall weight and if it will be comfortable to handle and carry while you move about your home, walk around school, or drive to work because portability is a key factor for laptops. It should feel strong enough for hinges and clasps to sustain regular use.
Durability
We often associate product warranty with the strength of the product but what's good is warranty if you will be running to the store for repair and maintenance every other day? Hence you need to be careful about the durability and strength of the laptop. Check to check if the lid and body, which are normally composed of plastic or metal, are sufficiently sturdy and light.
Ensure that the keyboard's depth and spacing provide comfortable typing. You should be able to solidly click, scroll, and zoom without skipping using the trackpad and mouse buttons. If the laptop you're buying for lacks good ergonomics, even the most astounding specifications are worthless.
Make sure the keyboard provides good tactile feedback, plenty of key travel, and adequate space between the keys if you anticipate using your computer for a lot of work. Make sure the windows laptop you're purchasing has Precision touchpad drivers. If you won't have the chance to see a laptop in person before purchasing, you may still seek for repeated comments about design, feel, and build quality on product pages and customer reviews.
Storage Drive
The efficiency of your storage drive is more crucial than the speed of your CPU. Get a laptop with a solid-state drive (SSD) rather than a hard drive if you can afford it and don't want a tonne of internal storage because you'll experience at least three times the speed and a significantly speedier laptop overall.
Frequently Asked Questions
Even though Cyber Monday laptop sales begin on November 28, we frequently observe retailers merely extending their Black Friday specials over the weekend. Unfortunately, the best deals usually disappear from the shelves before the major event is over, but by the time Cyber Monday comes around, there is still a tonne of value available.
First and foremost, the biggest online stores are likely to have the majority of the best Cyber Monday laptop bargains. This necessitates keeping a close eye on not only Amazon and Dell, but also big-box retailers like Walmart and Best Buy, as the latter have recently begun to catch up to what has been provided by the solely online businesses for a while.
It's usual for some of the biggest brands, like Apple and HP, to offer Cyber Monday laptop offers that bring the cost of their respective flagship models to an all-time low. The Inspiron and XPS line typically sees some of Dell's greatest prices of the year in late November. We would often look at the Dell, HP, Lenovo, and Acer for reductions landing at between $300 and $500 if you're looking a less expensive computer.
The Cyber Monday laptop deals are short lived they last in most cases for the Cyber Monday only. However, in some cases you will find some of the Cyber Monday laptop deals to live until the stock runs out. Thus, this assumption is not right to hold off your laptop purchase if you have already found a great laptop deal.
No, Black Friday laptop deals are definitely the best time to purchase a laptop or a similar gadget. But this year, it is reported that you will find a great deal of Cyber Monday discounts on gaming, work and study laptops as well.