Cyber Monday Mattress Deals – Find the Lowest Priced Deal Here!
By Alice Green
|
27 Nov, 2022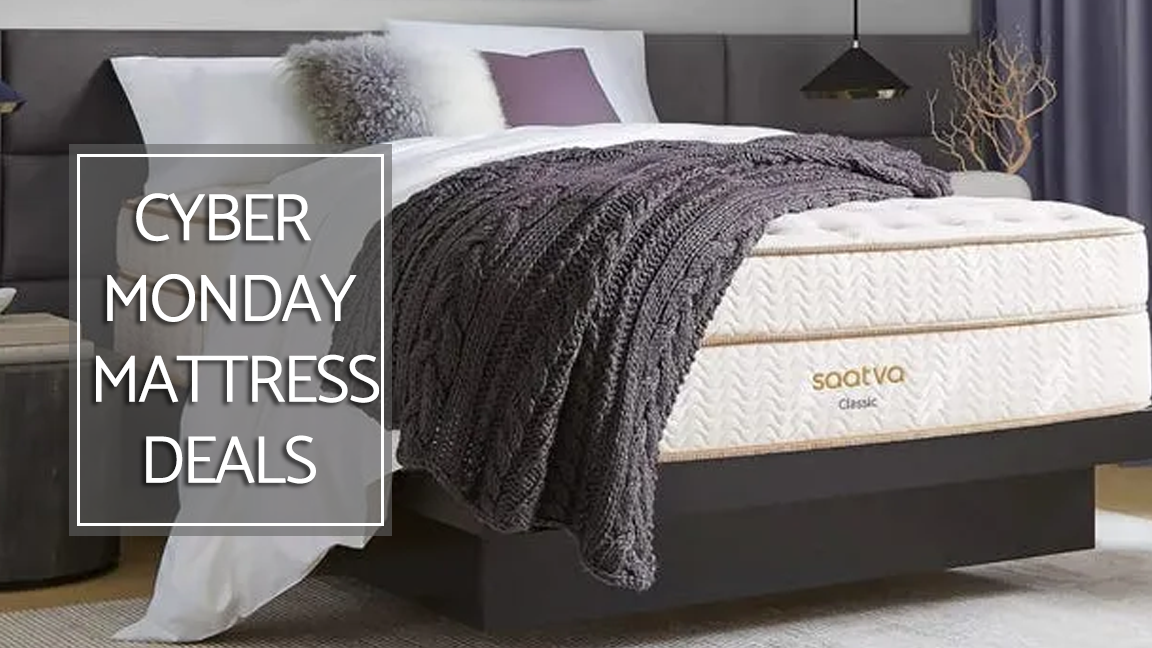 Does your bed need a new mattress? There are many around the block, but finding a mattress that fits your needs, comes within your budget, but does not compromise on quality is rare. Luckily, the Cyber Monday sales are coming soon, guaranteeing the lowest prices for November. Plus, with all the cyber monday mattress deals, you can rely upon the brands to provide you with top-notch quality.
Cyber Monday is the holiday coming right after Black Friday. True, you will be worn out after all the Black Friday purchases that will be added to your bill. However, Cyber Monday is a day that guarantees you even more savings and low-cost deals so you can cover up for the deals you lost on Black Friday. On top of that, it is an additional opportunity for you to buy even more of your favorites at a low price. So, sleeping on Cyber Monday would be a huge disregard for your shopping interest.
In addition, Cyber Monday is a great way to buy some of the best mattress deals in town. People wait all year round to get a hold of the low-cost but high-quality mattresses available on Cyber Monday. That's not all. Retailers go crazy in offering the lowest prices on mattresses, making it harder to purchase the right one. This is why we have gathered all the best cyber monday mattress deals so you can purchase your perfect fit in no time. It is time to upgrade your bedroom!
Best Mattress Cyber Monday Deals
There are many brands that have not quite released the Cyber Monday deals for 2022. Nonetheless, they have displayed some early Cyber Monday deals for you. Let's see what mattresses you can already start buying before Cyber Monday sales hit the store.

The Spa Sensations by Zinus Serenity Memory Foam Mattress will help you enjoy a more comfortable, better night's sleep. With a top layer of premium memory foam, it conforms to and supports your individual body shape, relieving pressure points and helping you relax. its memory foam also features a blend of green tea and active charcoal that help neutralize odors and keep your mattress fresh. In fact, it's so comfortable to lay on that you might fall asleep before you can get the sheets on! It's compressed and rolled into one convenient box with an included 10-year worry-free warranty. So you can sooner enjoy a more comfortable, better night's sleep with the Spa Sensations by Zinus Serenity Memory Foam Mattress.
If you are a consistent sufferer of hip and lower back pain, then this is the mattress that you should look out for. Coming at one of the tallest sizes, it is a 14-inch mattress. On top of that, it has five different layers to add to its durability and the comfort that we all crave while lying down. So, it is a great investment for people with chronic pain who need a pain-relieving mattress.
When we talk about its prices, the savings are not the only thing you'll get out of the deal, you can also grab a few extra perks. Let's talk about the price first. The mattress twin is available at a tempting rate of $599 which was previously $799. You can also choose the queen mattress that is available at $899 in contrast to its original price which is $1,199. Apart from the discount that is up to $300, you can get free shipping, free return, and a 365-night trial. The package also consists of a mattress protector, sheet set, and pillows. 
Product Pros
Free accessories
365-night home trial
Great value for money
Provides pain relief for back pain
Product Cons
Might be too firm for people with no back pain
This one on our list is on the premium end. It is a luxury hybrid mattress that not only offers eco-friendly foams but also carries quite a durable coil system. It is one of the priority purchases for many sleepers. On top of that, it is available in two different sizes. So, you can choose which one is best for your room. The sizes available are 11.5 inches and 14.5 inches. Moreover, the comfort level is also customizable. You can buy the mattress out of three different choices, low firmness, medium firmness, or high firmness, depending on your needs.
If we talk about its prices, the twin XL can be bought at $1,025 after a discount. Its original price goes up to $1,225. Similarly, the queen can cost you around $1,595 while its average rate is estimated to be around $1,795. So, you can grab up to a $200 discount on this mattress deal.
Product Pros
Free glove delivery along with the package
Different sizes and firmness level
Cheaper luxury bed in comparison
Product Cons
Carries a refund and exchange fee
Through the mattress cyber monday deals, you can get a $400 discount on this mattress. When we talk about its quality, it does not shy away from providing top-notch features. It has around four different layers and each has its own distinctive characteristic. It is highly durable due to the strong coil system installed for support. On top of that, it has a cooling technology that aids in a comforting sleep.
Coming to its price, the twin costs around $999 which are usually sold at $1,399. On the other hand, the queen is available at a tempting rate of $1,399. This was previously available at $1,799. It is one of the cheapest deals available at Big Fig due to the exclusive $400 discount. You will need to use a coupon code, FRIYAY. 
Product Pros
It offers a 120-night sleep trial
20-year warranty available
Great for hot sleepers and heavy people
Product Cons
It does not have a memory foam feel
Here is something that you will love to hear. Avacado is offering a flat 10% discount on all-size mattresses. So, if you do not like this one, then there is a whole collection you can check out on its website. However, this mattress offers a great deal with various benefits on its profile. The biggest pro of this mattress is that it is 100% organic. Moreover, it is certified, non-toxic, and biodegradable as well. It is also one of the top choices if you need a firm mattress as it is the firmest mattress offered by the brand.
You will need to use a coupon code, SAVE10. After that, you can grab a discount of up to $140 off. You can buy the twin at a rate of $1,259 which is usually bought at $1,399. Similarly, the queen that is normally sold at $1,999 can be bought at a tempting rate of $1,799 after a discount. Use the SAVE10 coupon code.
Product Pros
It is biodegradable
25-year warranty
Free shipping and return
Firmness options of medium-firm and firm
Product Cons
It may be pricier than other options
It is a hybrid memory foam mattress that provides a high level of pressure relief. That is good news for anyone experiencing pain during their sleep. It also carries a cooling technology to help hot sleepers with comforting body temperature for a sound sleep.
As for the prices, the deal is pretty sweet to the ears of a shopper. Hear this. You can get the twin at an amazing price of $949. That is $700 off the original price of $1,599. Similarly, the queen, usually available at a high price of $2299, can now be yours at only $1549. That's not all. On top of this $700 discount, you can further drop $50 from the whole package by adding a coupon code. That's right. Simply use the TGNOLAH coupon to get a discount on top of a discount.
Product Pros
Provides high-pressure relief
120-night trial of sleep
Coupon code can provide additional discount
Lifetime warranty
ORGANIC MATTRESS: Our 100% GOTS certified mattresses pass all government flammability requirements while maintaining UL/GREENGUARD certifications for low chemical emissions. COOLING MATTRESS: Breathable organic wool and cotton promote airflow and wick moisture for a cooler, less sweaty sleep; no need for memory foam or gel
FOR KIDS OR ADULTS: The slightly firmer mattress supports kids' developing bones as they sleep, but is also good for teenagers and adults that like a firm feel. HEALTHY MATERIALS: All components are made from organic cotton, organic wool, sugarcane PLA, with an inner encased steel coil innerspring
Choose Morpilot for your Best Rest
Every Morpilot mattress is designed for comfort and support, but each has unique benefits to suit your individual sleep style and preferences. Finding the right mattress will depend on a few key factors: proper support and personal preference. However, your budget, your room size,ideal mattress size, and even, your sleeping position may also dictate the type of mattress you will purchase. For a good night's sleep,whether you prefer a firm or soft mattress, foam or hybrid, there's a quality Morpilot mattress waiting for you.
Enter your deepest sleep with the Linenspa Dreamer 8 inch Gel Memory Foam Hybrid Mattress. This cutting-edge hybrid memory foam mattress uses two technologies— pressure-relieving memory foam and supportive steel springs— that work together to create a memory foam bed that offers excellent sleep comfort. Start with memory foam quilted into the cover, add a curve-hugging foam layer, and layer it on durable springs that offer the bounce of a traditional mattress, and you've got a hybrid approach to support that offers the best of both worlds. This mattress in a box arrives compressed for easy shipping. Simply unbox, unwrap, and unroll—allowing up to 24 hours to fully decompress. Multiple sizes are available. Rest easy with your new Linenspa Dreamer 8 inch Gel Memory Foam Hybrid Mattress.
How to Choose the Best Mattress Deals Cyber Monday?
The Cyber Monday deals may be tempting but you cannot just choose a mattress because it is cheap. It must fit your sleeping standards and your sleeping needs. So, before you opt to purchase a low-cost mattress from the Cyber Monday deals, make sure that it is worth buying. Here are a few parameters that can be of great help to you.
Sleeping Position
This is an important question that you must answer for yourself. What position do you sleep in or what is the position you find yourself in when you wake up? You could have a side-sleeping position, a back sleeping position, an over-the-stomach sleeping position, or even a combination sleeping position. This will help you narrow down the options for a comfortable sleep.
Mattress Types
Like your sleeping position, there are also many mattress types that can help you narrow down your search for the perfect mattress. They are foam, innerspring, hybrid, latex, or airbed. The innerspring is usually the most common type, but you can have a different choice based on your needs.
Firmness
This is a parameter that can enable you to have a comforting sleep or a discomforting one. The firmness level is pretty subjective. So, you will have to figure out your desired level to get the mattress that will offer the most comfort. Usually, the firmness level is decided from 1 to 10 where 10 is the highest firmness level. However, other retailers and brands provide three or more three firmness levels. They are usually low, medium and high but could have a few extra levels below or above the mentioned ones.
Body Type
Just like the sleeping position, body weight can also affect the purchase of a good mattress. You need one that will fit your body shape and weight. People who have a lighter weight may want a softer mattress while people with a higher weight may need a mattress that is firmer. On top of that, shoulder length, hips, and height of an individual also influence how well a mattress would fit your sleeping needs.
Additional Features
While the mentioned features are the way to buy a good mattress, other features add to the charm of the perfect mattress. These features are the supporting characteristics, the type of materials used in the construction of the mattress, the origin of the mattress, durability, and cooling technology for hot sleepers. Sometimes, the mattress is organic which is a must-buy for many people. So, these features do make a mattress perfect but are quite subjective to each individual.
Frequently Asked Questions
Cyber Monday will be on the 28th of November. Yes, it is far but it is never too early to prepare for a holiday sale that everybody has their eyes on. Most of all, preparing early for these sales means that you know what you have to buy. So, you won't have to encounter an item that has run out of stock. On top of that, the Black Friday sales and the pre-Black Friday sales will start running live from the start of November.
November has the best deals and sales on mattresses. This is because the month starts with the pre-Black Friday sales. Then, there are the big Black Friday discounts and deals that usually end with the sweet note of Cyber Monday deals. So, you can look at amazing deals all throughout the month.
Yes, it is because November is the month of discounts on mattresses. However, the Cyber Monday deals are also creating hype around town. If you are looking for a second chance to buy or for more exciting deals on mattresses, then you should wait for Cyber Monday too.
Latex mattresses are usually the most durable option. Cyber Monday will carry a lot of great deals on all kinds of different mattresses.
It depends on the deals you are getting because some mattresses have a big discount as compared to others. However, on average, you can save up to at least $600 on a new mattress for your home.