Cyber Monday TV deals 2022: where you can find the best discounts
26 Nov, 2022 | 5 min read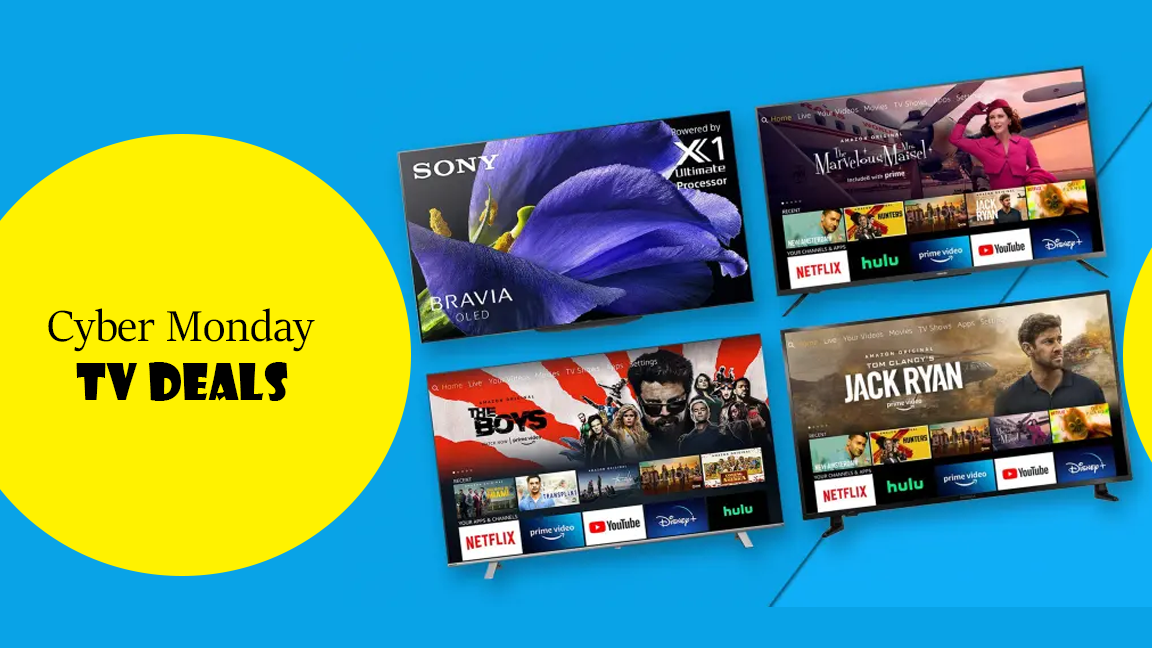 "Forget all Mondays just remember Cyber Monday"
Are you planning to buy a new smart TV? Then Cyber Monday is the best time to do so. This year the price of TVs will come down more as compared to the previous few years. It's a great time to get quality tv at affordable prices. At this big event, many big brands launch unmissable deals and discounts. 
Generally, Cyber Monday starts on November 29 but many retailers start offering discounts early in October and keep going till the end of November. We know you can't wait till 29 November to get your best deals. there are plenty of early sales worth checking out now. So here we are rounding up the best Cyber Monday TV deals you can get now.
When do the Cyber Monday TV deals start? 
Generally, as I have told you above Cyber Monday deals kick off on November 2022, as black Friday is on 25 Nov, so it's expected to see more big discounts on smart TVs and LEDs. These offers are also foreseeable during October and keep going till November.
Best tv deals to grab during Cyber Monday
Without any doubt, on Cyber Monday every big tv and electronic retailer launches the big and during these day's TV is the most searched and purchased item. Are you waiting for Cyber Monday to get your dream deal? Then don't wait over and get the best here. 
Cyber Monday TV deals Amazon
Without any perplexity, Sony, Samsung, LG, and more brands like these offer the best TV deals. Last year on Cyber Monday TV deals 2021, Sony TVs were discounted by up to $500. Here, are some of the best discounts that you can find during this holiday season.

Enjoy a premium OLED picture with contrast and color that feels deep natural and real. The revolutionary Cognitive Processor XR optimizes thousands of on-screen elements simultaneously for a lifelike picture. Feel the action with Acoustic Surface Audio+ and experience a truly immersive sound that perfectly matches the picture on screen.
Cognitive Processor XR
Revolutionary TV processing technology that understands how humans see and hear to deliver intense contrast with pure black's high peak brightness and natural colors.
If you love movies, shows, sports and gaming, then RCA's 58-Inch 4K UHD web OS smart TV is perfect for presenting your favorite entertainment in a completely new way. RCA's web OS smart platform delivers streaming simplicity with an operating system offering a huge selection of handy apps and streaming content like Netflix and Facebook Watch plus popular Apps like Netflix, YouTube, UFC.TV, V Live, prime video and more. It's simple to find Top shows, up-and-comers and get personalized content Recommendations. 4K UHD offers you 4 times the resolution of FULL HD, and upscales your current content to ultra-HD level picture quality. High dynamic range (HDR) technology delivers bright and accurate colors for a lifelike viewing experience. Flexible internet access through Wi-Fi allows you to connect the TV to a wireless network or a high-speed broadband connection.
Experience Quantum Dot technology in our newest premium TV. Our new QLED panel leaps beyond the standard LED screen by adding a quantum filter that precisely controls color output, giving you more vibrant colors, deeper blacks and brighter images than ever before. QLED's sharp contrast and upscaling abilities are hallmarks of the step-up from regular LED, granting your 4K and HDR content extra punch and clarity. With 120hz effective refresh rate, you'll experience sharp images while watching sports, or any fast-moving action for smooth on-screen motion. We've also added Dolby Vision and Dolby Atmos technologies to give you the most remarkable, immersive experience possible.
Wish to have a led google tv? But don't have enough budget to buy this, then this powerful processor Sony tv is offered at a great discount. This tv comes with X1 4K processors delivering impressive low-end sound. The Sony Bravia tv is ideal for impressive low-end voice, perfect for movies, sports, and music. This TV come along with Dolby audio. So now, watch everything at your own pace according to your scheduled time. The best part is that you can buy this expensive tv at a great discount with the amazing Cyber Monday TV deals for 65-inch. 
Specifications
Screen size: 65inches
Resolution: 4k 
Refresh rate: 60Hz
Cyber Monday discount: 43% off
Rating: 5 out of 4.8 
Reason to Buy
Amazing google assistant                                         
Easy installation
Amazing picture quality 
Outstanding sound
Reason to Avoid
Only 2 USB ports are available
Sony has wide range of TVs, and this Sony Bravia tv is for someone who is looking for a small led with smart features. Offering you full HD clarity is the best way to rediscover the world's best streaming. Did you know what is more amazing about this TV? It provides you with the perfect punchy sound bass and immersive enriching surround effect with clear audio along with Dolby audio support. This expensive smart tv is offered with a great discount on the account of Cyber Monday.
Rating: 4.6 out of 5
Specification
Screen size: 50inches
Resolution: 1080P
Refresh rate: 60Hz
Reason to Buy
Great sound and audio features
Support opera browser, YouTube, Google
A good quality camera is also available
Amazing Wi-Fi and Bluetooth features
Are you searching for Cyber Monday smart tv deals? Then this TV is the best choice for you, offering you perfect picture quality within your budget. Especially, on the event of Cyber Monday, it is offered at a great discount. It comes along with a 4-year protection plan which includes product breaks during normal use and more. Amazon fire offers great 4k entertainment perfect for daily home entertainment.
Black Friday discount: 25% off
Ratings: 4.6 out of 5
Specifications
Screen size: 50inch  

Resolution: 4K UHD 

Refresh: 60 Hz
Here we have some best deals offered by amazon 
Walmart Cyber Monday TV deals
Reason to Buy
Ultra-clear picture
Pretty quick software
Rich sound
With this TV, whatever you watch will feel real. It supports high picture processing which makes this tv stand out among others. This amazing smart tv provides enhanced gaming picture quality which also enhance your overall gaming experience. It allows you to stream blur-free picture quality without any interference. On Cyber Monday, this TV is available at a immense discount. 
Cyber Monday discount: 20% off
Ratings: 
Specification 
Screen size: 50 inches

Resolution 4K UHD

Refresh rate: 60 Hz

Reason to Buy
Good HD display (50 inches)
Wide viewing angle
SDR peak brightness
With a large screen display, this tv allows you outstanding streaming. You have a chance to see billions of accurate colors each produced with subtle differences. It offers a high-end XR processor with high peak brightness and natural color. This also offers a high-end sound that allows you to hear immersive audio. 
Ratings: 4.7 out of 5
Specification
Screen size: 85inches 

Resolution: 4K

Refresh rate: 120Hz
Best TV deals on Best Buy
Reason to Buy
Great SDR peak brightness
Amazing picture quality
Good reflection handling
Samsung tv with discount! Does it seem like a dream? No, it's not a dream this year on Cyber Monday you have a chance to snag a great discount on Samsung especially since this 65-class tv is offered with a great discount. It offers ultra-power 4K processing with all the latest smart TV apps. 
Ratings: 4.7 out of 5 
Specification 
Screen size: 65inches 

Resolution: 4K

Refresh rate: 120Hz
Reason to Buy
Superb picture quality
Excellent audio 
Outstanding gaming features
Feature solar power remote
This Cyber Monday grab this Samsung tv with a great price cut down. With the announcement of a big shopping event, you will get $900 off on your tv. It comes with Dolby Atmos along with an automatic blue light adjustment. This tv gives you all the things you need to enjoy your tv series and movies.
If you want to buy most expensive Samsung tv, then must go through Samsung X80J review and find you will get the best in it and what to avoid.
Specification
Screen size: 65 inches 

Resolution: 4K 

Refresh rate: 120Hz
Reason to Buy
Easy to use interface
Provide an accurate image
Rechargeable remote 
Reason to Avoid
A Little frustrating to navigate
This award-winning tv has filled a special place in the heart of smart TV lovers. Offer a more impressive look with a brighter color a new and more advanced features that make it outstanding. This tv has amazing Dolby vision IQ and Dolby atmos for the ultimate home theater experience. But did you know what is the best part here? On the account of Cyber Monday, you can get this tv with mind blowing discount. You can also find more discount at 65-inch tv on black Friday.
Specification
Screen size: 65 inches 

Resolution: 4K 

Refresh rate: 120Hz
Reason to Buy
Digital cinema colors
120 Hz panel 
Apple airplay, multiple voice assistants, and a web browser
Reason to Avoid
No hands-free google assistant 
LG which is known for high picture quality has promised to provide you with the best every time. It uses a 7 Gen 5 AI processor to perfectly detect what you are seeing and according to this, it applies the right tone curve that results in more natural color and deep contrast. It also supports voice-over control. The more amazing thing is here you have a ch­ance to enjoy a great discount on your TV purchase. 
Discount on black Friday: 38% off
Ratings: 4.5 out of 5
Specification
Screen size: 55 inches 

Resolution: 4K 

Refresh rate: 120Hz
Reason to Buy
Stunning picture quality
Provide great OS system 
Fast boot time 
Superb sound
Reason to Avoid
Very few colors are not vivid
 You can also find discount on more gadget like smart phones with iPhone black Friday deals
How to choose the right TV for your home?
We all know TV is the most important part of our home because it is a great opportunity to spend quality time with your family along with a lot of entertainment and fun. Planning to buy a TV this Cyber Monday? Then must go through these tips before buying one for your home.
Consider your budget
Before you put your hand on any expensive tv it is important to keep your budget in your mind. Now, most people love to have a smart tv in their house so you must need enough budget of up to $500 for a good smart google tv. In addition, if you are looking to get a discount on your tv then the best is to buy your tv during big shopping events like Cyber Monday. With the best Cyber Monday TV deals, you have a chance to snap up a remarkable discount on your purchase.
Opt for the right size
In the past days, the size of your tv is determined according to the size of your sofa. But now, that time is gone because TVs are found in the bedroom not only in your lounge. In present days, people like to have 4K TVs in their homes because bigger is better rather than going too small and regretting it later.
Choose between OLED and LED
When it comes to which one is better than OLED wins this race. OLED is more expensive as compared to LED. So, if you are low on budget, you can also go for led TV. It also offers a good picture quality.
Smart people go for smart
Nowadays, smart TVs have got pretty much attention offering a cordless way of streaming. With this, you can get rid of your cable or satellite service, and you can easily stream your favorite show using the apps like Netflix, prime, Hulu, YouTube, and amazon prime video.
Look for the right warranty
When you buy from a valid retailer, you will get a time warranty with your really good tv. The various big brand like Sony, LG, and Samsung offers you a long-term warranty, and if you find any issue with your device, they come to your house to resolve it. So, if you are spending $2000 on your tv, then ask your retailer for a warranty.

Last words
We know purchasing a tv is a big and long-term investment. But when you find a discount on your TV you feel like you have won something special. So, this year make your every moment special with some best deals we have gathered here.
Frequently Asked Questions
Various amazing tv deals are offered on the account of Cyber Monday. Here, I have some of them for your ease. • Sony Bravia 164 cm 4K ultra-HD smart LED Google TV KD • Sony Bravia 108 cm (43 inches) Full HD Smart LED TV KDL-43W6603 (Black) (2020 Model) • Amazon Fire TV 50
Purchasing your TV on right time will really affect your budget, like if you shop during normal days. then you might buy a pricey tv but similarly, when you buy these during big shopping events like Cyber Monday you will find a great discount on your purchase.
The Sony 85 class Bravia offers you a high-end performance with peak brightness. It's sound is also amazing. You can get this smart TV with a great discount by using the above given Cyber Monday deal. Furthermore, you can also find some Cyber Monday TV deals 70 inch
Some stores offer you the best Cyber Monday deals like amazon, best buy, and Walmart. All these have some of the best deals.
Up to 43% off discount is offered on most expensive TVs. You can grab more discounts on big shopping events like Black Friday, Cyber Monday, and the thanksgiving holiday.