ILIFE V3SPRO Review in 2022
21 Sep, 2022 | 5 min read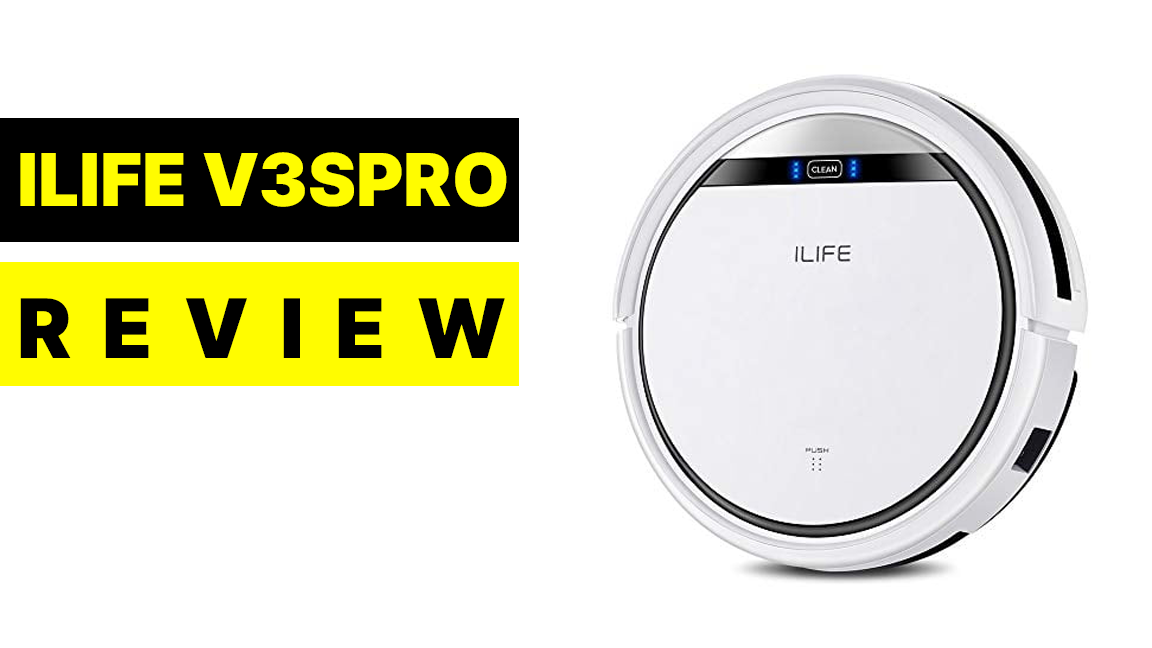 Although the iLife V3s Pro is the most affordable robot vacuum on the market, it has been around for a while and remains one of our top choices due to its outstanding cost-benefit ratio and exceptional pet hair cleaning abilities. It works well on thin rugs and bare surfaces such as tile and hardwood floors. The V3s Pro uses a 3-inch suction opening to collect trash rather than a brush roller. This is a different method than other robot vacuums. This bump-and-clean robot vacuum can only be operated with the remote control or the buttons on the board. It is not Wi-Fi enabled. If you are concerned about the security of home appliances connected to the internet, this robot vacuum is a great choice. Although it may miss some spots due to its random cleaning pattern, the iLife V3s Pro is a great value and will clean your floors fur-free. This is why it is our favorite vacuum cleaner.
The V3s ILIFE Robotic vacuum
The ILIFE V3s PRO is an intelligently designed machine equipped with the most recent pet hair care technology. This machine is specifically designed for pet owners. This program is designed to remove pet hair and dirt.
Clean Anywhere
It is low-profile and only three inches high, making it easy to slide under sofas and beds to collect hard-to-reach dirt and dust. It measures 11.8 inches in diameter and weighs four and a quarter pounds. It features a tangle-free technology that makes cleaning your cat and dog hair easy.
Double Filter Technology
It has powerful suction and an Airway technology that separates dirt and air. This will reduce clogging and give you more power to remove pet hair, dirt, grime, and crumbs from your floors.
Schedule Your Cleaning
It can be programmed to follow a specific schedule. It can clean seven days a week. You can be assured that your home will be clean, whether at work or asleep.
Cleaning Methods
The ILIFE Robotic Vacuum has an edge cleaning mode that makes it easy to clean corners and walls.
It can be activated with a single, simple click. You can also use the remote control included with it. It can be programmed to perform spot, auto, or scheduled cleaning.
Charging Station
The system runs on durable lithium-ion batteries already included in the purchase package. A charging dock is also included in the ILIFE V3s version.
This incredible vacuum automatically returns to it and docks into it to recharge its batteries.
Highlights
Takes in any dust, cat litter, or dog shedding.
Cleans all floors, including tile, hardwood, and thin carpet.
It does not produce too much noise as other robotic vacuums
Battery recharging takes between 90 and 120 minutes.
It automatically shuts down if it gets stuck on anything
Performance
The ILIFE V3s Robotic Vacuum Cleaner will tackle any messes you may have on your floors, including pet hair, dirt, and human hair. Instead of using a roller, the two-bladed spinning brushes sweep debris into the vacuum. The vacuum's suction power pulls it in. You can program it to have three cleaning modes: spot cleaning, edge cleaning, auto cleaning, and schedule cleaning. This cleaning mode is one more than Ecovacs DEEBOTN79S. It can sometimes be quite loud, reaching 64 dB at times.
The ILIFE V3s PRO Robotic Vacuum works well on all flooring except hardwood floors. While robotic vacuums are great on hard floors, they rarely venture onto the carpet. This is not a problem with the V3s Pro. The V3s Pro can be used on hard flooring and selected carpeting, including thin carpets and rugs. The V3s Pro will take about 100 minutes to complete, comparable to the Eufy BoostIQ RoboVac 11S.
Design
You won't even know it's there. If you can find an empty corner in your home, the vacuum will make its new home there. You can also charge the vacuum by plugging it directly into an outlet.
The V3s Pro robot vacuum cleaner doesn't look too different from its brother, the V5s Pro. ILIFE chose a black-and-white color scheme to replace the gold cover. Because of its size, however, you will need to clean the HEPA filter and dustbin quite often. This is just like with the iRobot Roomba 675.
Value
This robotic vacuum cleaner is an excellent value, considering how well it can clean messes on hard floors, cars, and rugs. Thanks to its lithium-ion battery, it can keep charging for up to ten hours. It will automatically return to the charging station when it gets low. Or you can use its remote control. It can also be used with smart home devices and remote control in our Gove vacuum review.
The best thing about the V3s Pro vacuum is its ability to program. You won't have to interrupt the vacuum's schedule, and it will clean up at those times. You can compare other options by reading other vacuum review.
Product Pros
Excellent pet hair removal results
Exceptional performance
Expensive
Long battery life
Carpets can be walked on
Programmable scheduling
Product Cons
Loud
Erratic cleaning schedule
It can be a little loud
Fills up quickly
Wrap Up
The ILIFE Pro robot vacuum cleaner is a powerful machine. Don't let its small size fool you. The long battery life will continue to work even when you're not using it. This is made possible by programmable scheduling. It is not a vacuum that can clean all types of carpets or rugs.