ZOSAM V5 Review in 2022
11 Oct, 2022 | 5 min read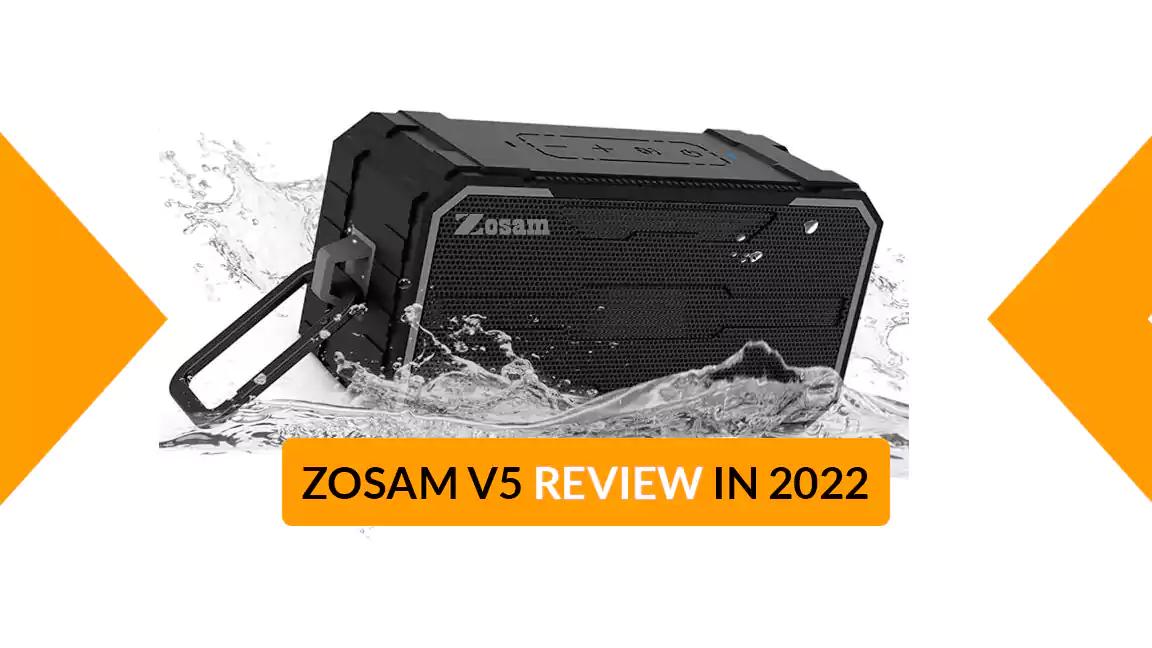 Many people are now putting portable audio first. It's not ideal for listening to music through headphones or the speaker on your smartphone in all circumstances. A Bluetooth speaker is the best option to share your music or crank up the volume with better sound quality. It is not as obvious as it seems that all Bluetooth speakers are the same. Some Bluetooth speakers are built for superior sound quality, while others can provide decent sound and affordability. It's easy to see why many listeners struggle to choose the right one.
Portable audio is becoming increasingly popular because they are affordable and offer many appealing features. For example, take the ZOSAM Outdoor Speaker V5. It is affordable, well-reviewed, and has captivating features that turn heads. Is it all it seems? We got a few of these speakers in exchange for an honest review. Let's take a deeper look at the speaker and what each feature does.
Although the V5 is a decent speaker, frequency components can sometimes feel "far away" from better headphones and speakers. The loudness of the front-facing speaker seems to be slightly higher at higher volumes than the rear speakers. It has an IPX6 water resistance classification which makes it weather-resistant. However, it feels a bit cheap. The V5 isn't too expensive, but you will find a better deal for the money.
Features
First Look
The ZOSAM V5 Bluetooth Portable Speaker's low price is one of its most striking features. It costs just $25 and is affordable enough to appeal to many consumers. People are looking for a better sound but don't want to spend much more on a brand-name model. The V5 is a top-rated product and has over 400 Amazon reviews.
We opened the box upon its arrival and were very pleased with the minimalist design ZOSAM had created. It measures just over 5 inches wide, 2.75 inches tall, and 2 inches deep. We were pleasantly surprised by its compact size and smaller dimensions than we had expected. Although it's not "pocket-sized," it can be carried around.
Setup
We didn't need to read the manual when setting up the speaker for the first time. Make sure Bluetooth is working on your smartphone, or another device and the speaker is turned on. The LED indicator will start blinking blue, and you'll hear the device being connected. Next, you should select "ZOSAM V5" from the available Bluetooth devices on your smartphone. You'll hear the "device connected" sound immediately after. This signals that you are ready to go.
Bluetooth version 4.2 allows you to use the speaker wirelessly for approximately 66 feet. So, they claim. The speaker was able to transmit a signal up to 55 feet, but it dropped after that. Wireless connectivity can be better or worse depending on many environmental factors. Even 50+ feet is impressive and valuable.
Sound Quality
The audio quality is undoubtedly the most crucial aspect of any portable speaker. The V5 was tested while we listened to country, rock, pop, classical, and hip-hop music. We felt it performed well when we tried a variety of music genres.
The ZOSAM V5 has dual 10-watt drivers that emit stereo sound. We were instantly impressed by the volume range when we first heard it. This tiny speaker is loud. It is louder than expected. We could listen comfortably from 5 feet away, and the volume was only 1/3 the maximum. This allowed us to hear the music without drowning out any other sounds in the room. It can be loud enough to hear clearly from far away, but it is too loud.
Battery Life
The ZOSAM V5 comes with a 2200mAh rechargeable battery. It has a claimed 10-hour playtime. It comes with a partial charge. We recommend connecting the USB charging cable to your speaker's DC-in port. It will glow red when charging if you keep it in the charger. It will turn off when the charge is completed. It will turn off when it reaches its maximum capacity. It will take approximately 4-6 hours.
It is possible to have a battery last for 10 hours. This is a good thing. Manufacturers often grossly underestimate the battery life. This is not the case.
Durability
With its IPX6 capability, the ZOSAM V5 was built for rugged living. It's designed for outdoor use where wind, dust, and heights can threaten. It's nice to have an IPX6 rating because it has been thoroughly tested against dust and water penetration. It can withstand constant pressure water for up 30 minutes without water penetration. Although you should never submerge it in water, the ZOSAM V5 can withstand almost any outdoor elements.
The V5 is waterproof and can withstand some abuse. It worked perfectly when dropped from 4 feet onto concrete. It can withstand drops on hard surfaces, although this is not recommended. The exterior might get scuffed and beat up, but the interiors seem resilient.
Product Pros
Product Cons
Final Thoughts
Although the ZOSAM V5 Outdoor Bluetooth speaker isn't the best on the market, it still offers an outstanding balance of sound quality, affordability, and durability. ZOSAM has gone above and beyond in integrating and designing certain features such as battery life or quality construction. The sound quality is good, below 2/3 volume, but the bass seems lacking. You won't get everything, but you will get plenty.
Although many wireless speakers are available, none seem to offer the same level of quality as the ZOSAM V5. The V5 is an excellent choice if you don't want to spend money on a high-end speaker. The V5 is ideal for smaller parties, but it's not suitable for large gatherings that require more power or a deeper bass. It is designed to impress and offers a balance of quality and affordability. It's truly unique for the price!