Top 5 Most Comfortable Bean Bag Chairs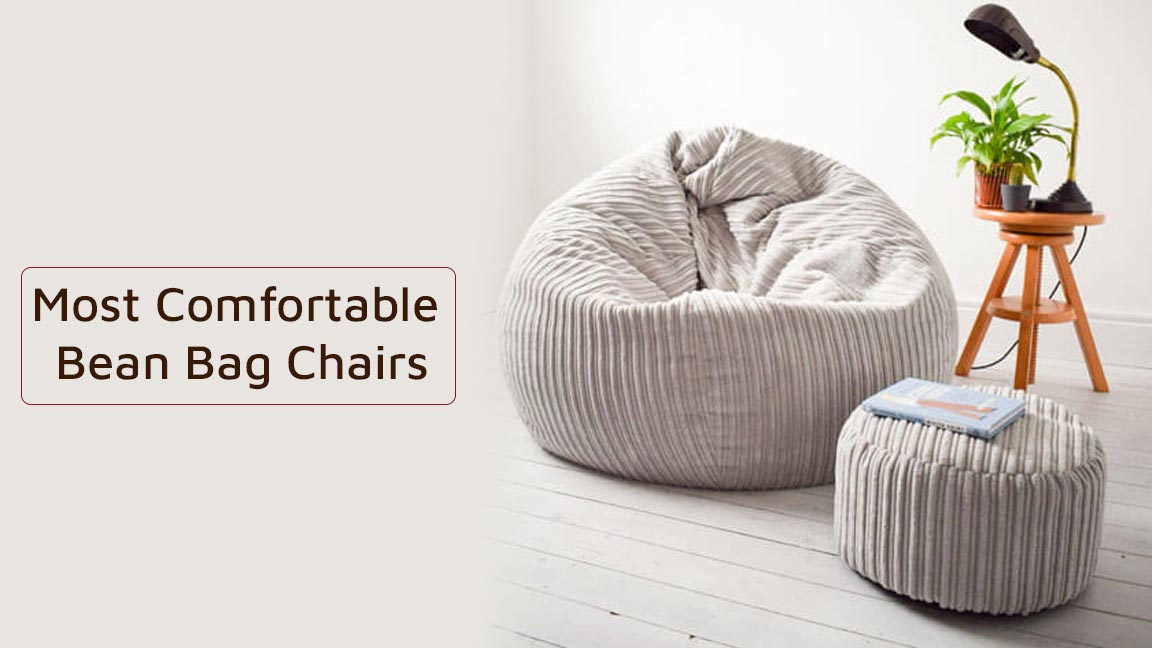 College students and kids' rooms are two places where you will find bean bag chairs in abundance. They are super comfy and after sitting at your desk all day, it is nice to have something bouncy under you that you can relax on. You would be surprised to know that they were first introduced in 1968 but it wasn't until the 90s and 2000s that their popularity massively increased. Now, this is because rooms were becoming a place of personal retreat and people wanted more and more color in their lifestyle. From bedrooms, they entered living rooms and you would see multi-colored bean bags against a sophisticated white background of a living room, adding just a little bit of color to the overall setup.
The popularity of comfy bean bags can be understood by the fact that they are no longer just confined to college dorms where your housemates can come to chill. In fact, more and more workplaces are accommodating these so people can spend their time leisurely and also relax their backs. In big tech giants like Facebook and Google, special rooms are dedicated to the entertainment of employees and one thing that you will find in abundance there are large bean bag chairs. The reason behind this popularity is obviously how comfortable they feel as opposed to the rigid chairs. No matter how much support an office chair promise, it cannot compare with the snugging you feel while sitting or lying on a giant bean bag.
Now, more than ever adults are accommodating these into their lifestyles. When they move from college, they realize that a big bean bag chair is something that they want as part of their furniture and so we have seen the trend resurge once again. From basements to rec rooms, you will find luxury bean bag chairs for adults everywhere. So, if you are someone who is looking to renovate the aesthetic of their house to make it hipper with cheap bean bag chairs, we are here to help you.
Our Top Picks for the Best Bean Bag Chairs
Now this one offers the maximum level of support and comfort, primarily because it is more than just a bean bag. It covers a large surface area and can be used as a full-fledged couch when you need it. With 72 inches in length and 24 inches in height, it is really big and your entire body can lie on it without any problem. The evenness of the bean bag means that your back is straightened and doesn't encounter any problems and the pressure from your muscles is released nicely. Our experts consider it the best bean bag chair and have fallen in love with the versatile roles it can play. If you have guests at your house who want to lounge around instead of sleeping in a bed, you can pull this out and let them enjoy the best nap of their lives. You would be glad to know that your color scheme wouldn't be disturbed at all with this bean bag because it is available in a dozen different shades. The cover consists of a cotton-spandex blend material which is extremely easy to take off and clean. At one time, at least four people can sit on this bean bag together but despite that, it is lightweight and you can shift it as per your desire without much effort.
Check Out: Best Massage Chair
Features
Cotton spandex cover
EPS Beads
24 inches Height
72 inches length
One size fits all
Product Pros
Versatile
Extra large
Conforms to your body
Machine washable cover
Wide range of colors available
Product Cons
Limited return time
Expensive
This is the classic example of a bean chair as it contains all the qualities that you want in one without taking up additional space. The reason we have placed it is this high is because of the filling of the material. It is memory foam and highly durable, making it the most comfortable option on the list. One thing that most people hate about bean bags is the mess that occurs if there is a hole in them. With memory foam, that is never the case. It is beautifully built for people who want to lounge in cozy bean bags all day without worrying about any denting or contouring. We suggest that if you are looking for a bean chair for your living room, go for this option because it is durable and perfectly matches the aesthetic too. It is covered with a microsuede fabric which is easy to wash and you can choose from different sizes as well. From what our experts have tested, the 3-foot bean bag turned out to be the ultimate winner. The only downside we found is that it is slightly difficult to get the hair out of the bean bag so, in the case of pets, you might want to consider this.
Features
Microfiber cover
Memory foam fill
24 inches height
2 feet and 3 feet size
Product Pros
Cozy
Comfortable
Stylish
Wide range of colors
Durable
Cover is washable
A budget-friendly option, this one does wonders for your living space while ensuring you don't have to spend an outrageous amount on maintaining the aesthetic. It is a comfortable choice and shaped like a bean bag chair so you can rest on it easily and carry out your daily tasks. As far as the material is concerned, it has a smooth polyester cover which ensures that your bean bag lasts for a long time. The colors are what appealed to us the most and even though the range is not as diverse as we would have liked, the solid shades look super cool against any background. It weighs around 200 pounds so you can easily move it around. Overall, with the pricing, we think this bean bag chair delivers what it promises. If you have children and pets, this would be great for them. It also comes with refill bags so whenever you feel the bag is sagging and not holding up well on its own, just stuff it up with the pellets and it would be as good as new. The bean bag will last you for a very long time and so it serves as a good investment.
Features
Polyester cover
Polystyrene bean beads
28 inches
Standard size
Product Pros
Great value
Comfortable
Durable
Can be refilled
Affordable
Lightweight
Pleasant colors
Bean bags were initially made for children and it is through them that they have gotten such popularity. Kids love the bouncy and comfy feeling that these bags provide and therefore, many parents contemplate getting one for their rooms as soon as the children grow up. Honestly, even we would recommend that instead of letting your little one spend all the time in a desk chair, especially with the pandemic, let them lounge around in a bean bag which is much more comfortable and easy to sit in than any chars. With this one, you get lots of options with fabrics so whether you want cotton twill, faux fur, or Sherpa, you get lots of designs. In fact, you can even match the theme with your children's bedrooms and get animal-shaped ones. For small kids, those would be great. The manufacturers have also included the customization of adding your child's name to the bean bag so you can surprise them with this addition. The greatest thing about this one is that you can easily remove stains from the cover which is the primary concern of most parents who are getting their kids a bag.
Features
Cotton twill cover
Polystyrene beads
31 inches
One size fits all
GreenGuard certified
Product Pros
Structured design
Ideal size for children
Monogramming available
Certified
Easy to remove stains
We know how much kids love bean bags and so here is another option that is less pricey but will provide you with the same excellent quality. It is available in size 3 diameter and comes in a wide range of colors to suit the theme of your children's bedrooms easily. The bean bag is covered with suede or faux fabric, depending on your choice. You would love how smooth and silky the suede fabric feels and even as an adult, you would want to sink into the comfort of this chair. It is filled with shredded polyurethane foam so there is no hassle of cleaning the mess in case the cover ruptures. The only problem the experts found in this one was that the support wasn't up to the mark and even though it doesn't have pellets, some spots did feel a little clumpy. But overall, the chair looks amazing because you can clean the fabric in case of stains and even if you have pets who tend to leave hair behind, you don't have to worry about intense vacuuming because just one blow will get out all the mess and dirt.
Features
Polyester cover
Shredded polyurethane foam
22 inches
Four options for sizes
Product Pros
Wide range of colors
Soft
Comfortable
Easy to clean
10-year warranty
Ideal for children
Things to Consider Before Buying a Bean Bag Chair
Our experts have done all the research for you. So, all you have to do is go through our list of bags and see which one will suit you the best. We swear you will love each and every option because we have highlighted the specifications that are favored by the customers the most. Whether you need an extra-large bean bag or something that would fit inside your small room, we have got you covered. Let's find out which features did our experts consider shortlist for you.
Filling
Of course, you are going to sit on the bean bag which means that it needs to have the appropriate amount of filling and the correct material too to provide you the utmost comfort that you crave. Usually, polystyrene is the material that is used to fill bean bags and it is quite soft pellet-like that feels the same as Styrofoam. They are very light which means the bag is also light enough so you can move it around without much difficulty. The problem in a bean bag may arise when after some time, the pellets may become compressed and so it can get difficult to move them around. Or, the gap where you sit might leave a permanent shape too. So, you have to consider the quality of the material that is present inside the bean bag and how long it is going to last. Some manufacturers also use shredded foam and from what we have seen, this is a more comfortable option because there is no risk of compressing the pellets and it contours easily as well.
Cover
At the end of the day, when you place a large bean bag chair inside your room or house, it is going to impact the overall aesthetic too. This means that the covering of the bag should not only be durable but also look pleasant enough to match the general vibe of the setup. The good thing about hunting for bean bags is that you find them in a lot of variety. From stretchy fabrics that are knitted with detail to leather and suede, you get it all. The knitted fabrics are a better option for some households because you can easily change and wash them. However, most people prefer leather because not only does it look excellent but it offers long-term durability as well. Other options include microfiber and shag which you can place in a living room where you might occasionally sit on them to read or watch TV. You also get bean bag chairs in canvas covers and if you are planning to place them anywhere near the sun, this material will work the best. It all depends on your priority because the market is huge and a wide variety awaits you there.
Support
The whole reason why bean bag chairs exist is so you can sit on them and have a comfortable time. For this purpose, you need full support which is backed by a large surface area. If you cannot rest easily on a bean bag chair, then the whole point of having an alternate option goes in vain. This is why while considering different bean bags, our experts made sure that the options we have selected provide you with great support and are made with materials that cause you to relax. Like we said earlier, the whole comfort of a bean bag depends on the material it is filled with and so far we have found that polystyrene did not fair very well in that department. Since they are just like pellets, they shift to one side as you sit so you might not find a lot of material left underneath you for support. Memory foam works best for support and you can easily sink into it without worrying about loosening the shape or feeling the hard surface beneath. You also have to make sure that you fluff them regularly and keep them in a good shape.
Frequently Asked Questions
The easiest thing to do to maintain cleanliness is to remove the covers once in a while and wash them. If you are a cleaning freak, try opting for easily removable covers.
Yes, if they are filled with polystyrene beads, they are more prone to compressing and getting misshaped. Therefore, you can opt for memory foam too but make sure you fluff it from time to time.
Lots of them come with refills so you have to unzip the sack and either replace the filling by pulling the previous one out or just adding more to it.
Your spine needs to be kept straightened so if that is not the kind of support your bean bag is providing, it might hurt your back.
We suggest Ultimate Sack Bag because it is a budget option and is quite comfortable and easy to clean, both of which are great qualities for kids stuff.