Cyber Monday Gaming Monitor Deals 2022: Get The Blockbuster Discount Of The Year
By Alice Green
|
27 Nov, 2022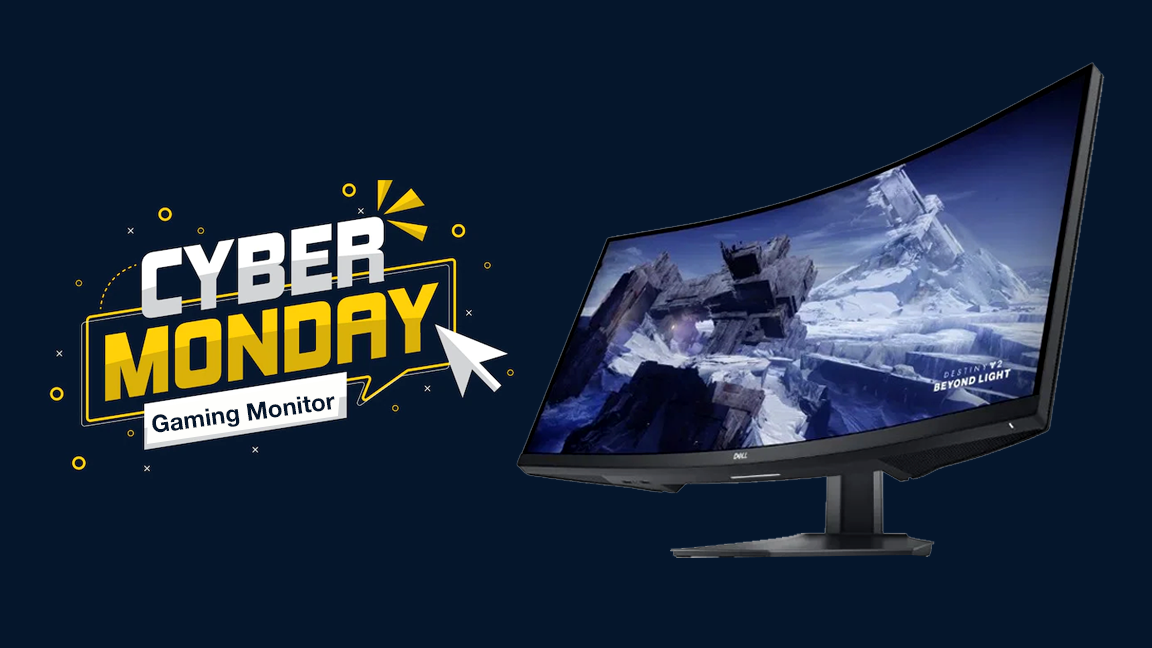 The Cyber Monday monitor deals generally start after black Friday deals. it is the last chance for people to grab great deals on a gaming monitor. The people who miss out on the black Friday deal have the last chance to grab that amazing deal again. But did you what's the bad news here? There are soooo many deals available so it might be difficult for you to find out the right and best one to save on your monitor.
Well among all this, it is crucial to know that Cyber Monday is not right here, but still some early deals can make your day. As we have told you above, finding the best deals from so many available is not so easy, that's why, here we have gathered some best Cyber Monday gaming monitor deals that helps you get your hands on the right deal.
When will Cyber Monday gaming monitor deals 2022 start? 
Cyber Monday is an enormous shopping holiday giving you a chance to grab great discounts on your purchase. This year Cyber Monday will officially start on 28 November 2022. But there are still some early Cyber Monday gaming monitor sales that you can grab right now, right from here. 
If you are interested in more deals, then we also have some info on Cyber Monday PS5 deals, and Cyber Monday monitor deals.
Cyber Monday gaming monitor deals
On Cyber Monday, various brands like Viewsonic, Asus, sceptre, and LG will launch enormous discounts on their most fantastic gaming monitors. Take a look below to get the best bargain on your purchase.
Want to play like a pro? Then this gaming monitor is made for you. This year, you can complete your gaming with a premium LG ultra-gear gaming monitor. It is specially built for gamers that deliver the latest hardware, specs, ergonomics, sleek design, and sensory experience. 
Features 
This offers you smooth motion gaming for a 165Hz refresh rate.
With the FreeSync premium technology gamers have a chance to experience seamless, fluid movement in hi-resolution. 
It also features minimized screen tearing and stuttering. 
This gaming PC comes with a black stabilizer, that allows you to enjoy your gameplaywhile you are in the dark.
Offer you an outstanding large display of 32 inches. 
Enjoy a real-time gaming experience.
Price now: $363.68 
Price before the sale: $399.99
Discount with Cyber Monday deals: 9% off 
Rating: 4.7 out of 5
Product Pros
Widescreen display
High resolution 
Seamless gaming experience
Rich colors
A gaming monitor is always a great thing for gamers. So here we have bought the best one for you. This Acer gaming monitor will provide you with an outstanding gaming experience. The best part is that you can grab a great discount on your purchase by using gaming monitor Cyber Monday deals. take a look at its amazing features below.
Features
This curved display monitor offers you the sharpest picture quality with ideal resolution.
Offers you a zero-frame design freeing up precious screen space. 
It comes with a supercharged refresh rate of 144Hz. 
This monitor delivers an ultra-smooth and fast 2D motion scene.
With this monitor, say goodbye to stuttering and tearing because AMD Radeon freesync is present.
Fast response time is offered with up to 4ms fast speed, which allow super good transition without any ghosting. 
Offer you a 16:6 curved display in a large world of entertainment. 
Price now: $359.99
Price before the sale: $399.99
Discount on sale: 10% off
Rating: 4.4 out of 5
Product Pros
Sharp picture
Super good transition
2D Motion
Great refresh rate 
Get into your game fully with this Samsung gaming monitor. This monitor features some good things that are not available in any other monitor. The gaming monitor comes in wide range of sizes from 34-49 inches display. Here are some amazing features of this gaming monitor. 
Features
This offers you a large 49-inch display that matches the curve of the human eye. 
It offers you perfect picture quality for a smooth gaming experience. 
With the highest HDR 1000, you have a chance to see your games as they are meant to be seen.
The 49 inches of DQHD resolution allow you to enjoy the gaming world of your imagination made real.
It comes with a rapid 240hz refresh rate you have up to four times as many frames displayed on the screen.
This comes with 1ms fast response time that makes your streaming without ghosting and blur. 
Price now: $1199.99
Price before the sale: $1599.99
Discount on sale: $499
Rating: 4.6 out of 5
Product Pros
Rapid refresh rate
Less ghosting and blur
Wide and large display
Perfect picture
This Cyber Monday, immerse yourself in a multimedia experience with this perfect Asus gaming monitor. With this amazing monitor, you have a chance to enjoy an outstanding gaming experience. In addition, on the biggest shopping mania, you can grab a great discount on your favorite gaming monitor. The feature of this gaming is stated below.
Features 
Allow you a hassle-free and solid gaming experience without undue strain.
Offer you a faster response time of up to 4ms for faster performance.
144 Hz refresh rate that delivers outstanding performance. 
It comes with 2 USB ports, so two devices can easily be connected, at once. 
The highest contrast ratio ensures a clear image with deep blacks and bright highlights.
Price now: $799.99
Price before the sale: $899.99
Discount on sale: $100
Rating: 4.3 out of 5
Product Pros
Outstanding refresh rate
2 USB ports
Crisp picture
Solid gaming experience
Product Cons
No voice assistant built-in 
240Hz Refresh Rate: Stay above the pack with 240Hz, giving you an edge in performance as frames transition instantly.

AMD FreeSync Premium: By accelerating the frame rate and delivering low latency to prevent visible delay in data processing, AMD FreeSync Premium allows gameplay to reach the highest echelons of performance.

Edgeless Design: Edgeless Design completely immerses you in all the captivating action and extraordinary scenery that FHD resolution & 240Hz refresh rate have to offer.

Multi Digital Ports: The DisplayPort & HDMI1 deliver up to 240Hz refresh rate , providing incredible visibility & agility to beat your standard player. The HDMI 2 & 3 provide impressive 144Hz refresh rate.

Blue Light Shift: Blue Light Shift reduces blue light, allowing you to comfortably work, watch, or play applications without straining your eyes.
Now don't miss out on a single scene because this monitor won't allow you to do this. It offers you the perfect gaming experience overall enhances your gaming performance by delivering high-quality pictures. But did you know, what is more important? This monitor is found at a great price with a great discount on the event Cyber Monday. Take a look at its outstanding features below. 
Features
It delivers an outstanding 3000:1 contrast ratio with deep blacks and brilliant whites.
Offer you a curved screen that keeps you focused on your gaming.
Come with eye-saver mode, so your eyes will always protected, no matter how much you play. 
Upgraded AMD Radeon free sync that keeps your monitor and graphic card always in sync. 
Do what you want without ghosting and any other interruption.
Its 3-sided bezel and y-shaped stand bring a sleek and modern look to your desk.
Price now: $203.29 
Price before the sale: $229.99
Discount on sale: 12% off 
Rating: 4.6 out of 5
Product Pros
Brilliant contrast ratio
Eye saver mode
Streaming without ghosting and interruption
Dual monitor usage
Multiple ports
See enhanced contrast with more detail in shadows and highlights from precisely controlled Full Array Local Dimming backlighting technology.
With four times the pixels of Full HD monitors, enjoy crystal-clear detailed images with 4K resolution.
Get the split-second advantage that makes all the difference with ultra-fast 144Hz refresh rate.
Virtually eliminate screen tearing and stuttering with compatibility for Nvidia G-SYNC and HDMI 2.1 VRR
DisplayHDR 600 certification allows you to experience all your content in vivid HDR contrast with high peak brightness of 600 nits.
With over 95% coverage of DCI-P3 spectrum, discover an extended range of over a billion vibrant colors for breathtaking immersive gaming.
Less ghosting and blur with 1ms GtG response time ensures you see what's happening with absolute clarity for immediate reaction.
Perfect for PlayStation 5 – Auto HDR Tone Mapping and Auto Genre Picture Mode creates a fantastic PS5 console gaming experience.
The unique height and tilt adjustable tripod stand provides total gaming comfort for all your peripherals while optimizing desk space.
Variety of inputs – Two HDMI 2.1 ports, DisplayPort 1.4, and USB Type-C (DisplayPort Alternate Mode)
Designed for gaming, this monitor with a 1-millisecond (GtG) response time delivers all of the benefits of IPS (In-Plane Switching), delivering responsive, crisp visuals with sharp clarity to immerse you in gameplay

Color accuracy with sRGB 99% and wide viewing angles (up to 178° horizontal / 178° vertical) from IPS reproduce colors with high fidelity to being vivid scenes to life

A high native 144Hz refresh rate with 1-millisecond Motion Blur Reduction keeps you firmly in the action while reducing blur and ghosting, rendering screen objects more clearly

With compatible video cards, NVIDIA G-SYNC and AMD FreeSync Premium virtually eliminate screen tearing and minimize stutter in high-resolution and fast-paced games for a fast and fluid gaming experience

Dynamic Action Sync helps reduce input lag to help you respond to on-screen action quickly. Black Stabilizer dynamically brightens dark scenes to help you find enemies in the dark. Enhance your accuracy in firefights with the Crosshair feature
SEE EVERY DETAIL: This 1800R curved gaming monitor provides a truly immersive experience that offers more realistic visuals and comfortable viewing.Aspect Ratio: 21:9. Viewing Angle is 178° (H) / 178° (V)

A NEW VIEW: A WQHD (Wide Quad HD) curved monitor screen provides a display resolution of 3440 x 1440 on a 34-inch panel

A SMOOTHER EXPERIENCE: A 144Hz refresh rate allows fast-moving visuals to be seen with incredible clarity for faster reaction times

REMARKABLE CLARITY: AMD FreeSync premium technology allows gamers to stay engaged during battle with swift, responsive, stutter-free gameplay

WIN FROM ANY ANGLE: Game in comfort for extended periods due to a new slim, tapered stand with easy height and tilt adjustability
27" AOC Gaming G2 series monitor with 1920x1080 Full HD (1080P) Resolution Curved VA panel
Rapid 0.5ms response time (MPRT) and 240Hz refresh rate with AMD FreeSync for extremely fast responses that reacts with flawless graphics for an ultra-smooth competitive gameplay
1500R curved monitor wraps around your vision for an immersive gaming experience
3-Sided frameless design with an incredibly high 80 Million to 1 contrast ratio for vivid visuals
AOC Low Input Lag delivers a lag-free display from video signals
AOC LowBlue Mode and Flicker-Free for well-being during extended gaming sessions
1x DisplayPort 1.2, 2x HDMI 2.0, and Audio Line-Out for convenience
Height-adjustable stand and wall mountable (VESA compatible) for flexible mounting options
RE-SPAWNED Warranty: 3-year zero-bright-dot, 3-year advance replacement, 1-year (one-time) accidental damage
How to get the right gaming monitor?
Choosing the right gaming monitor can be a challenging and frustrating experience for you. with so many models and specifications in the market it might be difficult for you to get the right one for your gaming. So, to help you get the best one for your gaming here we have prepared a short guide to get your hand on the best and right monitor that allow the best gaming experience.
Screen size and resolution
Pixel density and resolution of your monitor impacts a lot on your monitor quality. The resolution of your monitor determines the number of pixels a monitor has in width x height of the format. So, the minimum resolution that your monitor must need to have is 1080p. But if you want a high-quality gaming experience, then QHD and 4k will be the right choice for you. The ideal screen for your gaming generally starts from 15 inches and lasts at 24 inches. But the standard screen size is 22 inches.
Response times
Shorter is most preferable for the high-end gaming experience, but unless you're gaming, they're not a top priority. The response time of a monitor indicates how long it takes for individual pixels to change from black to white or, in the case of a GTG monitor, from one shade of grey to another. Motion blur or ghosting may result due to slower response times when playing games or watching frantic films. The quickest gaming displays can have a response time of 0.5ms, while the highest response time you'll typically experience is 5ms.
Refresh rate
The bigger is much better. The refresh rate displays, in hertz, is known as the frequency with which your monitor updates with new data each second (Hz). The larger the number the better, and the smoother will be an image. Gamers need a display with the lowest response time possible, as well as a refresh rate of at least 75 Hz (the majority of gaming-specific monitors offer at least 120 Hz). On the other hand, if you are not gaming, a refresh rate of 60 Hz is sufficient.
Opt for a curved screen
When you are gaming then the curved screen will be a much better consideration. Offering you a wide field of view and potentially reduced eye strain. Actually, curved monitors are meant to make your experience more immersive. However, when viewed from certain angles, they can be prone to glare (light sources are coming from various angles instead of one). Effective curved monitors are typically extremely wide and at least 30 inches in size, both of which indicate higher prices.

Conclusion
We all know Cyber Monday is the biggest shopping holiday featuring the best-ever discount and deals. Here, are the best discounts of the year that you will not find anywhere else. Must read above to get the best deal on your purchase.
Frequently Asked Questions
Choosing the right gaming monitor in 2022 can be difficult, especially when you don't know which one is best for you. So here is the list of some best gaming monitors. • Asus ROG Swift PG32UQX • SAMSUNG 27-Inch CR50 Frameless Curved Gaming Monitor (LC27R500FHNXZA) • Sceptre 30-inch Curved Ging Monitor 21:9 2560x1080 Ultra Wide Ultra
Refresh rate is a really important consideration for outstanding gaming. The best refresh rate is 120Hz, and the minimum refresh rate is 60Hz for general gaming, not for high-end gaming.
With Cyber Monday Monitor deals, you have a chance to grab up to 30% off on your purchase. More deals are also available. Take a look at all the best deals from above, as all the best early Cyber Monday gaming monitor deals are available here.
Some best deals you can grab right now are • Sceptre 30-inch Curved Gaming Monitor 21:9 2560x1080 Ultra Wide Ultra • ASUS - ROG Strix 49 Curved FHD 144Hz FreeSync Gaming Monitor with HDR (DisplayPort, HDMI, USB) - Black • LG 32GN650-B Ultragear Gaming Monitor 32 QHD (2560 x 1440) Display
Cyber Monday is the shopping holiday that specifies the first Monday after thanksgiving and black Friday. This year Cyber Monday falls on 28 November 2022.