Prime Day Computer Deals – Best Gaming PCs you can find
22 Jun, 2023 | 5 min read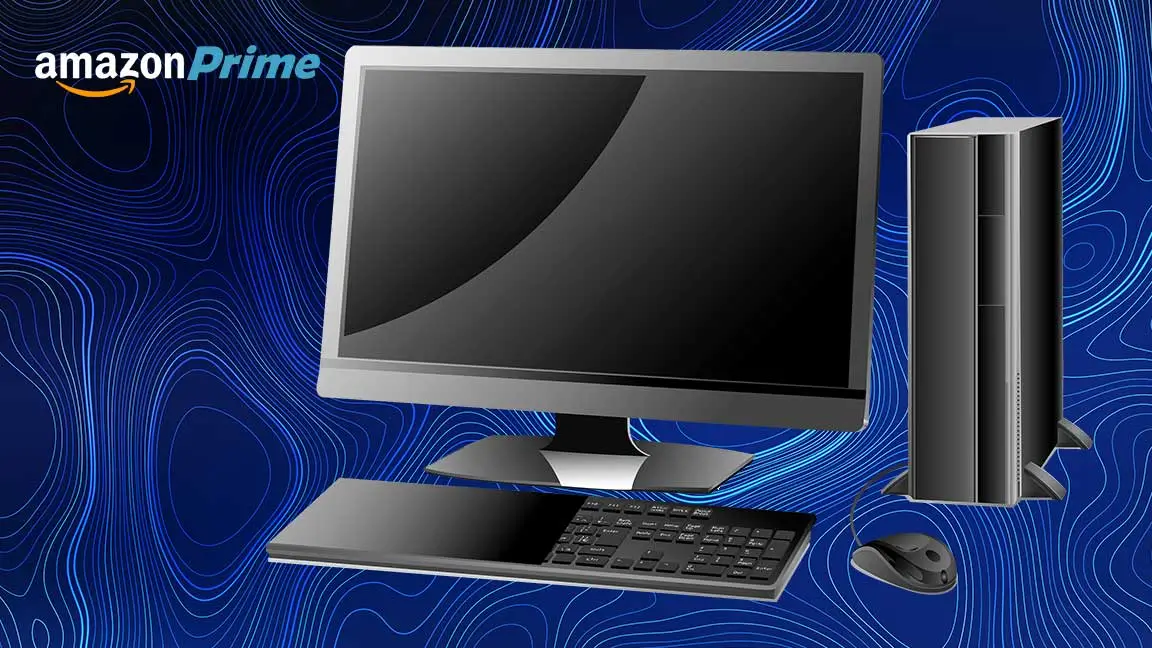 The landscape of PCs and laptops keep on changing every year with new additions in the market to some of the older models becoming completely irrelevant. While this is an inevitable thing, it also raises the bar to a new high every year. Especially for gamers, who aren't ready to compromise on anything less than perfection for their gaming setup, new gaming computers cost an arm and leg. In such cases, events like amazon prime day are indeed a savior. To find yourself the best computer deal that you will be happy about for years to come, this article has the top prime day computer and laptop discounts. Read below to get yourself a deal which you won't stop grinning about.
Best Prime Day Computer Deals
This year, there are some fantastic sales on desktop computers, especially all-in-ones and gaming PCs. Hence you can count on the amazon prime day to be a jumbo event for gaming computers and laptops for 2023. Even while Amazon isn't normally the top shop for the best cheap gaming PC offers, other retailers like Newegg and Best Buy will probably want to compete, which might result in some of the finest PC bargains we'll see this year.
 In any case, Prime Day gaming deals are sure to be interesting in 2023. In our opinion, if you're considering upgrading your gaming equipment, you should keep an eye on this event. Below is a roundup of some of the best finds for the prime day 2023 computer deals. Make sure to make a purchase which you can be proud of later on.
For those who don't want to buy a separate CPU, keyboard, mouse and everything this HP pavilion laptop suffices. It is a complete all in one work and gaming setup which qualifies as one of the best computers for the current year 2023 and we are sure it is going to continue with the title in the later years too.
The Pavilion plus 14 offers a sleek appearance, powerful processing options, and the chance to upgrade to a high-resolution, 90Hz OLED display without going over budget. As compared to comparable models with almost the same features, you can get an OLED screen, a 1TB SSD, and powerful Core i7 H-Series CPU upgrades for a fair price. For a well-built, fully equipped laptop with only minor flaws, it's a fantastic value whether you need for gaming or work!
Reason to Buy
Stellar OLED display
Thin and light
Portable
Reason to Avoid
Battery life is less than 10 hours
No webcam shutter for privacy
CUSTOMER REVIEW
I've only had it for a short time, but so far there have been no problems. Setup is simple. The touch screen works very well.
It's used for work on days when people work from home.
A moderate everyday use laptop to moderate quality gaming, the dell XPS is suitable for variety of users due to the multiple features it offers. You can get this laptop at a surprisingly reasonable price and a good deal for Prime Day too. The Dell XPS 13 is a steadfast favourites due to its dimensions, weight, and performance as well as its attractive overall design. Although there is no headphone port, a USB-C converter is provided in its place, and the battery life is excellent, the design is still fantastic.
Reason to Buy
Polished modern aluminum body
Lightweight and portable
Reasonably prices
Reason to Avoid
Does not have an Audio jack
Touchpad makes click noise
CUSTOMER REVIEW
The notebook that was actually sent is a good one.

We are not just talking about any Macbook but the Macbook Air 2022 model. This laptop brings all the much needed features beautifully packed in a fast running device. Similar to the other iOS products you won't face a second of lag or slow time with this laptop. It features a ground-breaking ultraportable Air design that combines Apple's M2 chip's performance and battery-life improvements with a super-thin, less than 3-pound aluminium body. For Apple's most cheap Mac notebook, the 13-inch Retina display looks beautiful, the keyboard and trackpad are reliable, and Touch ID provides easy, quick security.
Reason to Buy
Stunning Slim Design
Large 13.6 inches display
Perfect for work and gaming
Reason to Avoid
Short battery life
Only two USB-C options
CUSTOMER REVIEW
The product arrived on time and was in great shape. I asked for the NFE, which didn't come with the item, and the seller sent it to me the next day. The battery standard for an imported laptop is American.

Not everyone prefers a laptop for games, some people are just too die-hard fans of gaming with a PC designed solely for this purpose. The ADMI gaming PC is made for such people. This gaming PC brings the perfect balance between in budget and highly packed features of a powerful computer. Starting with the graphics card—generally speaking, gamers' preferred piece of hardware—the Patriot 5500's 12GB NVIDIA RTX 3060 GPU is an especially fantastic piece of equipment, with a plenty of VRAM to keep programmes running smoothly and silky. The PC has RGB lighting yet another reason to be loved by gamers. Though it goes on sale very-very rarely, Amazon prime day 2023 is going to be one of those rare moments.
Reason to Buy
Amazing graphics
Compatible storage for gaming
Excellent price value
Reason to Avoid
Sometimes the CPU lags a bit
CUSTOMER REVIEW
Yes. A 4070ti can fit in it. Barely. And only if you put your fans on the front inside instead of fully inside. Compared to almost everyone else, it's easy to put a smaller MOBO into. There is still good air flow.

Prime Day Gaming PC Buying Guide
The importance of the right computer for the intended task cannot be overlooked but as we sneak into the world of gamers, gaming computers hold the greatest level of importance. It is safe to say that many gamers prefer their gaming Pc and computer more than lots of people so that is definitely a proof of the love they share for their gaming computer.
With the right computer you can enjoy anything from a wonderful cinematic movie, a programming code or a game that is packed with high levels of visualization. While you are excited thinking about your gaming PC the high price and eagerness to get as many specs as possible definitely throws most of us off. Hence we recommend getting your favorite PC only during the Prime Day. Below is a buying guide to help you choose the best prime day computer deal for you.
The Right time to Buy
Before we get too further into the specifications and features that a gaming PC offers, it is crucial to understand that PCs are expensive, and gaming PCs may cost as much as a used vehicle (well, that's a bit of an exaggeration, but you get the idea). A gaming PC must be carefully chosen, but the timing of your purchase is quite important. This implies that you should only make a buy this size during times of significant sales.
Big events like Black Friday and Amazon Prime Day are among the greatest times to shop for gaming PCs. because the Best Gaming PC Deals and accessories are offered during these two events. Video games and consoles all experience significant price drops so you may get the greatest deal from reputable merchants on anything from PS5 to gaming chairs. Furthermore, there is a lot of rivalry, which results in reduced costs for the same goods, as each merchant tries their hardest to generate the most sales. The top Black Friday gaming PC offers are under $500.
Your PC Goals
Decide what sort of gaming PC you as a player want after choosing the best time to buy, which is often around July (prime day deals). Making a list of the characteristics you require, do not require, and can live without is preferable. This will guarantee that neither you nor your purchase will limit your gaming experience or cost you more money for features that may not be useful to you. Here are some questions you may ask yourself to help you create the finest list.
• Will I use my new PC to play a variety of games, or will I exclusively use it for one?
· Are those games graphically intensive?
· Do I intend to use my PC for other purposes than gaming, such as streaming or rendering videos?
• Will I prefer a more fixed setup at home or will I regularly travel and want to play games on the go?
Budget
No passion is worth spending all of your money on (sorry for calling your passion a mere hobby though) therefore even when choosing the finest gaming PC for you, you should first determine your budget before comparing costs online. Due to the wide price range of gaming PCs, you may discover products starting at $400 and going up to $2000 or more. This means that you must exercise caution and conduct thorough research before making any purchases. Your budget will change depending on the specs you want, the brand you want to purchase, and the sort of PC you are considering. Therefore, it is advisable to maintain more money on hand than you had intended to, but attempt to limit your spending.
Graphics Card
The graphics card is what has to be paid attention to if you really want a decent price for a gaming PC. It is the component primarily responsible for the visual appeal, playability, and smoothness of your games at higher resolutions. Here, model numbers largely determine performance, with higher numbered cards frequently indicating more performance.
Size
A gaming computer might be tiny, medium-sized, or big. Each kind has some advantages and some constraints. Small PC configurations can fit discretely in locations where larger systems just cannot. They are ideal for gamers without access to a large workstation who want to use their PC in their home theatre. Going small, meanwhile, might limit your future upgrading possibilities, and some compact PCs are loud since there isn't enough room for cooling.
Mid-towers are a good middle ground and ideal for most individuals. They are small enough to fit under, on, or inside a typical desk, yet big enough to allow for upgradeability and bearable cooling.
Processor
Now that we are looking and paying close attention to the outside of your PC, it is even more crucial to verify the inside components of your gaming setup. Otherwise, you risk having a lovely machine that isn't functional. In this situation, the processor is the first item you should pay attention to.
The processor controls a system's performance in the majority of software. A key element is the number of processor cores. Options in the mass market range from two to sixteen cores. Unless your budget is really limited, a four-core CPU should be the minimum you can obtain to avoid suffering performance difficulties with various apps and video games.
Cooling System
PCs and CPUs will heat up, so don't be alarmed if the temperature of your leg sitting behind the CPU begins to rise. However, pull your leg away from the CPU as soon as possible since your CPU needs a sufficient cooling system to prevent overheating and unexpected shutdown. Although cooling isn't a direct factor in performance, it may nevertheless affect how enjoyable it is to use your PC. Some PCs have built in cooling cases that tend to keep the temperature of your system to an optimum level. Others have sufficient number of fans to ensure proper heat dissipation while working or playing.
RAM
The better a computer is means the higher the RAM it has, but this is also the component that can cause you to overspend, so you must be especially careful. For contemporary gaming systems, 16GB is a reasonable place to start, especially in light of recent price reductions. You can get away with 8GB, though, if you're playing older games or don't mind sacrificing detail or frame rate to save money. After all, one of the most affordable and straightforward future upgrades is RAM.
Frequently Asked Questions
Amazon keeps the prime day actual dates unrevealed till the last few weeks and same is the case this year. Though not officially announced the Prime Day amazon 2023 deals are expected to be in Late June of Mid of July. This 48 hour events mainly takes place during the same window every year.
Despite the lack of formal confirmation based on previous year we anticipate that Prime Day 2023 will take place on July 12 and 13. Even though there were two Prime Day celebrations in 2022 this was essentially only a result of expenditure being lower following the epidemic as many governments gradually eased their limitations. Since we do not anticipate a second Prime Day in 2023 we anticipate that sales will begin in July.
Computers and laptops are some of the most popular categories that go on sale during the prime day. So it is safe to say that you can find almost every popular work or gaming computer brand putting up a huge discount show for you. Although it is important to make a list of the things you really desire in a computer as to avoid wrong spending.
The follow up to Amazons annual Prime Day savings event which lasts for 48 hours each June July is the Amazon Prime Early Access Sale. The inaugural Prime Early Access Sale was organized by Amazon in 2022. According to Amazon it was a chance to kick off the holiday shopping season early with hundreds of thousands of deals.
Only customers with an active Amazon Prime subscription are allowed to take advantage of Amazon Prime Day promotions. A 30 day free trial of Amazon Prime is available to those who have never subscribed. A year of Amazon Prime costs 139 Dollars or 14.99 Dollars each month. More benefits than only Prime Day bargains are included such as free two day shipping on the majority of Amazon items and free same day delivery access to Amazon Prime Videos TV and movie catalogue exclusive discounts at Whole Foods Market and more.