Prime Day Roku Deals – Up to $3000 or more discounts
12 Jul, 2023 | 5 min read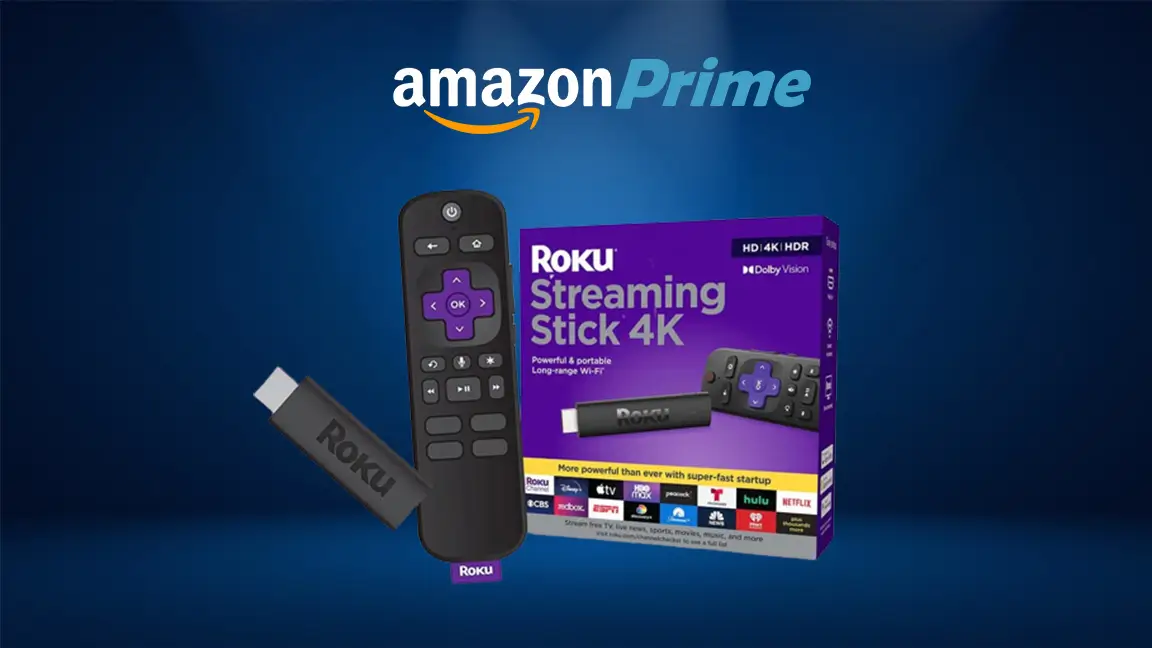 For you and your loved ones, Amazon Prime Day brings a tonne of fantastic deals on amazing things. What better item is there than a streaming gadget that gives you access to Netflix, Disney Plus, Hulu, and many more services? This all in one streaming solution is the best bet anyone could have. From popular latest movies to all time classics, TV shows, entertainment, games, fiction, documentaries and much more, Roku is an investment which covers you for the lifetime. This magic box you are amazed about is known as Roku and you are in luck if your interest in Roku is growing around this time of the year. Because as the amazon prime day 2023 is upon us, so are the Roku prime day deals which are better than ever and something that should not be missed.
Best Prime Day Roku Deals
There is no better day than Prime Day to test out a new gadget. We have a suspicion that this year will follow a similar trend since Amazon offered fantastic offers on numerous Roku devices last year. Follow us for the most recent information on Amazon Prime Day bargains, and we'll give you real-time updates on the best sales. From all the popular Roku devices from the past to even the latest models such as TCL 6-SERIES ROKU TV R635 REVIEW, there is a lot of discounts waiting for you. So as you discover the best Television screen to stream your Roku service (take help from our buying guide below), we will be enlisting some top Roku deals you can score this year.
Roku express is the most basic version of roku streaming stick which you will be able to find on amazon as a part of prime day 2023 deals spree. This stick comes at a very affordable price and as the model is older, no one likes to pay extra money for that. So for prime day, if you really wish to begin with the basic version roku express you can score a good deal on this one. The roku express gives you access to several streaming services and is also very user-friendly.
Reason to Buy
User-friendly
Ideal for beginners
Affordable
Easy to use with smartphone
Reason to Avoid
It's slower
Restricted to Wi-Fi only
Customer Review
For my older Samsung TV from 2017, I decided to get this. The older TVs don't support airplay, and I needed to view something on my phone instead (because I couldn't access the show through the TV app). Anyway, I've owned a bunch of earlier Rokus and they're great! They are hassle-free to install and operate without fail. The so-called "smart" TVs that keep apps on the TV (at the bottom) usually run out of storage rather quickly, forcing you to get a usb and plug into the back of the tv (eye roll), occupying a plug that could be used for other devices.A Roku is a great investment if you have an older TV and want to avoid replacing it only for the sake of modern features.

You can get the Roku stick 4K for up to 40% discount on Prime Day 2023. Your TV can be transformed into a smart television with the help of this small, seamless stick that plugs into an HDMI connection, providing you immediate access to all your favorite streaming services and more than 275 free live TV channels. It's a logical next step to stop paying the television bill.
The Roku Streaming Stick 4K can provide you with a beautiful, vibrant image on your screen with exquisite colour so you can watch your favorite movies in 4K, Dolby Vision, and HDR10+ compatibility. You can finally throw away your old remote control and only use this little remote to operate anything after it couples with your television.
Reason to Buy
Easy to Use
It has Dolby vision
Improved Wi-Fi performance
Reason to Avoid
Doesn't offer excellent TV integration
Customer Review
To get the most out of my Samsung TV, I updated to the latest Roku and was not disappointed. 2017-era, high-definition, smart-app-enabled TV here. I had to use a different gadget just to get into a few of my programs. This TV was not compatible with the Firestick. Not enough juice to make it function, it seems.
The Roku is much simpler to operate than my previous remote controls. My Firestick on an older TV has less-effective search capabilities than my Roku.
The ability to bring my Firestick and Roku with me everywhere I go was a primary motivation for purchasing both devices.
One of Roku's mid-range devices is the Premiere Plus. It is a bit more sophisticated than one of the Sticks but not as advanced as the Ultra. However, as Roku no longer manufactures the Premiere Plus, you may also get the lowest pricing for the Roku Premiere Plus through a few specific retailers, such as Amazon and Walmart. Although it supports 4K watching, its Wi-Fi capabilities aren't as strong as those of certain other streaming gadgets. However, there are many positive aspects of this gadget, such as the content it delivers and simplicity of setup.
Reason to Buy
Offers 4K HD Display
Voice enabled control
Simple setup
Easy to use
Reason to Avoid
Only available at selected retailers
Will not have any updates
Customer Review
The TV power on/off and volume controls swayed our decision to purchase this particular Roku. We became sick of juggling two remote controls.
The Roku required no special tools for setup, as it is a "plug and play" device. The next step is to power on the TV and flip through the channels until you find the one you want to watch. After that, the screen will guide you through the three or so easy steps required to pair your TV with the Roku remote. Simply log in to your Roku account, or create one for free in minutes, to access all of your subscribed streaming channels and services.
Wonderful integration is achieved between the volume, power, and voice controls. Two more are being considered for our other televisions.
This gadget is ideal if you are not a tech whiz and want something simple to set up. If you're a techie, you'll love this Roku model for its user-friendly interface.
Although soundbars with built-in streaming are a relatively recent invention, Roku's new Streambar excels in this area. You can find it on a great deal for the amazon prime day 2023 too. It offers the familiar and beloved Roku user interface, 4K HDR, and enhanced sound for any TV, particularly dialogue. We believe that the new Streambar video streamer gadget makes more sense for most people even though it is smaller and more reasonably priced than its predecessor, the Roku Smart Soundbar. Since November, this pricing has been the lowest.
Customer Review
When I first started using this, I couldn't believe how much better the sound was. Since I already own a Roku TV, this was an excellent addition, and I was particularly pleased with the reasonable cost.

How to Choose the Best Roku TV Deal on Prime Day?
TVs have seen enormous change over time, with new models now delivering cutting-edge technology and competitive features. And despite the high price, some consumers continue to believe a less expensive TV is a superior choice. But you know what makes the best of the best TV experience? A streaming device that is enriched with the right type of content for you. And Roku is that magic device.
Your TV can be connected to a Roku device, which makes it simple to stream media from websites like Netflix, Hulu, and HBO as well as watch live TV. The gadgets, or "streaming sticks" as Roku refers to them, are either rectangular boxes or have a USB drive-like appearance. As each Roku device offers amazing features more than the other, you can find an extensive guide above, but here we have compiled a Television buying guide so you can stream your Roku in the best possible way.
TV Size
Similar to buying any piece of furniture, think about buying a TV. It needs to fit into the area where you want to put it, and ideally, it should seem proportionate to the furniture and the next wall. A 32-inch TV will appear awkwardly perched on a large empty wall, for example, while a 75-inch humongous may be too much for a tiny living room. Use a tape measure to easily measure. Use the TV's specified width, height, and depth when evaluating your space because TV sizes are determined by the diagonal of the screen.
Smart TV
Before getting into the race of getting the best smart TV, it is essential to comprehend what a smart TV actually is. Even if all of the TVs manufactured and marketed in the present day are smart TVs, you may still get some standard alternatives for a lower cost. Additionally, a TV is not always smart just because it is compact and can be wall-mounted. Simply told, Smart TVs can connect directly to your Wi-Fi and access built-in streaming services like Netflix or Disney+. The majority of customers value this functionality since it removes the need to buy an additional video streamer, such as a Streaming Stick or Google Chromecast with Google TV, unless you prefer its user interface or want access to services your TV doesn't support.
There is a common misconception that you may save money by purchasing a TV without smart functions. Since it is a cheap model with poor image quality, any TV without smart capabilities (if you can even get one these days) is definitely not worth buying.
Screen Resolution
It's crucial to remember that just because a TV screen is big enough, it doesn't necessarily guarantee the picture quality is as good. The screen resolution is useful in this situation. The term "resolution" refers to the number of horizontal rows and vertical columns that make up a display's image. Since more pixels produce sharper pictures and finer details, higher resolution is preferable.
Full HD, sometimes referred to as a 1920 x 1080 resolution, has long been the standard. However, the manufacture of TVs is rapidly transitioning to Ultra HD versions (4K). These 4K devices feature four times as many pixels as contemporary HDTV displays.
Refresh Rate
The refresh rate, which is expressed in Hertz (Hz), indicates how rapidly an image is updated on the screen. A 60 Hz, or 60 times per second, refresh rate is considered standard. When viewing scenes with swiftly moving objects, a 60 Hz refresh rate, especially on LCD HDTVs, can make everything look jittery. To provide a more robust image, manufacturers increased the refresh rate to 120 Hz. For this reason, individuals who own PS5, Xbox Series X, or Xbox Series S consoles and games that support 120 Hz should look for a TV that can benefit from higher refresh rates.
HDR
You will find TVs rated as HDR and similar terms, this rating defines a lot in terms of quality of display and image. A relatively new feature of 4K Ultra HD televisions is high dynamic range, or HDR, which describes their ability to display more colours, higher contrast levels, and improved brightness. According to the UHD, HDR10 is the essential standard for high-dynamic range content. Therefore, you will see "HDR10" or "Ultra HD Premium" on TVs that are compatible. Therefore, pick a TV that supports HDR to get the most out of your 4K TV's picture. If you want the best, invest on a Dolby Vision-capable HDR display. That format currently has the most stuff to provide.
Additional Features
The type of additional features suitable for you depend on the intended use greatly. Even a perfect TV with top features that stands alone is useless if it cannot connect to your USB drive or gaming system. Even though we previously suggest waiting for more HDMI ports, an extra HDMI port might be the difference between leaving your console connected and swapping it out for your Blu-ray player every time you want to start a game.
Frequently Asked Questions
Amazon prime day sale is a 2 day shopping event designed to put every and all categories on huge sales. Most of the amazon prime day sales are live for 48 hours but you can find some exceptions like 24 hour deal and lightning deals which are short lived.
The follow up to Amazons annual Prime Day savings event which lasts for 48 hours each June July is the Amazon Prime Early Access Sale. The inaugural Prime Early Access Sale was organized by Amazon in 2022. According to Amazon it was a chance to kick off the holiday shopping season early with hundreds of thousands of deals.
The fact that you must be an Amazon Prime member in order to take advantage of the offers is the most crucial thing to remember about the Prime Day Sale. Following a price increase back in February Amazon Prime now costs 139 Dollars per year or 14.99 Dollars per month. However if you do not want to pay the Prime membership cost Simply join up for a free trial of Amazon Prime for one month and then discontinue it as soon as the Prime Early Access Sale is done.
No not anymore. During the annual Amazon Prime Day event several rival merchants offer their own bargains to match amazon and its Prime Day sale. Check out Best Buy Home Depot Target Walmart and other major online retailers since they frequently match or even undercut the greatest Amazon offers.
Prime day is an annual sale event arranged by amazon as a part of their 48 hour shopping spree. It is one of those times when thousands of products see discounts worth hundreds of dollars on almost every category. While there is a lot you can shop and save on prime day many people wait for prime day to shop for electronics, television sets and other appliances which are almost 70 Percent discounted on this occasion.