Prime Day Soundbar Deals – Up To 60% Off On Your Favorite Brands
22 Jun, 2023 | 5 min read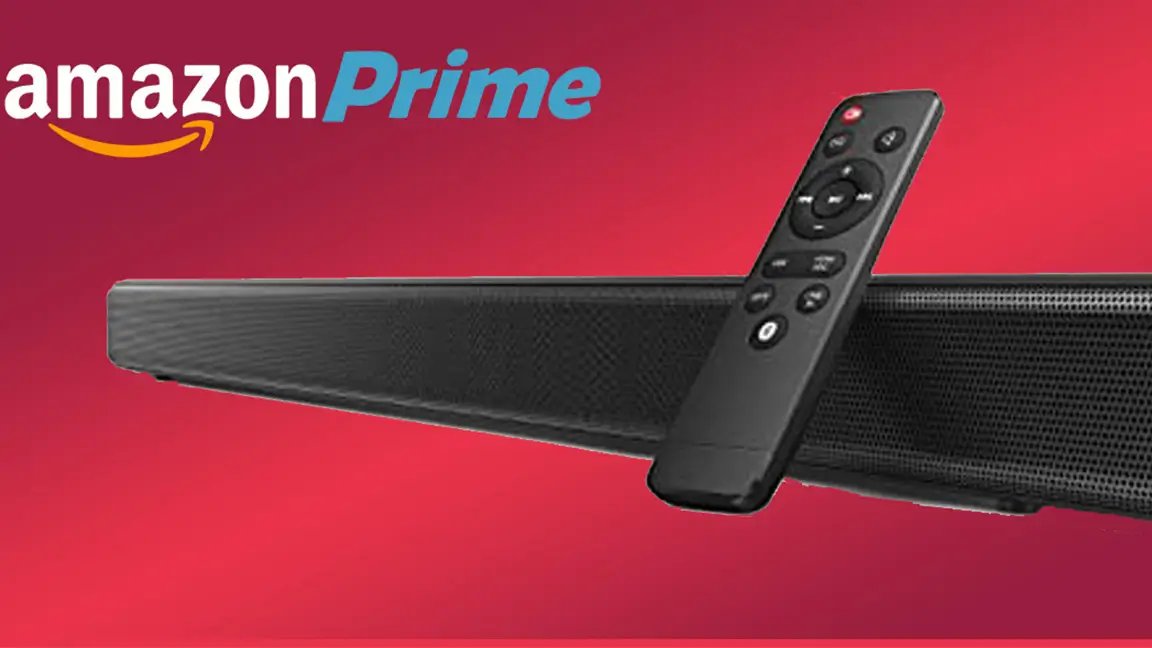 Prime day is that time of the year where every amazon lover has huge plants to upgrade their homes and replenish it with the latest tech and electronic items. From covering their gaming needs to working on achieving the perfect and comfortable home office setup, Prime day is time when everything and anything is possible and that too because of the huge Amazon prime day deals. And ever since 2022, Prime year isn't just a once a year thing because the prime day early access sale is somewhat a similar treat with lots of tech and electronics related deals.
Whilst there are a tones of prime day categories to choose from in this article we will cover the Prime Day soundbar deals which include the many top brands such as Bose, JBL, Samsung, Sony, Vizio, Polk Audio amongst many others. But be quick as we know everyone is looking to upgrade their in home sound system just around the Prime day.
Also Check: Apple Holiday deals
Best Soundbar Deals on Prime Day 2023
Modern TVs are large, they have crisp clear displays, a graphic quality second to none but it is true no matter how much advancements television department makes they cannot excel in the sound department. That's where modern speakers like sound bars come to the rescue. These bars shaped speakers give a wholly distributed sound experience rather than concentrating sounds in one place.
Perfect for creating at home movie theatre experience or an entire vibe in a party, soundbars come in several shapes, types and embedded with features. And with Amazon Prime Day coming up you need to do your homework regarding the best type of soundbar for you so you only end up making the right choice.
The Sonos arc is the best overall soundbar and a dream deal to catch on Amazon Prime Day, with a rating of over 4 stars this soundbar goes on huge discounts on Amazon prime but it also sells out fast. So if you are after this piece (why wouldn't you be) then you need to act fast. The Sonos is exceedingly simple to set up, use, and effortlessly integrates into your bigger network of whole-home Sonos music. It also produces excellent sound.
With a Dolby Atmos sound experience the soundbar adds a 3D affect to action films, games and many similar movies which you cannot imagine watching at home. Creating an at home theatre vibe this sound bar is easy to control and compatible with most of the devices.
Reason to Buy
Offers Excellent surround sound
Easy to Setup
Offers Alexa or Google Assistant Choice
Reason to Avoid
No HDMI input available
Not suitable for all kinds of music
CUSTOMER REVIEW
We had our doubts regarding the value of this sound bar and its ability to provide convincing surround sound before it arrived. This has become a favorite of mine and my wife's.. We play music on the sound bar (through AirPlay) all the time, and it's permanently stationed in the living room. Surround sound music, especially in the Atmos format, is where the speaker truly shines. It's incredible how some sounds seem to be coming down from above us.

The only problem is that the sound bar can be a little too bassy for our apartment complex. Thankfully, Night Sound equalizes the level of everything, so the bass is toned down and everything else is about the same. Even throughout the day, we frequently find ourselves in this setting. You probably won't need the subwoofer unless you're watching TV in a really large room.

I can't speak highly enough of this. This sound bar is one of our most prized acquisitions of the past 12 months.

Bose is a brand that sees huge sales whether its Black Friday, Cyber Monday, Amazon Prime day or early access sale day. This is because the Bose quality is unmatched and the high price also makes customer opt for sales only. That being said, Bose always remains a popular category during the Prime day as the retailer doesn't hesitate to put even the finest of its products up for grabs. Speaking of fine products offered by Bose, the smart soundbar 600 is second to none.
The Smart Soundbar 600 excels in the areas of bass and dialogue clarity, but what really stands out is the vastness of the speaker's soundstage. It successfully projects music upward, outward, and to the sides so you'll think your space has more speakers. The 600 is compatible with two versions of wireless Bose subwoofers and two models of wireless Bose surround speakers, so if the effect isn't strong enough, you can add the real thing. The Bose 600 also offers the option of connectivity to any device so you can listen to your favorite songs and content even from other room privately.
Reason to Buy
Easy Setup
Clear dialogue and sound
Good music quality
Reason to Avoid
Does not offer HDMI input
Limited app music selection
CUSTOMER REVIEW
If you want Dolby atmos from your TV to the soundbar, you'll need eArc, which is not included with this purchase. There are audio extractors out there, but I couldn't get any of them to work. Additionally, I was never successful in integrating a paradigm active subwoofer with it. I decided to supplement it with a Bose Subwoofer since I felt it lacked sufficient bass.

Not a brand you talk or hear about daily but isn't Prime Day all about discovering the best deals? After all that's the reason thousands of retailers and brands are encouraged to participate in this event. One of the finest and classiest pick for your home theatre experience this year, the Denon Home Sound Bar is an affordable must find. Due to its wide range of high-quality features and components at an inexpensive price, it is the finest overall solution. The two bass ports deliver a deeper, fuller bass without introducing distortion.
Its 3-inch full-range drivers provide a high-end audio experience with sound that is evenly distributed across the room. Regardless of your favorite media, it offers three equalizing settings that let you tailor the audio to movies, music, or talk for the best possible sound. With only a click of a button, you may quickly swap between various settings on the remote control. Perfect for gaming, music or just some music the soundbar is a compatible option for everyone.
Reason to Buy
Distortion free sound quality
Offers multiple connections
Easy setup and Use
Reason to Avoid
Requires tuning often
Not a well-known brand
CUSTOMER REVIEW
Pros
Home 350 include its stunning construction, heft, and solidity. The midrange and tweeter arrays, combined with the two subwoofers, deliver crystal-clear, chest-thumping sound. The 1812 Overture by Tchaikovsky caused me to take cover. HEOS (similar to Sonos's multi-room audio) works flawlessly with my Denon stereo. When I switch on the stereo in the living room, the Home 350 in the kitchen also begins playing the music, filling the entire house with powerful, immersive sound.
Cons
Despite having Alexa preinstalled and functioning similarly to other Echo devices, this one cannot be added to an existing Echo speaker group. The built-in Alexa works great, and all I have to do is ask it to play a song. When I open the Alexa app, it shows up alongside my other smart speakers like my Echo Studios and Dots. However, despite the fact that it is technically capable of joining my anywhere group, I am unable to do so. I think Amazon is intentionally putting a halt to it.

A slim design soundbar with exceptionally great features. This product comes often under the category of deal of the day thanks to the smart features packed in it. The soundbar gives a clear, crisp sound with dialogue delivery quality of speaking in person. It has 5 speakers that disperse the sound all around the room making it not a problem for a large gathering to sit around a single screen. The soundbar has the ability to immerse the entire room with the audio experience and you can find it for as low as 50% off its original price on the Amazon Prime Day.
Reason to Buy
Slim design
Five speakers for immersive sound
CUSTOMER REVIEW
Totally crystal-clear audio. Fantastic item. Best part: turn on at the first hint of a signal.

The greatest sound surround technology is provided by the Vizio M-series. This top-of-the-line Immersive Sound Bar is made to enhance home entertainment. This sound system will fill any space with lifelike sound to totally immerse you in whatever you're viewing. It is powered by six high-performance speakers and two built-in subwoofers.
This sound bar features a basic design that looks excellent and fits in any environment in addition to its amazing sound profile. This sound bar gives everything you need to enjoy your favorite movies the way they were designed to be enjoyed with its sleek design, cutting-edge audio technology, and potent performance.
Reason to Buy
Exceptional Surround Sound Experience
Distortion free sound
Fast and easy setup
Reason to Avoid
No visual display
Distortion experienced at high volumes
CUSTOMER REVIEW
I've always been satisfied with Vizio products, and the sound equalizer for my Roku streaming TV was the deciding factor in my purchase. The function was included in this one. To put it simply, I purchased it. I couldn't be happier.

How to Choose the Right Prime Day Soundbar Deal?
There are several sound bars around right now, some of which are amazing while others aren't deserving of the protective packaging they arrive in. Every sound bar has a varied set of functions, some of which require your attention. And certainly, we are available to assist. Let's get started choosing the best sound bar for you, your TV, and your space now that you have this shopping guide.
Location and Space
Where your sound bar will be residing in your home is a crucial factor which will impact the choice of sound bar for you. Look the space available around your TV and also the location at which sound bar will be places. Whether it's right in front of the TV, at the top or on the side, different locations of the sound bar will determine the right type of sound bar for you.
Also, sound bars are highly versatile so you can hang them on the wall too. This ensures everyone has a look of this cool accessory you just bought and you also get the most of the sound experience. For sound bar placement, here is a cheat sheet to help you through. Simply put the sound bar on the same table as your TV, immediately below the display, if your TV is on one. Install your sound bar on the wall right behind your wall-mounted TV if it is. Some sound bars even include mounting kits to facilitate do-it-yourself installation.
Size
After we all set on location and placement of the sound bar you need to pick a size suitable for you. From an aesthetic point of view the size of Soundbar length wise should not exceed the length of your television. And for a perfect look the length of TV and the Soundbar should match perfectly.
Number of Channels
Most Soundbar have a subwoofer and at least three front channels (left, Centre, and right). That system is 3.1. We believe that the Centre channel, which is where dialogue is placed by TV and film mixers, is the most crucial channel. Problem hearing dialogue in films and television programs? At a minimum, get a 3-channel bar.
Type of Connection
Another crucial technical factor which many people overlook in a Soundbar is the type of connection the Soundbar supports. In older times, majority of the Soundbar were connected with the help of an optical output between speaker and the TV. Later one we have ARC connections and even HDMI. So you can find both the options in a Soundbar. In terms of ease of use, you need to connect the devices directly to the TV with the help of an HDMI Cable. This is the easiest and fastest approach to form any connection hence a popular pick for Soundbar too.
Wireless Streaming
Sound bars are fascinating for many reasons but majorly they are enjoyed because of their ability to make any setting more fun. The wireless streaming option in a Soundbar makes it portable and probably the reason why many people buy them over traditional speakers. If you are also aiming for wireless Soundbar (obviously) then you probably will come across the decision of whether a Wi-Fi connection or a Bluetooth connection.
The simplest method for wirelessly streaming audio from your phone or tablet is Bluetooth. It is compatible with practically all devices and works with the music that is saved on your smartphone as well as any music app. On the other hand, Wi-Fi provides Bluetooth with a number of improvements, such as the ability to play music in various rooms and even manage it using Google Assistant or Alexa.
Display
It is nice to have a control over the volume and know what volume level suits you the most. Unfortunately not many of the modern Soundbar have a front display which is definitely avoided to prevent ruining the design. A front display is preferred with an additional quality of being hidden. This helps you control the easily and also enjoy the clear modern look of the Soundbar.
Frequently Asked Questions
Many people consider black Friday as the best sale event of the year to score the finest deals. Amazon however hypes up the prime day with the best offers even more than black Friday. So we recommend to grab a good deal as soon as you can even on the Prime day rather than waiting till black Friday.
Amazon prime day sale is a 2 day shopping event designed to put every and all categories on huge sales. Most of the amazon prime day sales are live for 48 hours but you can find some exceptions like 24 hour deal and lightning deals which are short lived.
The follow up to Amazons annual Prime Day savings event which lasts for 48 hours each June July is the Amazon Prime Early Access Sale. The inaugural Prime Early Access Sale was organized by Amazon in 2022. According to Amazon it was a chance to kick off the holiday shopping season early with hundreds of thousands of deals.
The fact that you must be an Amazon Prime member in order to take advantage of the offers is the most crucial thing to remember about the Prime Day Sale. Following a price increase back in February Amazon Prime now costs 139 Dollars per year or 14.99 Dollars per month. However if you do not want to pay the Prime membership cost Simply join up for a free trial of Amazon Prime for one month and then discontinue it as soon as the Prime Early Access Sale is done.
No not anymore. During the annual Amazon Prime Day event several rival merchants offer their own bargains to match amazon and its Prime Day sale. Check out Best Buy Home Depot Target Walmart and other major online retailers since they frequently match or even undercut the greatest Amazon offers.