Amazon Prime Day TV Deals – Worth $3000 off on Latest Televisions
22 Jun, 2023 | 5 min read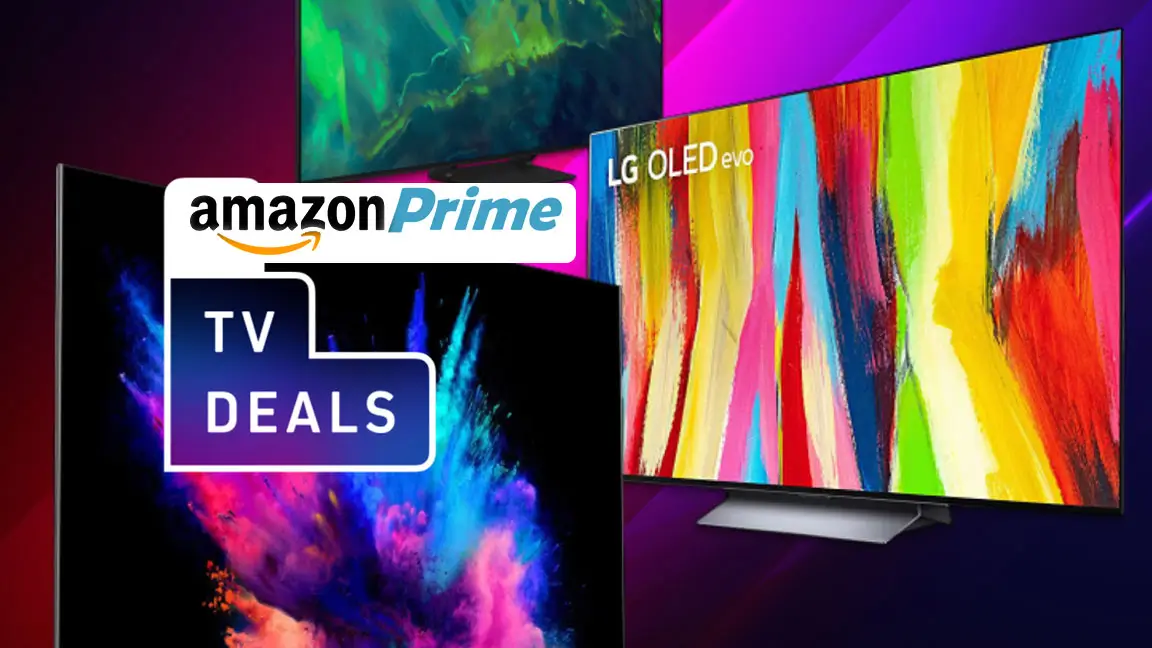 As you enter your living room you cannot wait for the day to come when you will finally be upgrading to a full flash functional and high quality television or maybe a home theatre of your own. While this dream is etched deep in our hearts for a long time, Amazon prime day is the time to make it come true. With several prime day smart TV offers, catchy slogans such as 8 BEST 75-INCH TV UNDER $1000, Prime day is indeed the time when retailers live up to their words.
Whether you wish to upgrade yourself or buying it as a gift for someone else, Prime day is the best time to score a good TV deal and if you are wondering to wait until the black Friday then let us remind you some of the Prime Day deals are even better than black Friday deals. In this article we have covered our top picks for amazon prime day TV deals along with a buying guide to help you make the right decision.
Best Prime Day TV Deals
Missed on a great TV deal during the black Friday? Well worry not, because now prime day is here so are the better version of smart TV deals and offers. On amazon prime day you will find up to 60% off or even more on popular TV models so make sure to keep your carts ready to be filled as below we are listing our top favorite grabs for prime day 2023.
Finding a Sony deal on prime day is like finding gold and this popular model from Sony is going to be on sale for the prime day. The TV is newest in the line of Sony smart televisions and is rated as one of the best televisions for 2023. The TV boasts room-filling, virtual surround sound with Dolby Atmos and Sony's Acoustic Surface Audio+ technology, which also transforms the whole screen into a speaker for almost flawless video and audio synchronization, in addition to exceptional image clarity from the upgraded OLED display. Perfect for high quality gaming and movie experience enjoy the Sony A95L as your best bet this year.
Reason to Buy
Excellent picture and sound quality
Offers voice control
Optimized for ps5
Reason to Avoid
Expensive than other options
TCL television series gained popularity in no time because of the unique and outstanding features coupled in their products. Their television are also rated as one of the most affordable options and with Prime day deals even the priciest ones will now be in your range. In comparison to earlier TCL models, the 55-inch screen employs a QLED display for greater contrast, detailing, and colour. Additionally, it supports HDR10/10+ and Dolby Vision for even crisper, more realistic visuals, while Dolby Atmos and Dolby Digital Plus combine to provide virtual surround sound for a more immersive experience.
Designed for gaming too, the TV is free from any stutter or broken image during the entire operation and the dedicated game mode adjusts picture to fast moving racing and fighting games so you enjoy the real time experience fully.
Reason to Buy
Offer Voice Control
Dolby Vision
Affordable
CUSTOMER REVIEW
After 10 months of use, the picture stopped working on my TCL television. There is no soundtrack and the movie has no dialogue. Since I could only reach TCL by phone from 9 AM to 12 PM, M-F, I decided to send in a support/warranty request on a Monday. After reading the Manual, I called customer service, and the representative walked me through the same troubleshooting and reset procedures. There is no way to repair that. The Warranty department then sends me an email.TCL wants to see footage of the malfunctioning TV. So I did that on Monday after work. Then I get an email saying the case has been resolved. It was open, however. Having received the Work Order from Warranty, a nearby repair business phoned me to schedule an in-home visit to fix my television. In the meantime, TCL had shipped him the faulty component (the power board), which he installed, ran more diagnostics on, and deemed functional. TCL has great customer service.

The 75 inches LG Nanocell 4K LED TV offers a great value for money and on prime day you can expect a price drop of around $100. Although not a very huge saving for a TV but for this model, this huge, the discount is worth the praise actually. Upgrade your home experience with this exceptional top quality television and enjoy a quality movie experience similar to cinema. With the type of colour and contrast you'd often get on more costly models, LG's NanoCell TVs provide excellent value. With the upgraded WebOS software, you can now easily access a wide variety of streaming apps from well-known providers like Netflix, HBO, Disney+, Apple TV, Hulu, and more.
Reason to Buy
Offers Bluetooth speaker connectivity
Surround sound for immersive experience
Offers access to several apps
CUSTOMER REVIEW
It cost more than I'm used to spending on a television, but the greater refresh rate for video games makes up for the difference. It turned out that the issue was my HDMI cable and not the software. I made the adjustment, and now everything is perfect.
Some music and TV episodes still sound thin, months after purchase, but otherwise, it's been performing admirably.
Are you trying to upgrade your home theatre to a real big-screen TV? After all is there any better time to make such upgrade than the amazon prime day? With its magnificent 98-inch screen, Sony's new X90K is sure to become the center of attention in any room where it is placed. We are all aware that size isn't everything, so Sony loaded this TV with a tone of fantastic features, like voice commands for your TV and connected devices through Alexa, Hey Google, and Siri. Additionally, it supports both Dolby Atoms for virtual surround sound and Dolby Vision for sharp details, strong contrast, and more vibrant colors.
Reason to Buy
Great Picture quality and audio experience
Voice control
98 inches screen
Toshiba and its series of smart fire TV makes all other TVs look basic. With a clear crisp sharp display and a high quality sound experience the TV is perfect for in home theatre experience. Enjoy your favorite streaming platforms activated with the help of Alexa voice assistant making it possible for you to control the TV from anywhere. The TV comes with a decent price tag and even more so during the Prime day. A good option for people looking for a great option without breaking their bank, the Toshiba TV is a foolproof pick.
Reason to Buy
Affordable
Exceptional picture quality
Reason to Avoid
Does not offer surround sound experience
CUSTOMER REVIEW
It's the best TV I've ever had. In my home, I currently have three Amazon Fire TVs. The shipping was quick. It was simple to set up, and it looks great in my family room. Amazon is adept at providing its customers with the products they want at affordable prices. The new 55-inch Toshiba LED 4K UHD Smart TV is a great choice for your living room.

How to Choose the Best TV Deal on Amazon Prime Day?
TVs have seen enormous change over time, with new models now delivering cutting-edge technology and competitive features. And despite the high price, some consumers continue to believe a less expensive TV is a superior choice. The ideal TV for you won't necessarily be the most expensive or feature-rich option, though those factors do play a role. Instead, we've created this useful buying guide with all the considerations you should make when shopping for a TV. On prime day, shortlist your most desired television with the help of this buying guide and no need to even thank us later!
TV Size
Similar to buying any piece of furniture, think about buying a TV. It needs to fit into the area where you want to put it, and ideally, it should seem proportionate to the furniture and the next wall. A 32-inch TV will appear awkwardly perched on a large empty wall, for example, while a 75-inch humongous may be too much for a tiny living room. Use a tape measure to easily measure. Use the TV's specified width, height, and depth when evaluating your space because TV sizes are determined by the diagonal of the screen.
Smart TV
Before getting into the race of getting the best smart TV, it is essential to comprehend what a smart TV actually is. Even if all of the TVs manufactured and marketed in the present day are smart TVs, you may still get some standard alternatives for a lower cost. Additionally, a TV is not always smart just because it is compact and can be wall-mounted. Simply told, Smart TVs can connect directly to your Wi-Fi and access built-in streaming services like Netflix or Disney+. The majority of customers value this functionality since it removes the need to buy an additional video streamer, such as a Streaming Stick or Google Chromecast with Google TV, unless you prefer its user interface or want access to services your TV doesn't support.
There is a common misconception that you may save money by purchasing a TV without smart functions. Since it is a cheap model with poor image quality, any TV without smart capabilities (if you can even get one these days) is definitely not worth buying.
Screen Resolution
It's crucial to remember that just because a TV screen is big enough, it doesn't necessarily guarantee the picture quality is as good. The screen resolution is useful in this situation. The term "resolution" refers to the number of horizontal rows and vertical columns that make up a display's image. Since more pixels produce sharper pictures and finer details, higher resolution is preferable.
Full HD, sometimes referred to as a 1920 x 1080 resolution, has long been the standard. However, the manufacture of TVs is rapidly transitioning to Ultra HD versions (4K). These 4K devices feature four times as many pixels as contemporary HDTV displays.
Intended Use
Thinking about the use you wish to get out of the TV makes so much sense because one wrong move can have you regretting up for the rest of your life. Since TVs meant for watching and watching films could need quite different specs than TVs meant for gaming and working knowing intended use can help you avoid lots of dollars spent uselessly. Gamers will want a television with a higher refresh rate and quality so they can view the colorful activities more clearly. A 3D television is also advised for those moviegoers who want to enjoy their favourites films at home, even though the extra expense is only paid once.
Refresh Rate
The refresh rate, which is expressed in Hertz (Hz), indicates how rapidly an image is updated on the screen. A 60 Hz, or 60 times per second, refresh rate is considered standard. When viewing scenes with swiftly moving objects, a 60 Hz refresh rate, especially on LCD HDTVs, can make everything look jittery. To provide a more robust image, manufacturers increased the refresh rate to 120 Hz. For this reason, individuals who own PS5, Xbox Series X, or Xbox Series S consoles and games that support 120 Hz should look for a TV that can benefit from higher refresh rates.
HDR
You will find TVs rated as HDR and similar terms, this rating defines a lot in terms of quality of display and image. A relatively new feature of 4K Ultra HD televisions is high dynamic range, or HDR, which describes their ability to display more colours, higher contrast levels, and improved brightness. According to the UHD, HDR10 is the essential standard for high-dynamic range content. Therefore, you will see "HDR10" or "Ultra HD Premium" on TVs that are compatible. Therefore, pick a TV that supports HDR to get the most out of your 4K TV's picture. If you want the best, invest on a Dolby Vision-capable HDR display. That format currently has the most stuff to provide.
Additional Features
The type of additional features suitable for you depend on the intended use greatly. Even a perfect TV with top features that stands alone is useless if it cannot connect to your USB drive or gaming system. Even though we previously suggest waiting for more HDMI ports, an extra HDMI port might be the difference between leaving your console connected and swapping it out for your Blu-ray player every time you want to start a game.
Frequently Asked Questions
Black Friday is considered as the major shopping event of the year especially for categories like electronics and tech. But since the past few years Amazon is taking pride in putting the best Prime day deals on television sets which may or may not be found on Black Friday. So to put it fairly amazon prime day is an equally great time to score the best deals on televisions.
Amazon prime day sale is a 2 day shopping event designed to put every and all categories on huge sales. Most of the amazon prime day sales are live for 48 hours but you can find some exceptions like 24 hour deal and lightning deals which are short lived.
The follow up to Amazons annual Prime Day savings event which lasts for 48 hours each June July is the Amazon Prime Early Access Sale. The inaugural Prime Early Access Sale was organized by Amazon in 2022. According to Amazon it was a chance to kick off the holiday shopping season early with hundreds of thousands of deals.
The fact that you need to be an Amazon Prime member in order to take advantage of the offers is the most crucial thing to remember about the Prime Day Sale. Following a price increase back in February Amazon Prime now costs 139 Dollars per year or 14.99 Dollars per month. However if you do not want to pay the Prime membership cost Simply join up for a free trial of Amazon Prime for one month and then discontinue it as soon as the Prime Early Access Sale is done.
No not anymore. During the annual Amazon Prime Day event several rival merchants offer their own bargains to match amazon and its Prime Day sale. Check out Best Buy Home Depot Target Walmart and other major online retailers since they frequently match or even undercut the greatest Amazon offers.