Are you searching for the highest paying plasma donation center near me? Are you looking for extra business opportunities? Why not consider donating your plasma? You are helping your neighbourhood while also making a little additional cash. If you want to make some additional money in 2023, get ready to find out which plasma donation facilities will pay the highest.
Giving plasma is more difficult than giving blood, but it is a fantastic opportunity to supplement your income. Uncertainness and hesitation are normal and understandable when trying something for the first time. There are a few things you should be aware of before proceeding.
Read on to discover more about plasma donation, including its qualifications, eligibility standards, and basic procedures you must follow.
What Is Plasma and Why Is It Needed?
Your blood contains plasma, platelets, red blood cells, and white blood cells, as you may already be aware. Plasma makes up the majority (55%) of your blood. Its primary job is to move the other blood components across your body. As a result, it is a crucial component of your blood. But the plasma in your blood has additional uses. For instance, it contains antibodies, clotting factors, and proteins like albumin and fibrinogen.
The components in plasma are important because they can help treat severe burns, shock, traumatic injuries, and several uncommon, chronic disorders. In other words, by donating plasma, you support the well-being and security of people everywhere.
How Much To How Much Can You Earn For Donating Plasma?
Many people are curious about the potential earnings from plasma donation, but many are unsure of the amount. Facilities for plasma donation offer a variety of incentives to encourage repeat contributions. These can be money, gift cards, or points that can be redeemed for gift cards at their corporate store.
You can receive various payments for donating plasma, depending on the donation facility you select. Donors generally anticipate getting between $20 and $50 for each payment, barring any incentives or bonuses.
Who Can Donate Plasma?
You must successfully complete a stringent screening procedure to be qualified to donate plasma. Donors of plasma should adhere to the following basic rules:
The minimum age requirement is 18.
The age limit is 65.110 lbs.
Minimum weight requirement.
Additionally, donors who have had tattoos, permanent makeup, or body piercings within the previous 12 months might be unable to donate, though specific requirements can change depending on the centre. For instance, some institutions mandate that you wait at least four months, while others need to wait 12 months after receiving tattoos and body piercings.
HIGHEST PAYING PLASMA DONATION CENTER NEAR ME
Numerous plasma donation facilities are available to donors across the United States.
We've gathered information on some of the best-paying and most trustworthy plasma donation facilities below to help you search. The compensation rate for each company will vary based on the customer's weight (a higher weight results in more plasma), the plasma centre's budget, demand, and other factors.
Furthermore, larger urban plasma centres typically pay more than smaller ones. CSL Plasma, BioLife Plasma, and Grifols are the plasma donation facilities that provide the highest rewards.
Nevertheless, not everyone has access to the same centres depending on where they live. Let's look at the top 5 plasma donation centres that are the most popular to assist you in making the best decision based on the centres that are readily available.
CSL Plasma Center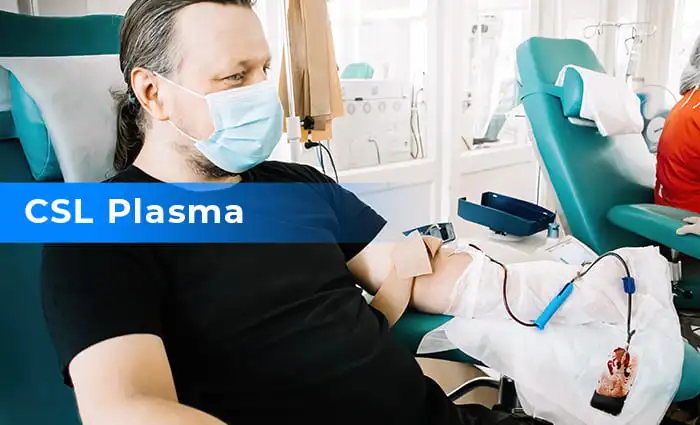 CSL Plasma is one of the most well-known sources of human plasma. The company maintains its corporate headquarters in Boca Raton, Florida, while having more than 300 sites worldwide. In addition to receiving reimbursement from CSL Plasma via a reloadable prepaid card for your plasma donation, you will also accrue rewards programme points.
The pay rate per donation depends on your location and the abovementioned factors. The rewards you receive for donations can be traded for gift cards or other items. Look for additional compensation at some CSL Plasma sites as well. For instance, the CSL Plasma website claims new clients can earn up to $1,000 in their first month.
How Much Does CSL Plasma Pay?
CSL Plasma normally pays its donors between $45 and $50 for their initial donation, but this can vary by region. Additionally, CSL Plasma provides a first-month payment of up to $1000 to new donors who meet the requirements.
Additionally, they offer special coupons and a programme called IGive Rewards, where users can accrue points that can be redeemed for gift cards. Call the location you want to donate to for more payment information because different locations have different prizes and programmes.
CSL Plasma Pay Chart 2023:
| | |
| --- | --- |
| Weight | Rate |
| 110 – 149 lbs | $40 – $50 |
| 150 – 174 lbs | $50 – $60 |
| 175 – 400 lbs | $50 – $60 |
Biolife Plasma Center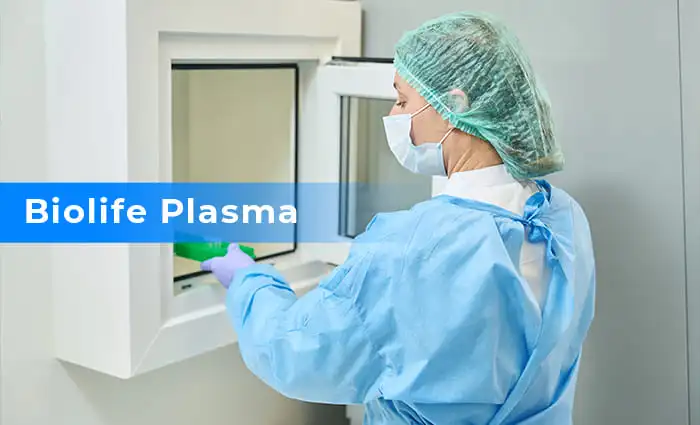 Similar to CSL Plasma, BioLife Plasma is one of the larger plasma donation centres. With numerous locations the majority of them, they are active in 35 U.S. states. Your plasma gift will be reimbursed by BioLife on a reloadable BioLife Mastercard debit card. You can make transactions with the debit card wherever Mastercard is accepted. Alternatively, you can use the card to make an ATM withdrawal. Get up to 60% off on delicious meals by using the biolife promotions.
There are no ATM withdrawal fees while utilising in-network MoneyPass and Allpoint ATMs. Like CSL, BioLife routinely grants bonuses to new members. Additionally, you might receive payment for referring family members to join BioLife.
How Much Does Biolife Pay For Plasma?
Since artificial production of plasma is not possible, BioLife pays its donors. You should contact your local facility for information on compensation, per their official website. Limitations and conditions apply, but qualified donors may get up to $900 for giving plasma in their first month.
They do provide a prepaid BioLife debit card that is based on Mastercard. The Biolife debit card is issued to the donors after the donation session. By having access to the debit card, the donors can use their funds whenever they become available. The prepaid card receives a payout each time a donor donates to the organisation. Anywhere that accepts Mastercard debit is where you can use the prepaid card.
BioLife Plasma Pay Chart 2023:
| | |
| --- | --- |
| City/State | New donor rate |
| Baltimore (Maryland) | $800 |
| Bloomington (Indiana) | $850 |
| Bellingham (Washington) | $900 |
Grifols Plasma Center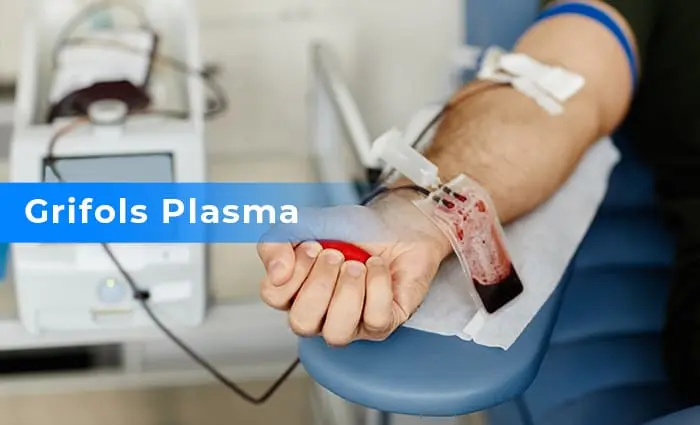 Grifols has been in business since 1939. Although they will collect plasma from any suitable customer, Grifols focus on collecting specialty plasma. You can frequently make up to $1,000 in your first month as a contributor, promotions included. You are put on a standard donor schedule once you are no longer a "new donor," where you pay $30 for your first visit and $100 for your second (and subsequent) visits. You can consequently earn a nice living.
The new donor schedule is as follows: $100 for the first donation, then $125, $125, $125, and $150, in that order. You will then be placed on the monthly donor schedule, where your first donation will be $30 and each consecutive donation will be $100.
How Much Does Grifols Pay For Plasma?
For June 2022, some institutions were giving $30 for the first plasma donation of the week and $105 for the second. For a different donor's first and second weekly contributions, she was compensated with $40 and $115, respectively.
Another donor earned $50 for their first gift and $100 for both. Therefore, if we average their two weekly contributions, Grifols is currently providing rates to returning donors between $67 and $77.
Kedplasma Center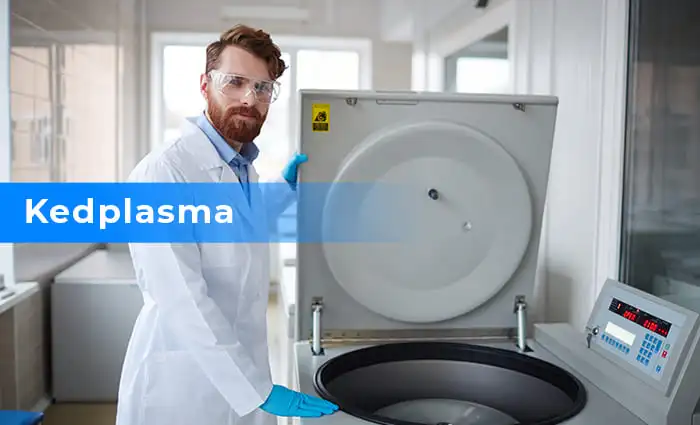 KEDPLASMA has expanded to include over 25 donation locations nationwide since it was founded in 2004. Your donation will be reimbursed by KEDPLASMA in the form of money transferred onto a Wirecard prepaid card. Additionally, KEDREWARDS awards prizes.
Each location offers remuneration differently depending on regional standards and other variables. Contact a local site for more details and information about the KEDREWARDS scheme. Consult the KEDPLASMA page for answers to common questions about plasma donation.
How Much Does Kedplasma Pay?
For each donation, donors can expect to receive between $35 and $50. Additionally, keep an eye out for ways to use referrals, KEDREWARDS, and bonus coupons to boost your earnings. Depending on the KedPlasma centre, the compensation varies.
Get in touch with the centre you've chosen directly to learn more about it and the fee schedule.
Octapharma Plasma Center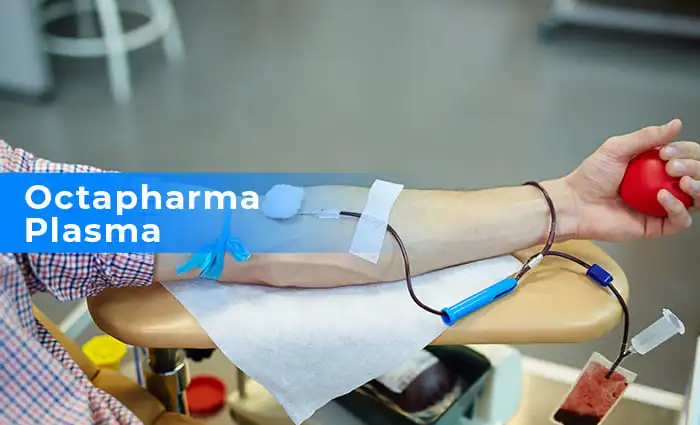 Over 150 donation centres are located all over the nation thanks to the American company Octapharma Plasma. Facilities for Octapharma Plasma donation are available in 35 states. Joining the OctaRewards programme allows you to give and receive points in addition to money.
After that, you can spend your points to get prizes like eGift cards and entrance into contests. There are further financial rewards for new clients, returning clients, and clients who refer others to donate plasma. On the website for Octapharma Plasma, there is comprehensive information about bonuses and salaries.
How Much Does Octapharma Pay For Plasma?
Octapharma Plasma is now providing a promotion for first-time donors on its website. Rewards of up to $1000 are available to first-time donors. Reward and payout amounts can vary per region. The bonuses and promotions are available to all contributors, and they can each earn up to $700 per month. Donors who contribute more than once during the promotions are eligible to win prizes.
To access the most recent special deals, go to the Octapharma promotion website. If you'd like to learn more about the current payment schedule for donors, you may also get in touch with the nearby Octapharma Plasma Centre.
Where May I Find Other Donation Facilities?
The simplest solution is to use a search engine or online directory.
A quick search for "plasma donation centres near me" will yield a list of facilities and the name of your city or state.
Visit DonatingPlasma.org to find a plasma donation facility in your area. This agency maintains a list of all licenced plasma donation sites in the US.
You can also check with your local hospital or Red Cross chapter; they may be aware of other donation opportunities nearby.
Is Donating Plasma Safe?
Plasma donations have always been safe. The National Institutes of Health (NIH) has certified that no hazards are involved with the operation, providing additional proof that donating some of your plasma is safe. Given how contentious the concept of donating your plasma is, it is challenging to keep up with the quick developments in medical technology and be willing to contribute your blood components.
Blood plasma is currently required for several uses. One is for therapies for modern medical conditions such as blood transfusions, wound healing, immune system, bleeding, and respiratory disorders. Plasma must be donated to receive sufficient amounts for medical treatments. Donating plasma is a safe process. However, there are still unfavourable effects.
Plasma is present in your blood and can be donated by having blood drawn from you, processed through a machine that separates and collects the plasma, and then given back. In addition to replenishing the other blood components in your body, the removed plasma is replaced with red blood cells and saline. Plasma donation can have minor adverse effects, including weariness and dehydration, yet potentially major negative effects can occur. But it hardly ever occurs.
Final Thoughts
Plasma donation is a legal way to enhance your income and cover your daily needs. Furthermore, a growing number of plasma collection facilities are in dire need of donors who are willing to donate their plasma because plasma is essential to science. Providing is about more than just producing money; it's also about providing people with rare diseases hope. You could serve as a tool to help people by providing them with solutions.
Are you in need of money, and do you have a lot of healthy blood components to donate? Then it's time to profit while contributing to a worthwhile cause. Remember that helping our researchers find cures for those undiagnosed diseases may require one more gift after this one. Your gift has the potential to save lives.
Frequently Asked Questions
CSL Plasma has the highest earning potential at $1000 with their promotion for qualified new donors. BPL Plasma further permits active donors to earn up to $300 monthly.
Your location and weight are two factors that affect how much money you can generally make by donating plasma. However, according to Money.com, a plasma donation typically results in a payment of $50 to $75. In addition, several companies offer bonuses and additional incentives to donors.
Although each plasma donation facility in the area will have its own regulations, many follow the rules set forth by the FDA. Every 48 hours, the FDA only allows one plasma donation. However, you can only donate plasma twice every seven days.
Usually, the initial plasma donation takes between 90 and two hours. Typically, the initial donation takes longer than subsequent visits.