Amazon hosts a one-day sales event every year called Prime Day, during which members of the company's Prime subscription service are eligible for significant savings. It's a strategy to compete with Alibaba's Singles' Day, Black Friday, and Cyber Monday sales by encouraging more people to sign up for Prime memberships.
The first Amazon Prime Day took place on July 15, 2015, and was created as a means to honor the 20th anniversary of the launch of Amazon.com.
Representatives from just nine nations were present on the very first Prime Day. In 2021, there will be participation from twenty nations; however, Canada and India will not be among them since their Prime Days will be delayed due to COVID issues.
The sales event brings in extra money not just for Amazon but also for the third-party retailers that it works with. Here are some Prime Day Discounts on Small Business. However, not all third-party vendors (such as Amazon, eBay, and others) provide discounts on Prime Day. According to our poll, just 34 percent of FBA sellers provided discounts for Prime Day in 2020, and only 47 percent intended to provide discounts for Prime Day in 2021.
According to the findings of a study conducted by National Today, 78 percent of the 2000 Americans polled are aware of Prime Day, and 60 percent take part in it. That's how to get the most out of amazon prime day.
How long does Prime Day last?
Every single July from 2015 all the way through 2019 has been devoted to celebrating Prime Day. As a result of the pandemic in the year 2020, the event was moved to the month of October. And in 2021, it will take place in June to ensure that the rescheduled Olympic competition does not overshadow it.
It was supposed to be a one-day sale, to begin with. But as time has passed, the term "Prime Day" has evolved into somewhat of a misnomer since it now encompasses two days. And with the proliferation of activities dubbed "Anti-Prime Day," it's possible that this process may take much longer. On these, we will get into detail later. Prime Day Hot Offers lasted almost two days.
The dates and times of all Prime Days that have occurred to are described in the following table:
| | | |
| --- | --- | --- |
| Year | Prime Day Start Date | Prime Day Duration |
| 2015 | July 15 | 24 hours |
| 2016 | July 12 | 24 hours |
| 2017 | July 11 | 30 hours |
| 2018 | July 16 | 36 hours |
| 2019 | July 15 | 48 hours |
| 2020 | October 13 | 48 hours |
| 2021 | June 21 | 48 hours |
Amazon Sellers: The Pros and Cons of Participating in Prime Day
Several businesses see a significant increase in their revenue on Prime Day, but not all of them provide discounts. However, even if you don't lower your prices on the goods you sell, you'll still reap the advantages of more foot traffic.
Take a look at the following list for a look at the positive and negative aspects of Prime Day for sellers:
Prime Day Pros
Exposure. On Prime Day, Amazon sees millions of visitors to their website. By providing customers with discounts, you will encourage them to visit your business and peruse your available things. In addition to that, it is a fantastic approach to raising brand recognition.
A chance for slow-selling inventory. As a result of the large number of customers that shop on Prime Day, there is a significant probability that you will be able to get rid of things that have a difficult time moving before you even have to consider liquidating them.
Increased revenue. A greater number of visitors equals an increase in the possibility of sales, but not always in earnings.
Prime Day programs. Amazon Prime Day is a way for the company to support local and independent companies. A curated storefront, among other things, was made available to companies owned by women and people of color in 2021.
Prime Day Cons
Discounting. You will see a decrease in your profit margin if you provide promotions during Prime Day.
Inventory management. In order to meet Amazon's deadline, you will need to get an early start on preparing your items. Amazon does not provide customers with advance notice of every big change. You will have a difficult time getting additional products into Amazon's warehouses if you are like the majority of sellers who were caught off guard by the cutbacks in replenishment restrictions so soon to the 2021 Prime Day.
Is it consequently appropriate to provide discounts on Prime Day?
Everything depends on your profit margin and the amount you are ready to pay and/or lose in exchange for the exposure.
Despite other online sales events happening at the same time as Prime Day 2019, Edison Trends reported that Amazon held 87 percent of the market share. Additionally, around 76% of customers wait until Prime Day to make a certain purchase since they are aware that the price would be lower on that day. Therefore, you should give it a chance if you have the financial means to do so.
Looking Back on Prime Day 2022—and looking to a second spectacular sale this year.
Prime Day is an exclusive sale for Amazon Prime members, who pay $139 a year for free expedited shipping on eligible purchases, free movies, and TV shows through Prime Video (available on its own for $9 a month), and unlimited access to reading material on any device through Prime Reading. Amazon's own electronics, clothing, and household goods are discounted on Prime Day. Best Amazon Prime Day Deals 2023 are the best, but the temporary price reductions on products that are only available to Amazon Prime members on Prime Day.
According to Amazon's blog, the inaugural Prime Day was held on July 15, 2015, to celebrate the company's 20th anniversary. Since its inception in 2015, the 24-hour Prime Day has expanded to include members from nine countries: the United States, the United Kingdom, Spain, Italy, Japan, France, Germany, Canada, and Austria. Amazon launched Prime membership in more than 20 countries in 2020 and 2021 and sponsored Prime Day in 20 of those countries. Polish, Swedish, and Egyptian prime ministers all went shopping in 2022.
Prime Day sales have consistently surpassed those of Amazon on Black Friday and Cyber Monday. There's more to Prime Day than just shopping. Amazon utilizes Prime Day to promote its "ecosystem of consumption," which includes music and video streaming as well as food delivery, according to Amanda Bourlier, who oversees global retailing research at Euromonitor International. According to Bourlier, Prime members typically shop elsewhere. They get access to Amazon Prime, Amazon Prime Video, Amazon Prime Music, Amazon Echo devices, and Amazon Prime. Prime Day is a gateway drug to get people interested in Amazon Prime's other features.
Palmer said that the scale of Prime Day has been unprecedented since the firm established it. Due to the seasonality of the retail industry, the event is held in the middle of July. That's exactly what the Prime Day sales event hopes to change. Due to the increased demand, retailers, including Walmart, Macy's, and Target, have had to modify their Prime Day offerings. Since Prime Day is often celebrated in July, Macy's celebrates Black Friday in July in July. Walmart+, the retailer's answer to Amazon Prime, ups the ante.
As a rule, Prime Day comes just before the busiest shopping season of the year. James Thomson, a partner at Acquire Box Experts, said Amazon encourages non-Prime people to buy a Prime membership during the summer to shop for Christmas, back-to-school, and Labor Day at the site.
Thomson said Amazon must establish marketplace loyalty. Why is Prime not delivering in 2 days 2022? Neither UPS nor the USPS are to blame for the fact that 2-day Prime shipment now takes 5, 6, or even seven days. Amazon is entirely at blame since their "2-day shipping guarantee" now begins only after they have processed and sent your product.
According to Thomson, Prime Day is a "massive dry run" for quarter four, including the holidays. According to former Amazon Services president and vendor recruiter Thomson, Prime Day artificially increases sales, especially in months like November and December.
Prime Day Sales (2015 to 2020)
The massive two-day sales bonanza rakes in billions of dollars not just for Amazon but also for third-party vendors. Amazon revealed in 2020 that its third-party sellers had sold more than $3.5 billion worth of products, representing a 45.2% increase in sales volume compared to 2019.
The income from Prime Day has been increasing recently, as seen by the graph below, and we anticipate that this pattern will continue in the years to come. The Consumer Intelligence Research Partners (CIRP) reports that Prime members spend around $1,400 annually on Amazon, whereas non-Prime members spend just an average of $600.
Before the real Prime Day, Amazon also provides pre-Prime Day promotions. The following graphic, courtesy of Edison Trends, presents information on Amazon spending one week before to Prime Day for each of the previous three years.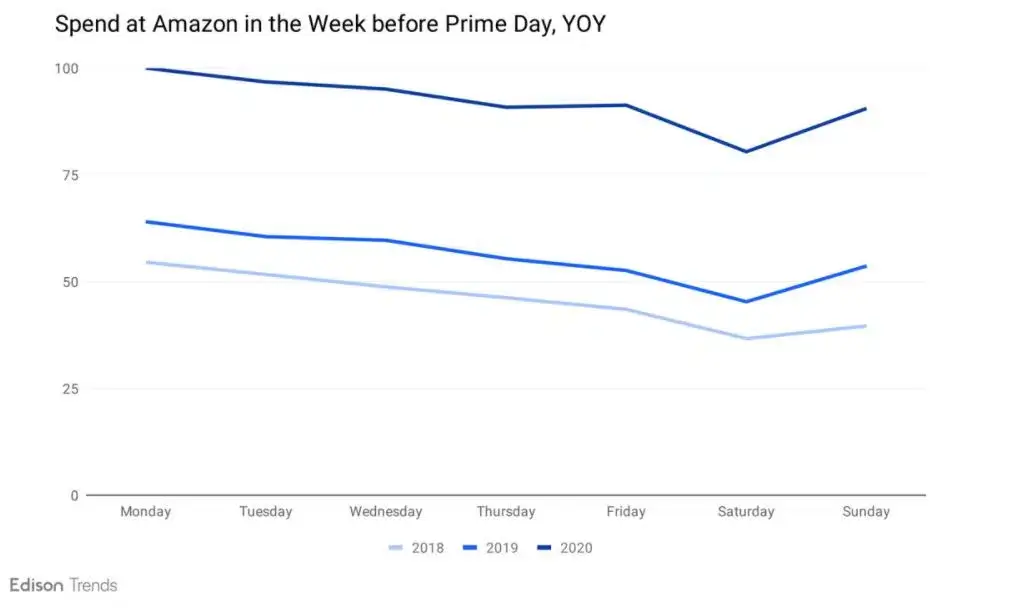 How Many Prime Members Are There?
There are around 200 million Prime subscribers throughout the globe as of June 2021, with roughly 150 million of them located in the United States alone.
At this time, a membership to Amazon Prime costs $12.99 per month, while an annual subscription may be purchased for $119 (plus applicable taxes). There is also student pricing that is reduced, with monthly and yearly memberships going for $6.49 and $59, respectively, for students.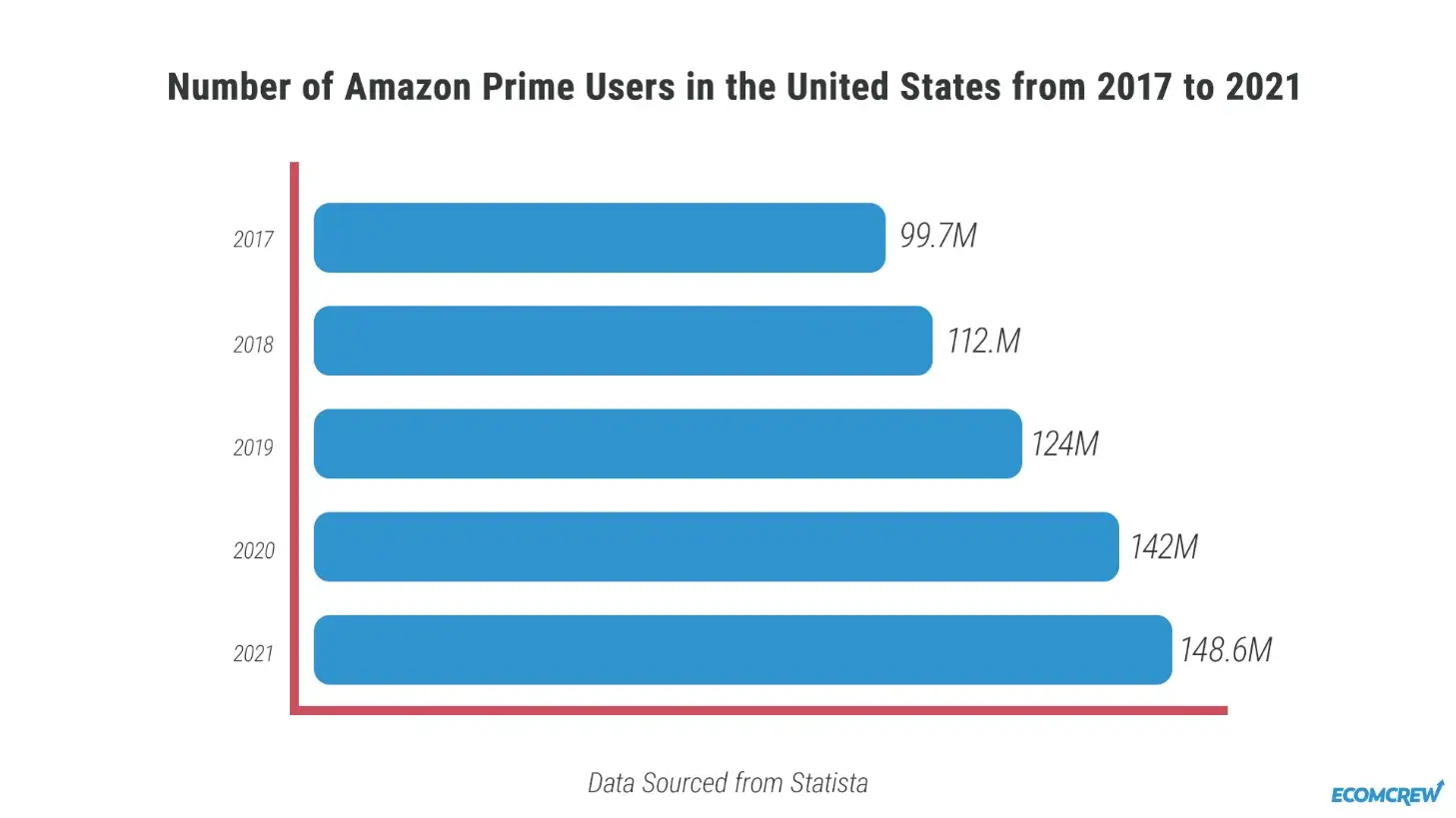 How Sellers Should Get Ready for Amazon Prime Day
How to prepare for amazon prime day? Even if you don't intend to offer any discounts on Prime Day, there's still a good chance that you'll see an increase in revenue as a result of the event. Tips to Prepare for Amazon Prime Day 2023, you may make the most of the scenario by doing the following, which includes:
Make sure your inventory is ready ahead of time. Be careful to take into account the lead time in order to prevent stockouts. Prime Day takes place in the middle of the year; thus, you should alert the supplier well in advance to prepare for a large order.

Take careful note of your numerical totals. Even if you don't provide discounts on your products, there is still a chance for you to gain from the increased traffic on Amazon, as was discussed previously. While many vendors choose to maintain their prices at their current levels, others actively seek customers by providing attractive discounts. Be certain, though, that you are not selling at a loss. But if you are going to do it, make sure it will be worth it.

Keep in mind the time limits associated with the offers. Take note of the cut-off time if you want to provide discounts and/or vouchers to your customers. For instance, there is a predetermined cutoff time for the submission of Lightning Deals. Additionally, following the generation of coupons, they would take at least six hours to become active.

Improve the performance of your Amazon listing. One of the finest opportunities to leave a positive impression is on Prime Day. Therefore, you need to make sure that you are optimizing the content of your listing as well as the photographs.
The Best-Selling Prime Day Categories and Products
Even while third-party retailers stand to gain from the additional foot traffic on Prime Day, Top Deals on Amazon Prime Day 2023 will continue to hold the market share for the goods that are expected to be the most popular sellers on Prime Day 2020: the Echo Dot and the Fire TV Stick 4K.
Non-Amazon top sellers include
A LEGO Star Wars Stormtrooper Helmet
An iRobot Roomba Robot Vacuum
A LifeStraw Personal Water Filter
The following table provides a summary of the top 10 most searched phrases on Amazon.com based on the number of times each term was looked up throughout both days of Prime Day 2020.
| | |
| --- | --- |
| Top Terms for October 13, 2020 | Top Terms for October 14, 2020 |
| Apple Watch | Air pods |
| Nintendo Switch | Apple Watch |
| AirPods | Nintendo Switch |
| Air Fryer | Air Fryer |
| Ipad | Face Mask |
| Tv | Laptop |
| Laptop | Tv |
| Lego | Ipad |
| Fire Stick | Desk |
| Desk | Halloween Decorations |
The major categories for Prime Day 2019 and Prime Day 2020 in the United States are shown in the infographic that can be seen below. Electronics dominated as the most popular category in each of those years.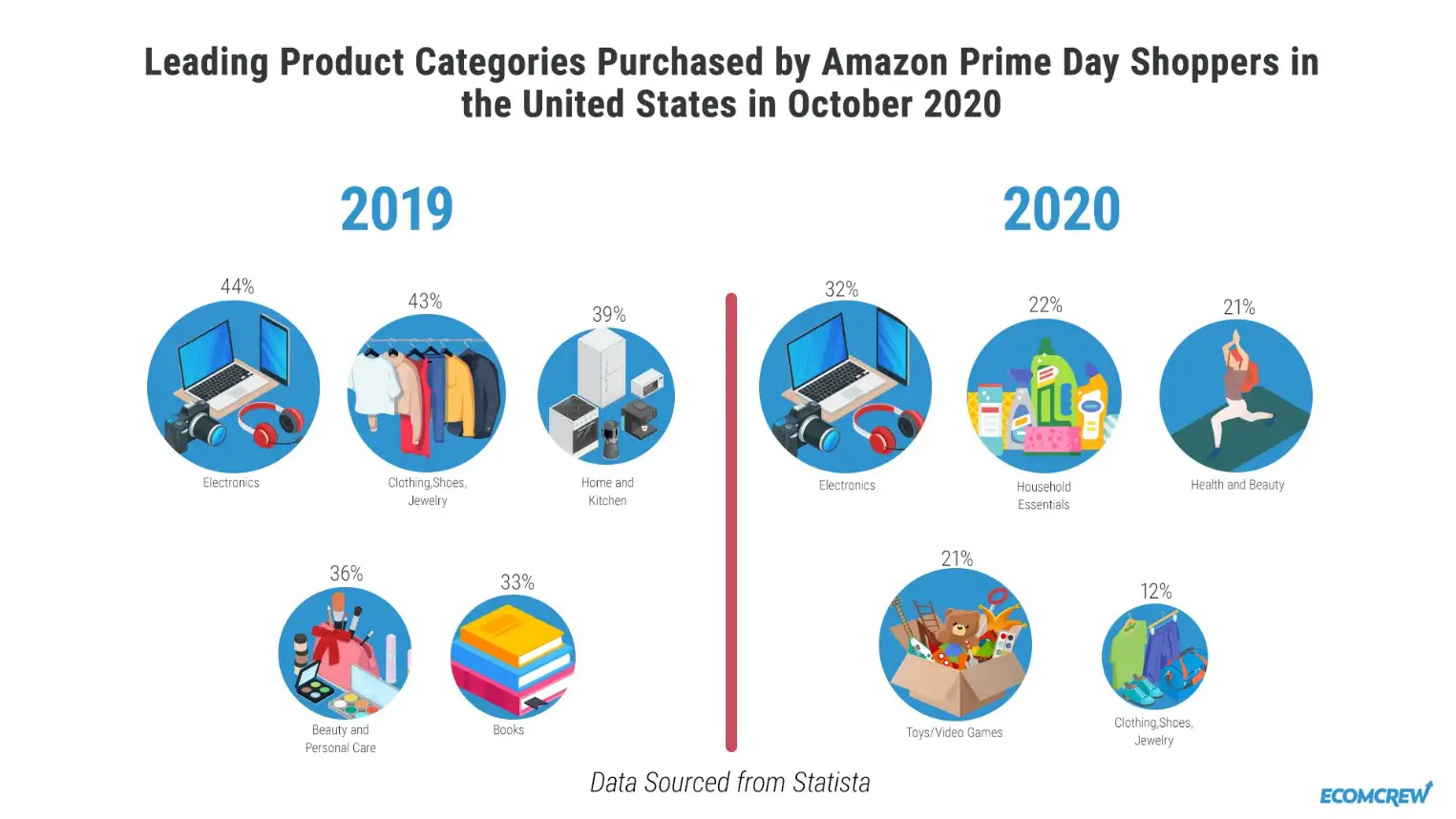 Increasing Numbers of Anti-Prime Day Events
Because COVID-19 mandates that an increasing number of business dealings take place online, a lot of traditional retailers are ramping up their online sales events to compete.
To compete with Amazon Prime membership, a number of other businesses have begun providing their very own subscription options. Recently, Best Buy announced the debut of Best Buy Beta. However, the service is now only accessible in certain areas. Walmart+ was just introduced in the year 2020, making it another very recent service.
Last But Not Least
The success of Prime Day paved the way for the success of numerous other online sales events. Amazon shows no indications of slowing down in terms of sales and expanding the number of people who subscribe to its Prime service, despite more competitors seeking to compete with it.
Have you ever provided discounts similar to those offered on Prime Day? In what ways has it been beneficial to your online shopping business?
Frequently Asked Questions
Amazon Prime Day happens once a year, on average. But in 2022, after Prime Day in July, the store held its first Prime Early Access Sale in October. It was a sale like Prime Day that the store told people about in the fall.
As of 2022, 148.6 million Amazon Prime members live in the U.S. This is about 74.3% of all Amazon Prime users around the world. Amazon is also popular in the U.S., where 76.6 million homes are members of Amazon Prime.
The first Prime Day was held in July 2015 to celebrate Amazon's 20th anniversary and its Prime users. Since then, Amazon has had a Prime Day event every year, usually in July. It's important to note that Amazon had two big sales events last year.
Tuesday, July 12, and Wednesday, July 13, 2022, were the days of Amazon Prime Day. The Prime Early Access sale, which is the fall version of Amazon Prime Day, will take place on Tuesday, October 11, and Wednesday, October 12.
The Black Friday sale that Amazon will be doing in 2022 will begin on Thanksgiving Day (Nov. 24) and continue through Black Friday (Nov. 25).